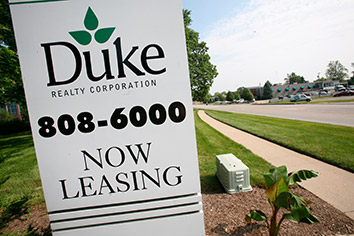 Duke Realty Corp. on Wednesday said a nearly $24 billion acquisition offer from logistics real estate giant Prologis Inc. was "insufficient."
San Francisco-based Prologis made its desire to buy Indianapolis-based Duke public on Tuesday by disclosing an offer that valued Duke at $61.68 per share, a premium  of 29% to Duke's closing price on Monday, May 9.
In announcing the offer, Prologis CEO and co-founder Hamid Moghadam said his company has been trying to acquire Duke quietly without luck since late November and decided to make the effort public.
Duke said in Wednesday's written statement that those buyout efforts simply haven't been good enough.
"As we have repeatedly made clear to Prologis during our discussions over the past several months, consistent with its fiduciary duties, our Board of Directors has carefully evaluated proposals from Prologis and we remain open to exploring all paths to maximize shareholder value, and we believe the latest offer, virtually unchanged from its prior proposals, is insufficient in that regard," Duke said.
Prologis is one of the world's largest real estate investment trusts, with ownership or investments in properties and development projects totaling about 1 billion square feet in 19 countries, and a customer base of about 5,800.
Duke Realty Corp. was founded in Indianapolis in 1972 by John Rosebrough, Phil Duke and John Wynne. It went public in 1993 with an initial public offering that raised $310 million. It now has about 160 million rentable square feet of industrial assets in 19 logistics markets throughout the United States.
"We have delivered superior returns for our shareholders based on our best-in-class industrial warehouse portfolio, world-class organization and the execution of our growth-oriented strategic plan," Duke said in Wednesday's statement. "Our business is robust, and we have significant momentum, as evidenced by the record levels of in-service and stabilized occupancy and considerable leasing success of our development pipeline."
Duke said it would have no further comment on the Prologis proposal at this time.
Shares in Duke were up 8.6% Wednesday morning, to $53.85 each. Prologis shares increased 1.5%, to $127.30.
Please enable JavaScript to view this content.