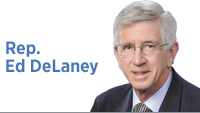 The State Board of Education recently decided that two virtual charter schools—the Indiana Virtual School and the Indiana Virtual Pathways Academy—had received some $40 million for enrolling thousands of students who were not "engaged" in studies.
At a hearing that led to this decision, the State Board of Education's chairman plaintively asked a rhetorical question: "How did we miss this?"
That brief question can be answered. The state board, the legislative supermajority and the governor were not looking. The victims of this neglect are the taxpayers, the public schools and, most important, the kids who weren't educated.
We need to parse a few words in the chairman's lament if we are to understand what has happened.
Let's start with the matter of deciding just who is the "we" who failed to catch this fraud. The first culprit is the supermajority in the Legislature. It is so smitten with educational "choice" that members didn't even notice how radical the idea of a rapid expansion of virtual schools is. They neglected the fact that, without school boards, school superintendents and firm regulations, things could quickly get out of hand.
So they let the Indiana Virtual School's funding rise from $97,000 in the 2012-2013 school year to $15.1 million in 2016-2017. At the same time, GOP lawmakers chose to rely on the small school corporation in Daleville (in Madison County) to monitor this growing behemoth. The district got 3% of the revenue (about $2.4 million). But Daleville was not given the resources or the authority to effectively supervise the Indiana Virtual School. The failings of the Legislature and Daleville were compounded by the state board's failure to enforce attendance requirements and by the governor's joining in the "choice" chorus.
Let's look at the word "miss" to see how this money was wasted.
One is reminded of a key lesson from driver's education. We were told that railroad crossings are dangerous and that one needs to "stop, look and listen" to be safe.
As noted, our leaders did not STOP to notice the explosion in funding and supposed enrollment. Nor did they LOOK to see what was happening. It should be obvious that virtual schools could be ripe for abuse, given they offer no physical presence for students and no elected leaders or school board to provide oversight.
Our leaders had a duty to consider whether this rapid growth was possible or whether one teacher could"virtually" supervise more than 200 students. We had to look to see if money was going to classrooms or elsewhere. We do this to a fare-thee-well for traditional schools. Could campaign contributions from education reform groups or even organizers of these schools have been a cause for this neglect?
Now how about LISTEN? Our small Democratic minority in the Legislature has tried to put the brakes on virtual schools for years. We file one losing amendment after the next to individual bills and the state budget.
For those who have paid attention, a small segment of the educational press has sounded alarms for several years, only to be ignored.
So now that we know something like this CAN happen, what are we to do to prevent this from happening again?
Many will focus on the $40 million, and the tendency will be to wait and see if these funds are collected.
The focus on collecting wasted dollars is a distraction. The chances of success are slim. Rather, we should key on two things.
First, we need to learn what has happened to thousands of kids who were left without a chance at an education. What will be done to identify and help them?
Second, we need to track where the money went. How much went to related parties?
Once we finish these tasks, the voters can begin to know how we missed this and what should be done to prevent it.•
__________
DeLaney, an Indianapolis attorney, is a Democrat representing the 86th District in the Indiana House of Representatives. Send comments to ibjedit@ibj.com.

Click here for more Forefront columns.
Please enable JavaScript to view this content.