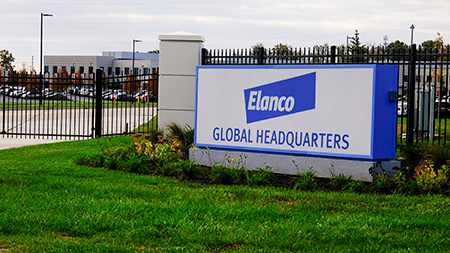 Elanco Animal Health Inc. is cutting about 50 jobs at its Greenfield headquarters as part of its latest wave of restructuring following its $6.9 billion acquisition of German conglomerate Bayer AG's animal-health division.
Elanco said Tuesday morning that the job cuts at its headquarters are spread across marketing, research and development, manufacturing and quality, and other administrative functions, as it reduces duplication around the United States.
The company, which makes animal feeds and vaccines, also is closing research and development sites in Germany and New Zealand, and making smaller cuts elsewhere.
Altogether, Elanco said it is chopping 350 jobs in 23 countries. The company's board of directors approved the moves Monday.
The company said the latest round of restructuring would save it between $20 million and $24 million this year, and up to $50 million when spread across a full 12 months in future years.
But there is doubtlessly more restructuring to come. Elanco has promised investors it would find $300 million in  savings by 2023 as a result of the acquisition.
In September, Elanco announced it would cut 900 jobs across 40 countries, the first step in its restructuring process. Most of those cuts took place in Elanco's sprawling sales organization around the world, with fewer than a dozen jobs lost in Indiana.
Elanco has more than 2,100 employees in Greenfield, Indianapolis, Terre Haute and Clinton. Its Greenfield headquarters is spread out in five buildings over 20 acres in Progress Park industrial park on the city's north side. After the latest restructuring, Elanco will have about 900 workers in Greenfield.
In December, Elanco said it would move its headquarters from Greenfield to a new, $100 million campus at the former General Motors stamping plant west of downtown. The move is meant to give the company higher visibility as a major independent company. Elanco was spun off from its longtime parent, Indianapolis-based drugmaker Eli Lilly and Co., in 2018.
"With a number of milestones achieved since IPO, including the Bayer acquisition, today's actions are the next step in our commitment to drive operational efficiencies and deliver attractive returns," Jeff Simmons, Elanco president and CEO, said Tuesday in a written statement.
Elanco said it expects to record charges of between $58 million and $77 million in connection with this restructuring, with $55 million to $70 million in severance and other cash charges and the balance in asset impairments and other non-cash charges.
As a result of Tuesday's actions, Elanco increased full-year guidance for 2021 to a loss per share in a range of 25 cents to 37 cents, up from 14 cents to 28 cents. Adjusted earnings per share will now fall in a range of 86 cents to 96 cents, up from 83 cents to 95 cents.
The company said the restructuring will not affects its ability to repay $500 million in gross debt this year, much of which it amassed to buy Bayer.
Shares of Elanco edged up 0.3%, to $30.05 each, in midmorning trading.
Please enable JavaScript to view this content.