Elanco Animal Health Inc. on Tuesday broke ground and shared new designs for its planned $100 million-plus global headquarters at the former General Motors Stamping Plant site just west of downtown Indianapolis.
Jeff Simmons, Elanco president and CEO, said the headquarters is expected to make Indianapolis "an epicenter of animal health innovation."
Elanco, now based in Greenfield, said the 220,000-square-foot, six-story, glass-faced office structure on 40 acres "represents Elanco's endeavor to build a post-COVID workplace destination, the company's next era of growth and innovation."
Plans call for an "environmentally-sustainable, employee-focused design and a state-of-the-art innovation center," Elanco said.
"When we talk about the new headquarters, we're talking about 'building as a verb, not a noun,'" said Jeff Simmons, Elanco president and CEO. "We're building Elanco's next era of growth and innovation for one of the industry's most trusted brands, we're building paths to help connect Indianapolis' historic west side with its center, and we're building a vibrant destination for our nearly 10,000 global employees to collaborate, connect and invent."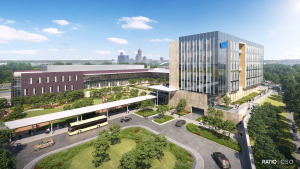 Elanco said the design by Indianapolis-based firms Ratio Architects and CSO was "influenced by new concepts of working post-pandemic," with the goal of creating "a more comfortable, casual work environment" and serve as a place for Elanco's teams to collaborate with leading innovation laboratories.
The groundbreaking ceremony took place under a tent just a few hundred feet from the huge, towering crane bay formerly used by the GM plant that is still visible for blocks in every direction. Elanco plans to keep the industrial structure and use it as the backbone for a glassed-in building that will become an event space next to the new headquarters building.
Several hundred people turned out for the ceremony, held under a clear, sunny sky that some said heralded a bright beginning for the new headquarters.
According to Elanco, the headquarters will feature:
A variety of work settings, including outdoor work areas, to accommodate neurodiversity;
An emphasis on open spaces for teams, customers and partners to connect;
Enhanced interior environmental quality incorporating daylight, active circulation paths, and an air
quality monitoring system to ensure adequate fresh air;
Robust amenities and services designed to accommodate employee flexibility and evolving, personal workstyles while fueling the Elanco culture of ownership and innovation;
Multi-use collaboration building designed to flex according to needs including a destination for major
global customer events and scientific meetings.
Environmental features in the design include:
Planned use of renewable and low-carbon materials such as the timber roof structure, which is
designed to avoid nearly 100 tons of emissions;
Enhanced stormwater management capacity and native plantings on-site will help to manage on-site
water use and build long-term resilience;
Sustainability of location: Redeveloping an idle space instead of developing grassland or greenspace.
Elanco said the campus is being developed in collaboration with AgriNovus, the state's food and agriculture initiative, and venture studio High Alpha.
The headquarters is expected to include "venture studio development 'makerspace' and create a scientific discovery network and research clearinghouse that will help position Indiana as a hub for animal health invention," Elanco said.
"Broad access to the world's animals coupled with a laser focus on creating pathways for innovation is what we believe sets Elanco apart as a sought-after partner," Simmons said. "We're building something significant that will make animals, the city and our world better, and we're designing our new headquarters with those partnerships in mind."
Elanco pointed to two such strategic partnerships that have already taken place.
In February, it announced in partnership with High Alpha seed funding to create and launch Athian, which was formed to certify, aggregate, and monetize environmental footprint reductions within the food system.
On Monday, Elanco announced the creation of BiomEdit, an animal health microbiome innovation company, in partnership with Boston-based Gingko Bioworks.
BiomEdit is a biotech company that will discover and develop new engineered medicines for animal health based on the microbial communities in animals and the surrounding environment.
Elanco said construction on the facility is expected to begin in the coming months and take about two to three years to complete.
Elanco, which announced plans to build on the former GM site more than one year ago after being wooed by city and state officials, affirmed initial plans to put at least $100 million of its own money toward the project.
The city has committed about $135 million in tax-increment financing bonds, approved in July by the city's Metropolitan Development Commission. About $64 million of that TIF package will go to Elanco via a project fund, with $51 million going toward public infrastructure improvements and another $20 million used for financing and debt.
Mayor Joe Hogsett said the near west side of Indianapolis has been waiting 11 years for someone to redevelop the GM site, which the automaker closed June 27, 2011.
"In truth, our whole city has been waiting and it's finally happened," Hogsett said at Tuesday's groundbreaking ceremony. "From cracked pavement to a more than $100 million headquarters. And much more is on the way."
The site was once a hive of activity, the workplace of more than 5,500 GM workers at its peak who used massive presses and dies to stamp metal for vehicles. The automaker had wanted to sell the plant to Illinois-based JD Norman Industries, but members of the United Auto Workers Local 23 voted against taking a pay cut in a contract with Norman.
For more than a decade, the site has been vacant as city and state officials tried to woo one organization after another to come to the site and rejuvenate the area.
"It has taken us 11 years to get to where we are today, to celebrate for a new beginning for our community," said City-Council Councilor Kristin Jones, whose husband used to work at the GM plant.
The city will build all the internal roads on the campus, with a year-long construction schedule slated to begin in November 2022. It will also pay for a new Henry Street Bridge, connecting the campus to the larger downtown area. Construction on that project is expected to run from July 2023 to November 2024.
State officials have promised up to $86.5 million in tax credits and training grants for the project, along with millions of dollars that have already been spent to acquire the property. Elanco plans to create nearly 600 jobs and retain another 1,600 as part of the development. The massive incentive deal is among the biggest in state history.
Gov. Eric Holcomb said the former GM site is an "eyesore that will be converted to an engine of ideas and research and development."
"This was a long, exhaustive, thoughtful, competitive process," he said. "We do not take this for granted. We realize that you had a world of options on which to plant your corporate flag, to build this headquarters."
Please enable JavaScript to view this content.