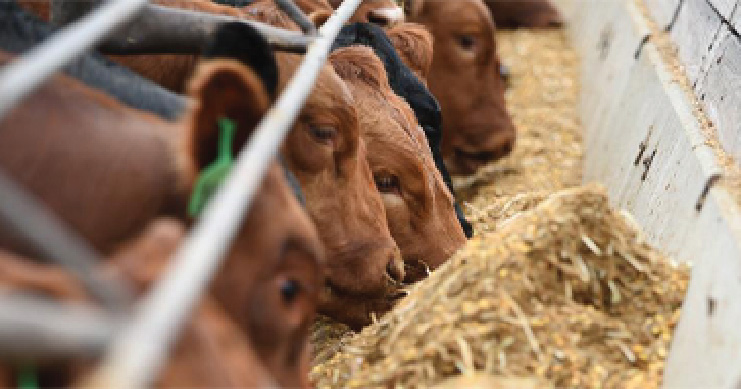 Greenfield-based Elanco Animal Health Inc. and Indianapolis-based High Alpha Innovation have teamed up to launch Athian, a company designed to help cattle farmers and ranchers measure and eventually monetize their carbon-reduction efforts.
Elanco President and CEO Jeff Simmons made the announcement last week in Houston at CattleCon—the annual Cattle Industry Convention and National Cattlemen's Beef Association Trade Show.
Elanco worked with High Alpha Innovation to develop the idea for Athian, fund it and launch the company. Elanco, High Alpha Innovation and Athian's founding team members are the owners of the startup.
Elanco told IBJ it expects "several other strategic investors" to join in supporting the startup.
"We launched it and funded it in just the last couple of weeks," High Alpha Innovation CEO Elliott Parker told IBJ. "We're very, very excited about this business. It's got a lot of potential."
Parker said Elanco approached High Alpha Innovation about a year ago, and the two parties have worked together since then to generate and test startup ideas. Athian was born out of that process.
Within the agricultural industry, Parker said, it's becoming increasingly common for producers to be asked for information about the carbon footprint of their organizations. As the efforts to combat climate change gain momentum, Athian is designed to help farmers and ranchers respond to these demands.
Cattle produce a great deal of methane gas, a contributor to climate change.
Athian will offer a software platform where ranchers and farmers can measure the amount of greenhouse gases their operations generate, and where they can certify the things they have done to reduce the emissions.
Using this information, Parker said, Athian aims to provide a way for the farmers and ranchers to monetize their efforts. They could do this by earning carbon credits based on their emissions-reduction activities. In the future, farmers and ranchers could then offer these carbon credits for sale to others who are looking to offset their own environmental footprints.
Currently, Parker said, there's no easy way for producers to accomplish these things. "It is confusing, which is in part why we decided to launch this business."
Though Athian is officially based in Indianapolis, its CEO, Paul Myer, lives in California, Parker said. Myer is Athian's only employee so far, but High Alpha Innovation is actively working to recruit additional Athian employees from around the country.
High Alpha Innovation was founded in February 2020 as a spinoff of Indianapolis-based venture studio High Alpha. High Alpha Innovation works exclusively with existing companies and universities to innovate, launch and grow startups. It has worked with Cummins Inc. and Allegion Plc, among others.
Parker said the Athian launch is the first of what High Alpha Innovation expects will be six startup launches this quarter.
Please enable JavaScript to view this content.