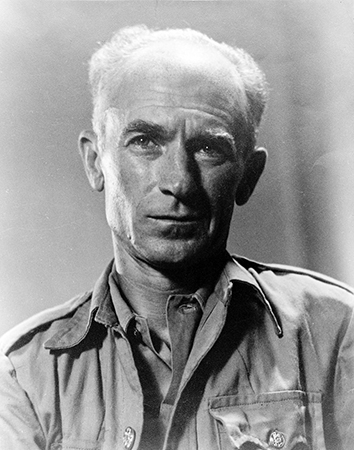 One of Indiana's most famous journalists and the namesake of Ernie Pyle Hall, home of Indiana University's former School of Journalism, Ernest Taylor "Ernie" Pyle was born in 1900 in Dana. He died in 1945 under enemy fire during World War II's Battle of Okinawa.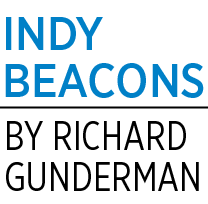 Pyle won a Pulitzer Prize in 1944 for his work as a war correspondent. Upon Pyle's death, President Harry Truman said, "No man in this war has so well told the story of the American fighting man as American fighting men wanted it told."
Although Pyle never stayed here long, the Indianapolis 500 dominated his dreams: "I would rather win that 500-mile race than anything. To me there could be no greater emotion than to come down that homestretch, roaring at 130 miles an hour … I have dreamed of that thousands of times."
Neither of his parents progressed academically beyond the eighth grade, but Pyle attended Indiana University, majoring in economics, because no journalism major was available. He served as manager of the football team and an editor of the Indiana Daily Student.
Pyle left school before graduating, becoming a newspaper reporter in Washington, D.C. There, in 1923, he met his future wife, Geraldine, and they were married in 1925. Pyle described their travels around the country in his newspaper columns, and the couple soon moved to New Mexico.
Pyle's travel column, "Hoosier Vagabond," was nationally syndicated, and his extensive journeys throughout the Americas laid the groundwork for his war reporting. By 1942, he was embedded with U.S. troops in Europe, and in 1945 traveled to the Pacific theater.
Pyle's war columns were unusual for the time. He focused less on grand strategies and battle outcomes than on the experiences of the common soldier. While he wrote about generals such as Dwight Eisenhower, the infantry held a special place in his heart "because they were the underdogs."
The Pyle approach to writing was simple and direct. He described his perspective as a "worm's-eye view," and painted a picture of the troops as "young men [whose] grime and whiskers and exhaustion made them look middle-aged."
Describing the change that took place in young men in combat, Pyle wrote, "The most vivid change was the casual and workshop manner in which they talked about killing. … No longer was there anything morally wrong about killing. In fact, it was an admirable thing."
Yet Pyle admired the men and especially the fierce devotion that often developed among them: "The companionship of two and a half years of death and misery is a spouse that tolerates no divorce. Such companionship finally becomes part of one's soul, and it cannot be obliterated."
Pyle's advocacy for infantrymen during the war culminated in Congress' 1944 passage of what came to be known as the "Ernie Pyle bill," which authorized a 50% increase in the rate of pay for soldiers serving in combat roles.
In April 1945, Pyle was reporting from a small island near Okinawa. His jeep came under fire from a Japanese machine gunner, and one of the bullets struck him in the temple, just below his helmet, killing him instantly. His wife died later that year.
Pyle's death prompted Eisenhower to write, "The GIs in Europe—and that means all of us—have lost one of our best and most understanding friends." First lady Eleanor Roosevelt recalled "this frail and modest man who could endure hardships because he loved his job and our men."
Pyle's greatest contribution was his unflinching portrait of the American soldier: "They seemed terribly pathetic to me. They weren't warriors. They were American boys who by mere chance of fate had wound up with guns. … They weren't born to kill, but they won their battles. That's the point."•
__________
Indy Beacons celebrates the history of Indianapolis in the year leading up to its 2021 bicentennial by telling the stories of famous city residents. It appears the second and fourth issues of every month. Gunderman is chancellor's professor at Indiana University.
Please enable JavaScript to view this content.