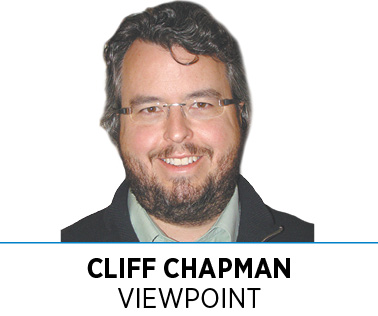 The summer between high school and college, a buddy and I took a road trip from Indianapolis to Bloomington. About halfway there, I noticed the gas gauge approaching "E," so I asked him if he wanted a snack since I needed to pull off and fill up.
He tensed up. He grabbed the handle on the passenger-side door. "Are you sure we can't make it to Bloomington?" he asked. I said no. He followed with, "Can we just get a gallon or two and then fill up down there?"
I didn't understand. As long as we'd been friends, I had never seen him act like this. He rubbed his hands on his pants legs. I said something like, "What the hell, man?" After a long pause, he said, "Cliff, I'm Black. It's not safe for me to stop here."
Of course, I knew he was Black. We'd been friends since seventh grade. We made fun of each other all the time, often poking fun at ethnic differences. But our difference never affected me until that moment. I was embarrassed by my naivete … my ignorance. The memory still makes me sad, and it returned with greater poignancy when I heard about the racist incident near Monroe Reservoir over the July Fourth weekend.
Unfortunately, that memory visits me often. You see, during the 23 years I've worked in nature conservation, I've never seen a Black family by themselves enjoying a stand-alone nature preserve, one that wasn't part of a state or local park. I've read countless essays and blog posts about engaging people of color in nature preserves, and I've participated in national conversations on the issue. Every time, I remember my friend panicking over a gas stop.
For me, getting out of the city to visit natural places is a refuge from my troubles. It pains me to know that the natural world doesn't always feel like a refuge for people who, like my buddy, fear for their safety when they leave the city.
Protecting natural areas in central Indiana benefits everyone. I mean everyone, globally. Planting trees in Indiana helps people in Norway, Zimbabwe and India. Protecting nature in rural Indiana benefits people in Carmel as well as in Martindale-Brightwood. From cleaner air and water to climate-change mitigation, we can clearly point to these impacts.
I imagine every not-for-profit leader has similar feelings about how their work benefits everyone. But that assumes everyone has access to those benefits. Despite the universal positive impact of our work, there is still a piece missing.
Here's the thing: The Central Indiana Land Trust is not changing its mission. The charitable organization exists to benefit plants and animals and protect the natural areas they call home. But we're also committed to connecting Hoosiers to nature. Our challenge is to do that for all Hoosiers. How? I don't know. Neither does our board. Essentially, we've been driving that car to Bloomington without thinking about filling up before we set off.
We're committed to changing that story, starting with our board leadership, working toward a board that is more representative of our community. It's a first step, to be followed by others.
I challenge other organizations to pursue similar measures. Let's make sure our work truly benefits everyone. Otherwise, we'll drive into the future in ignorance, missing the realities sitting right next to us.•
__________
Chapman is executive director of the Central Indiana Land Trust.
Please enable JavaScript to view this content.