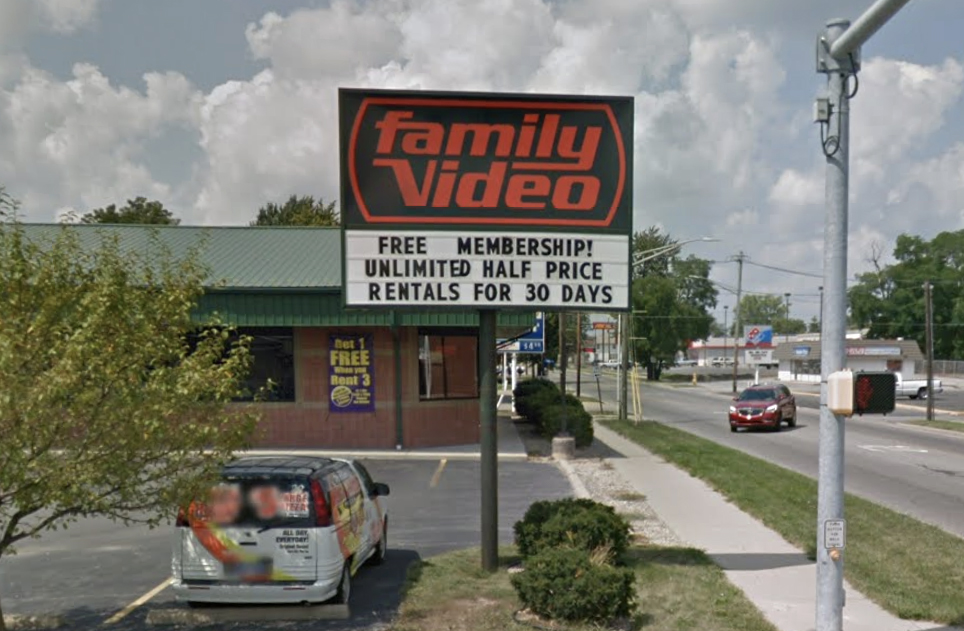 The nation's largest remaining movie rental retailer, Family Video, says it is closing all its 248 locations nationwide, including three Indianapolis-area stores.
Family Video is part of Highland Ventures Ltd., a family-owned retail and real estate company based in the Chicago suburb of Glenview, Illinois.
"Today, I have to make the difficult announcement that we are closing all Family Video locations," Highland Ventures CEO Keith Hoogland said in a letter to customers and employees Tuesday. "The impact of COVID-19, not only in foot traffic but also in the lack of movie releases, pushed us to the end of an era."
The company will continue to do business online at www.familyvideo.com.
Wednesday is the last day customers can rent movies in person. The company said stores are selling off their merchandise and fixtures, and locations will close once everything has been sold. The company did not give a specific date when stores will close.
The first Family Video, then called Video Movie Club, opened in 1978 in Springfield, Illinois. At its peak, the company had 800 locations and 10,000 employees in the U.S. and Canada.
But the chain's store count had been dwindling in recent years as it closed numerous locations around Indianapolis and elsewhere. Family Video's remaining local stores are at 6005 E. Thompson Road in Indianapolis, 322 S. Lebanon St. in Lebanon and 809 S. Harrison St. in Shelbyville. The chain has 21 locations left around Indiana.
"Surviving 10 years longer than the big three, Blockbuster, Movie Gallery and Hollywood Video, we were among the few that started with Beta, moved on to VHS and remained a part of the DVD and Blu-Ray era," Hoogland wrote.
Hoogland also thanked the chain's employees and customers. "Without you, we would not have been the last man standing in our industry."
Highland Ventures, which started in 1946 when Clarence Hoogland opened Midstates Appliance & Supply Co. in Springfield,  is also involved in numerous other retail ventures.
It launched a chain of fitness centers, StayFit24, in 2008. In 2012, the company partnered with Marco's Pizza and has since become the restaurant chain's largest franchisee. Its Family Vet Group brand operates veterinary clinics in multiple states, and it also operates Highland Pure Water & Ice, which sells filtered water and ice from self-service kiosks.
Highland also owns a real estate development company called Legacy Commercial Property. Legacy owns more than $650 million in commercial real estate in 19 states, and most of Highland's retail brands operate in Legacy-owned locations.
Please enable JavaScript to view this content.