With no nearby direct flights to Indianapolis available, Baylor University and Gonzaga University fans had to go well out of their way to attend the culmination of the 2021 NCAA men's basketball season Monday night.
Some drove from Baylor's home city of Waco, Texas, to Dallas to catch a direct flight to Indianapolis. Gonzaga fans flew in from Spokane, Washington, with pit stops in Atlanta, Denver, Minneapolis, Salt Lake City, Detroit, and any number of other places. And still others made the trip to Seattle—the only city on the West Coast currently offering direct flights to Indianapolis.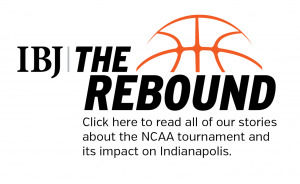 Travis Smith, a fourth-year student at Baylor, said he arrived in Indianapolis on Friday night, after making the 95-mile drive to Dallas to catch his flight. While there was a pool of tickets available to students, Smith said he and his father were able to get tickets through his dad's work.
Of the nearly 8,000 in attendance at the game—a 86-70 Baylor rout—most were cheering for the Bears.
"Baylor fans [were] eager and ready, and they really showed it tonight," Smith said at halftime of the game. "It really means means everything. It's been a long time for Baylor fans, now."
Baylor had never won the national championship, and its only other appearance in the title game was in 1948. It hadn't been to the Final Four since 1950.
Brandon Castillo and his daughter, Ariana, a Gonzaga student, made the trip from Sacramento early Monday to be in Indianapolis for the game. They arrived just four hours before tipoff, after a layover in Atlanta.
Brandon said they decided to make the trip after Gonzaga's buzzer-beating, overtime win against UCLA in the Final Four on Saturday.
"We looked at each other on Saturday and said, "We're just gonna go,'," he said. "We left her mom and the rest of the kids behind. It was a long day, but it was relatively easy."
While they view Indianapolis as more of a destination city, rather than a vacation spot—the city generally markets itself for events rather than leisure—the Castillos said they hope to be back in Indianapolis the next time the city hosts the Final Four, in 2026.
Indianapolis "has great events, good sports events here," said Brandon. "I don't know that I'll be vacationing here, but I would come in for a destination-type event. That's what brought us here."
On the way back, the Castillios will part ways in Denver, with Ariana returning to Spokane.
Other fans traveled shorter distances to attend the championship game. 
Columbus, Ohio, resident Randy Linstead said he's been to multiple Final Fours, and he made a day trip to Indianapolis this year.
He also dined at the recently reopened St. Elmo Steak House, which closed abruptly Saturday after multiple employees tested positive for COVID-19 before reopening Monday. Linstead didn't comment on the St. Elmo situation, but said he was glad he made the trip to Indianapolis.
"Indianapolis is always a fun city to go to," he said. "Other than the game, I just wanted to have a nice dinner, hang out and have a couple of beers. I got that."
Please enable JavaScript to view this content.