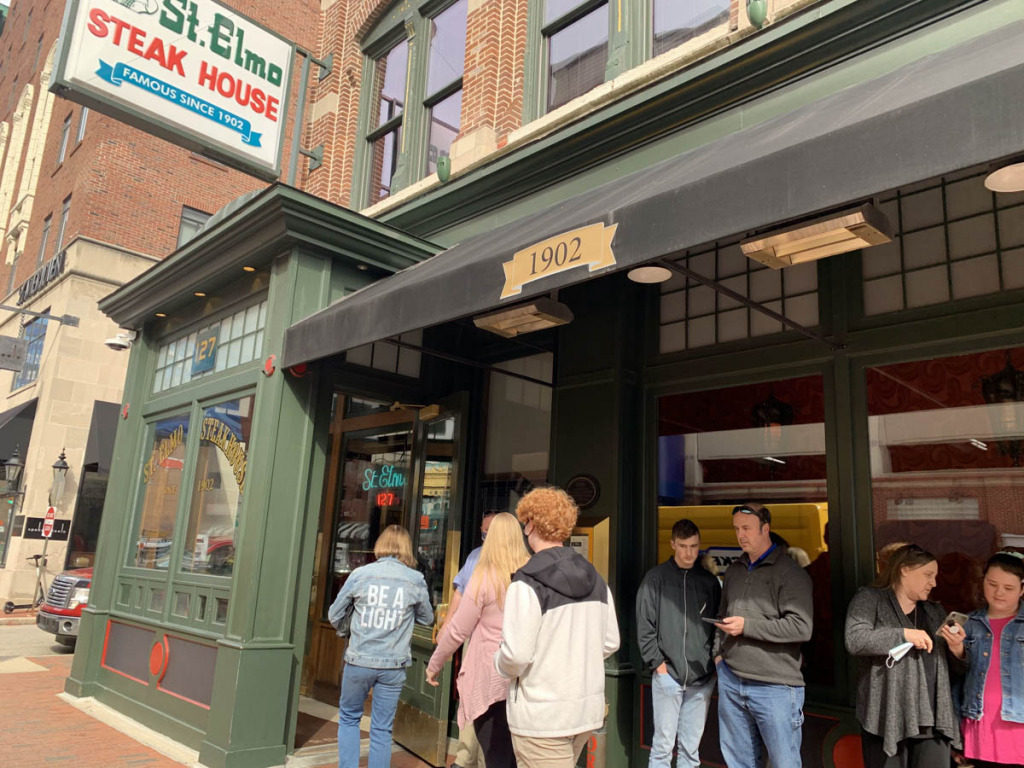 St. Elmo Steak House reopened Monday night with limited capacity after working with the Marion County Public Health Department on an investigation and contact-tracing related to a COVID-19 outbreak among employees.
Health officials said earlier Monday that its investigation has not identified any potential risk of exposure to the restaurant's patrons.
The operator of the iconic steak house announced late Saturday night that the restaurant would be closed for a deep cleaning after it learned that nine of its employees had tested positive for the virus.
On Monday, St. Elmo reported a COVID-related death to the Indiana Occupational Safety and Health Administration, said the agency's spokeswoman, Stephanie McFarland. Several people who work or previously worked at the restaurant have posted memorials on social media for a bartender who died.
McFarland noted for clarity's sake that the death did not occur at the restaurant. "A possible workplace fatality that is related to an illness, such as COVID-19, many times does not happen at the establishment itself, but at another location such as a medical provider or the home of the deceased," she said.
The restaurant's temporary closure occurred with fans in town for the Final Four and just after St. Elmo was featured on the "CBS This Morning: Saturday" news program. Its reopening Monday occurred just hours before the NCAA Men's Basketball Championship game was to tip off.
The restaurant reported the outbreak to the county health department on Saturday, which has since been working with the restaurant to provide guidance on safely reopening and determining potential COVID-19 exposure to patrons and between staff members.
"At this time, the contact tracing investigation related to St. Elmo Steak House staff has not identified any potential exposure risk to patrons based on the CDC guidelines of greater than 15 minutes of unmasked exposure," said Aliya Wishner, communications specialist for the health department.
Contact tracers contacted staff members who were found to have 15 minutes or more of unmasked exposure, Wishner said. All St. Elmo employees, regardless of their amount of contact with the known infected staffers, have been offered free COVID-19 testing.
It was not immediately clear how many staffers were found to have had "close contact" with the infected workers.
Earlier Monday afternoon, St. Elmo released a statement about the closure and contact tracing from Craig Huse, president of Indianapolis-based Huse Culinary, which operates St. Elmo along with related eatery and nightlife restaurants including Harry & Izzy's. Huse also is a co-owner of St. Elmo.
Huse said then that the restaurant was working with the health department to determine "how and when it will be safe to reopen St. Elmo Steak House."
"We would like to thank Dr. Virginia Caine and the Marion County Public Health Department for providing us with invaluable guidance and best practices to safely reopen," Huse said. "With Dr. Caine's direction and plan, we have conducted a professional deep cleaning and sanitization of the restaurant and provided employees with the highest and most accurate level of testing."
All employees would need to have negative PCR tests for COVID-19, conducted by a MCPHD facility, or be fully vaccinated in order to return to work, Huse said.
St. Elmo will not identify any of the nine employees who tested positive, Huse said.
Please enable JavaScript to view this content.