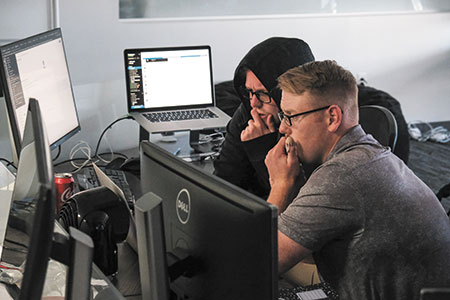 New York-based Newlight Partners has acquired a majority stake in fast-growing Indianapolis-based cybersecurity firm Pondurance, officials for the local company announced Wednesday.
Terms of the deal, which closed Sept. 10, were not disclosed. Officials say Newlight will be able to fuel a national expansion for 12-year-old Pondurance, which primarily has operated in Indiana.
"It's a substantial investment. If you look at Newlight, they make very substantial investments," Pondurance founder Ron Pelletier told IBJ.
Newlight has sunk approximately $6 billion into more than 100 investments since 2005, first as the Strategic Investments Group at Soros Fund Management LLC, and now as Newlight after the team's spinout from New York-based Soros in 2018. Newlight has approximately $4 billion in capital commitments and assets under management, officials for the privately held firm said.
Newlight has worked in five sectors: financial services, telecommunications, power and infrastructure, health care services and business services.
Pelletier and Pondurance's other two shareholders—Landon Lewis and Dustin Hutchison—will remain with the firm and be minority shareholders. The rest of the firm's employees will remain with the company as well.
"We're going to maintain the Pondurance brand name, we're going to keep our headquarters here, and we're going to grow here," Pelletier said. "We're going to become a much larger company."
Pondurance, which has 52 employees, was a prime acquisition target. The company—which has been totally bootstrapped to this point—told IBJ in late 2019 that it had no debt and has been generating a seven-figure annual profit.
Just under 90% of Pondurance's customers are in Indiana. Pelletier said the Newlight acquisition will allow the firm to expand nationally.
Doug Howard, a cybersecurity veteran from Virginia, will take over as CEO, and Niloofar "Niloo" Razi Howe will be Pondurance's board chairman.
"Pondurance's intelligent threat detection and response platform and growing team of talented experts make an unbeatable combination," Howard said in a statement. "We are eager to leverage Newlight's resources and expertise to accelerate our ambitious growth plans and deliver higher levels of customer value."
Howe adds deep industry and board experience from software and security companies including RSA, Endgame and Recorded Future.
"Pondurance is a deeply trusted cybersecurity services firm that is extremely well poised for growth in a rapidly evolving market as customers address ransomware, compliance and digital transformation" said Adam Stulberger, a Newlight partner.
Lewis, who was CEO of Pondurance, has taken on the title of chief technology officer. Hutchison, who served as president and chief operating officer, will now serve as vice president of services and chief information and security officer. And Pelletier, who previously carried the title of founder and partner, is now chief customer officer.
Pelletier told IBJ this week that Pondurance executives have been looking for an investment partner to help them expand for two years, but took their time to make sure they got the right partner.
"It was important that all the current leaders stay with the company, and that we retain our nucleus and our culture," Pelletier said. "We didn't want our customers to feel like they were losing identity with us. We wanted to grow that.
"The cybersecurity industry continues to consolidate," he noted. "As a brand and a company we want to make sure we can remain a leader in this space, and we need money to do that. With Newlight, every step of the way they demonstrated the utmost of integrity as well as the vision of what they want this company to be."
This is Newlight's first foray into cybersecurity. Pelletier is confident the deal with Newlight will dramatically heighten Pondurance's growth trajectory.
"In a year's time, we have the potential to double both revenue and number of employees as we venture more outside Indiana," he said. "We are going to be national. We have a very comprehensive strategy that not only brings the technology but also the people, and that's what's needed to tackle cybersecurity today. That's what's going to set us apart."
The company has historically spent a lot of time with customers face-to-face and going to industry and community events, and Pelletier said company officials want to continue that in other markets.
Pelletier emphasized that the national strategy doesn't mean Pondurance is abandoning or even neglecting its backyard.
"Our goal is to maintain our business here and grow it," he said. "We haven't by any means saturated the state."
Pondurance was founded by Pelletier in 2008, when he was laid off from Ernst & Young where he worked in the firm's technology risk services group.
"It was the fourth quarter, it was a recession and nobody was hiring," Pelletier said. "So I started my own company.
Lewis came aboard in 2011. Hutchison joined company in 2013 and became an equity partner in 2015.
Please enable JavaScript to view this content.