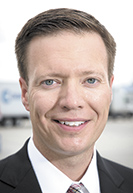 A federal judge has denied a request by a former Celadon Group Inc. executive to travel to a Mexican resort for a birthday celebration while he is awaiting trial on multiple fraud charges.
William Meek served as Celadon's president and chief operating officer before resigning from the now-defunct Indianapolis-based trucking company in April 2017.
Meek, along with former Celadon Chief Financial Officer Bobby Peavler, were criminally charged in December with multiple counts of fraud in what the U.S. Department of Justice described at the time as "a complex securities and accounting fraud scheme." Prosecutors allege the former executives were involved in buying and selling trucks at inflated values to make Celadon's financial condition appear stronger than it actually was.
Just days later, Celadon filed for bankruptcy and ceased operations.
Under the terms of his pretrial release agreement, Meek must obtain approval from the court for any travel that takes him outside the Southern District of Indiana.
Meek's attorneys filed a motion July 30 asking the court for permission to allow Meek to travel to an adults-only resort in Playa del Carmen south of Cancun Sept. 3-9 to celebrate his 40th birthday with his wife and friends.
Late last week, Judge Jane Magnus-Stinson of the Federal District Court for the Southern District of Indiana agreed with federal prosecutors in denying the trip.
"The Court finds that Mr. Meek's requested international travel is not advisable," Magnus-Stinson wrote in her decision. "As an initial matter, international travel generally increases the risk of flight. Moreover, the reason for the travel — Mr. Meek's fortieth birthday — is not the sort of extraordinary event that presents good cause to incur a risk."
Magnus-Stinson also agreed with prosecutors that Meek's argument that he would not be a flight risk because he and his wife were leaving their two children behind in Indianapolis was not convincing.
The trial against Meeks and Peavler is scheduled to begin May 3.
Please enable JavaScript to view this content.