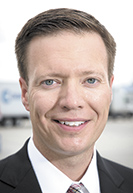 Federal prosecutors are urging a federal court to deny former Celadon Group Inc. executive William Meek's request to travel to a Mexican resort for a birthday celebration while he is awaiting trial on multiple fraud charges.
"The government cannot endorse Meek's request to travel internationally, for frivolous purposes, during a global pandemic, and while he is under indictment for serious fraud offenses," U.S. Attorney Josh Minkler said in a court document filed Wednesday in U.S. District Court in the Southern District of Indiana.
Meek served as Celadon's president and chief operating officer before resigning from the now-defunct Indianapolis-based trucking company in April 2017.
Meek, along with former Celadon Chief Financial Officer Bobby Peavler, were criminally charged in December with multiple counts of fraud in what the U.S. Department of Justice described at the time as "a complex securities and accounting fraud scheme." Prosecutors allege the former executives were involved in buying and selling trucks at inflated values to make Celadon's financial condition appear stronger than it actually was.
Just days later, Celadon filed for bankruptcy and ceased operations.
Under the terms of his pretrial release agreement, Meek must obtain prior approval from the court for any travel that takes him outside the Southern District of Indiana.
Meek's attorneys filed a motion July 30 asking the court for permission to allow Meek travel to an adults-only resort in Playa del Carmen south of Cancun Sept. 3-9 to celebrate his 40th birthday with his wife and friends.
In that July 30 request, Meek's attorneys said that, though prosecutors had already indicated they would oppose the request, those concerns were not valid because they were not specific to Meek "but are rather generic concerns that should not disrupt Mr. Meek's long scheduled vacation, particularly in light of the lack of objection from his pretrial services officer."
The Meeks booked the trip on Dec. 1, four days before William Meek was charged.
Meek is not considered a flight risk, his attorneys wrote in their July 30 court filing, and the fact that he and his wife are leaving their two children behind in Indianapolis is evidence that they intend to return here.
Meek's attorneys also argued that, in the "unlikely event" that the COVID-19 pandemic restricts Meek's ability to return to the U.S. from Mexico, "it seems inconceivable that Mr. Meek would not be allowed back to the United States in sufficient time to prepare for his May 2021 trial."
But prosecutors disagreed, noting in their filing this week that Meek "presents no compelling need to travel internationally," and that international travel in and of itself poses a danger of flight risk.
"No added risk of flight is warranted when his purpose for obtaining his passport and traveling internationally is nothing more than to party with his friends in Mexico," Minkler wrote.
The COVID-19 pandemic adds more risk to the situation, prosecutors said, because of both the health risks and because non-essential travel between the U.S. and Mexico has been restricted for the past five months.
On Thursday, the U.S. Department of State issued a Level 4 "Do Not Travel" advisory for Mexico because of COVID-19. The advisory noted that travelers may experience border closures, airport and business closures, travel prohibitions, stay-at-home orders and other emergency conditions within Mexico.
Meek is represented by Chicago attorneys Sean Berkowitz and Eric Swibel and Los Angeles attorney Joshua Hamilton, all three of whom work for the firm Lathan & Watkins LLP. The attorneys did not immediately respond to phone messages and emails seeking comment Friday morning.
Please enable JavaScript to view this content.