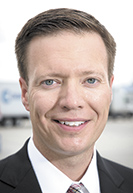 The former chief operating officer and chief financial officer of Indianapolis-based trucking firm Celadon Group Inc. have been indicted for their alleged roles in what the U.S. Department of Justice describes as a "complex securities and accounting fraud scheme that resulted in a loss of more than $60 million in shareholder value."
The two also are facing a civil suit filed Thursday by the U.S. Securities and Exchange Commission. Both the civil and criminal cases allege that the former executives were involved in buying and selling trucks at inflated values to make Celadon's financial condition appear stronger than it actually was.
William Eric Meek, 39, and Bobby Lee Peavler, 40, were each criminally charged with one count of conspiracy to commit wire fraud, bank fraud, and securities fraud; five counts of wire fraud; two counts of securities fraud; one count of conspiracy to make false statements to a public company's accountants and to falsify books, records, and accounts of a public company; and one count of making false statements to a public company's accountants.
Peavler was charged with two additional counts of making false statements to a public company's accountants.
Meek served as Celadon's president and chief operating officer before resigning from the company in April 2017. Peavler resigned as Celadon's chief financial officer in October 2017, and he left the company altogether in March 2018.
The criminal charges were announced Thursday by U.S. Attorney Josh J. Minkler. The Justice Department said the men were arrested Thursday morning and appeared before U.S. Magistrate Judge Mark J. Dinsmore of the Southern District of Indiana before being released on bail.
In the civil suit, the SEC alleges that Meek and Peavler engaged in a fraudulent scheme; aided and abetted fraud; aided and abetted both Celadon's reporting violations and its record-keeping violations; and made false statements to accountants.
The SEC also accuses Peavler of making fraudulent misrepresentations and omissions, and of certifying Celadon financial reports that he knew to be inaccurate. Additionally, the SEC accuses Meek of inducing a subordinate, Danny Williams, to act in violation of SEC rules.
Williams, 36, is the former president of Celadon subsidiary Quality Cos. Williams pleaded guilty in April 2019 to conspiracy to commit securities fraud, make false statements to a public company's accountants, and falsify books, records, and accounts of a public company.
Meek was Williams' supervisor.
According to the indictment, Meek, Peavler and others at Celadon knew prior to 2016 that the value of a substantial portion of Celadon's trucks declined in value in part to a slowdown in the trucking market. Some of the trucks also had serious mechanical issues that depressed their value.
Instead of accounting for this decline in truck values, Meek, Peavler and others allegedly devised a scheme that caused Celadon to conceal tens of millions of dollars in losses to its shareholders, banks and the investing public, the indictment said.
Between June 2016 and September 2016, Celadon subsidiary Quality Cos. sold about 1,000 trucks at inflated prices to a party identified only as Truck Dealer 1, the indictment said, and, in turn, Quality purchased more than 600 trucks from the dealer—also at inflated prices.
When Celadon's outside auditor questioned the company on the matter, Peavler, Meek and others lied repeatedly to conceal the true nature of the transactions, the indictment said.
Chicago attorney Sean Berkowitz is representing Meek in both the civil and criminal cases.
"Mr. Meek looks forward to having a day in court to defend himself against these inaccurate charges," Berkowitz told IBJ late Thursday afternoon.
Peavler's attorney, Sergio Acosta of Chicago, declined to comment on the charges.
The cases against Peavler and Meek are part of a larger group of problems at Celadon.
In April, the company entered a deferred prosecution agreement with the government under which it is obligated to pay restitution of $42.2 million.
Celadon admitted last July that it was under criminal investigation over financial-reporting issues dating back to 2013.
In October 2017, the company revealed that it was under investigation by SEC. And, in April 2018, Celadon said its problems were much older and deeper than expected, and that the company had likely overstated earnings by as much as $250 million during a three-year period that ended in 2016.
The company has replaced most of its senior leadership team, including its CEO and chief financial officer. The firm also has refocused on its core trucking business and exited several other lines of business.
To date, Celadon has not yet restated its financial reports for the periods in question.
Please enable JavaScript to view this content.