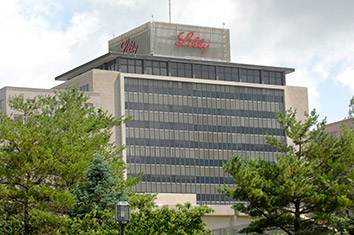 The U.S. government is buying an additional $1.29 billion worth of Eli Lilly and Co.'s antibody treatment of COVID-19, marking a steep ramp up for the specialty drug, the Indianapolis-based  pharmaceutical company announced Tuesday morning.
The purchase will amount to 614,000 doses of two drugs, bamlanivimab and etesevimab, that make up the cocktail infusion, Lilly said.
That's a sharp increase from the previous government purchase announced in September, 338,000 doses of etesevimab to complement doses of bamlanivimab already on hand.
Shares of Lilly climbed as much as 1.5% in premarket trading Tuesday, to $253 each, before settling to about $250.
The antibody treatment is not a vaccine and does not prevent people from getting infected. However, it can keep many infected patients from getting sicker and needing hospitalization. The treatment needs to be administered in the early stages of the disease—usually within 10 days of a positive test.
As part of the agreement, Lilly will supply 400,000 doses by Dec. 31 and the remainder by Jan. 31.
The move comes as demand is skyrocketing for COVID-19 treatments. Across the country, several governors are boosting the antibody infusions as a primary treatment for people—including the unvaccinated—who have tested positive for COVID-19.
The purchase agreement is the latest boost for Lilly's antibody cocktail, which hit the market in November 2020 under emergency-use authorization, but was paused for several months beginning in June due to the spread of several COVID-19 variants that weakened the treatment's potency.
The suspension was lifted in August as the treatment was shown to be effective against the delta variant, the highly contagious mutation of the virus that was sweeping the nation.
Competitor Regeneron Pharmaceuticals, the only other drugmaker to make an approved antibody treatment, racked up huge sales in Lilly's absence.
Both Lilly's and Regeneron's antibody treatments are laboratory-made proteins that mimic the immune system's ability to fight off harmful antigens such as viruses.
Lilly said the estimated impact of the new purchase for 2021 will be $840 million of additional revenue and approximately 25 cents of additional earnings per share. The expected impact in 2022 will be reflected in the company's financial guidance to be provided in December.
Please enable JavaScript to view this content.