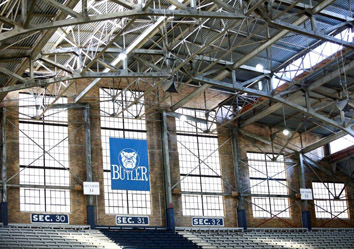 The Indiana Fever will play at Hinkle Fieldhouse for two-plus seasons while Bankers Life Fieldhouse undergoes its massive renovation, Pacers Sports & Entertainment announced Thursday.
PS&E has reached a deal with Butler University to relocate the WNBA franchise's home games to the historic 9,100-seat venue during the 2020 and 2021 seasons, and part of the 2022 season.
Officials have previously acknowledged the need to temporarily relocate the franchise during the three-year, $360 million overhaul of Bankers Life but had not announced where the Fever would play until Thursday.
The Pacers will continue to play at Bankers Life during the project, but the majority of the construction will take place in warmer weather, when the Fever plays its season.
"On behalf of our entire organization, we are extremely thankful to have such a great community partner in Butler University," PS&E President Rick Fuson said in a written statement. "We look forward to bringing the best of women's professional basketball to Hinkle Fieldhouse—which is an incredible venue to showcase our state's beloved game."
PS&E staff is working through details, including how it will handle season tickets, marketing, scheduling and sponsorships during the Fever's stint at Hinkle, Fever President Allison Barber told IBJ.
"We're really working through all of that with Butler," Barber said. "Our team is working hard to create the structure for the tickets and the pricing, but I think our fans will be happy with the venue. We will, of course, make it something that's accessible and affordable for our fans."
Details of those plans are expected to be distributed to fans and sponsors in the months ahead. Barber said the team will bring in its own sponsor signage for use during Fever home games. She said the ticket-pricing structure will likely "be similar to what we have now."
Barry Collier, athletic director for Butler, said the university is eager to work with the Fever. He said hosting the team "is a significant addition to Hinkle's rich history."
Collier said the university will work closely with the Fever and the WNBA regarding scheduling, particularly as Butler looks to accommodate its teams that use the venue—women's volleyball and men's and women's basketball.
The Fever averaged about 6,300 fans per game last season. The teams has hosted only a few games in recent seasons with crowds that exceeded Hinkle's maximum capacity.
Barber said she expects fans will be pleased with Hinkle Fieldhouse's atmosphere, particularly following nearly $50 million in upgrades in recent years. They include a new video board, wider concourses, chairback seating and air conditioning.
Barber said the move could help bring new fans to the games.
"I can't expect a dropoff in attendance because it's is a good location and our fans are loyal," she said. "I  actually think we'll have an increase in attendance because we'll work hard to develop a new fan base from the Butler area. This could also help the franchise grow its fan base."
Team officials and the Capital Improvement Board agreed to keep events, including concerts, to a minimum during warmer months when construction would be at its peak.
The preliminary construction schedule for Bankers Life Fieldhouse is as follows:
— Phase 1 will focus on interior renovations and is scheduled to run Feb. 1-Oct. 1, 2020. The building will be closed for events from the end of the 2019-2020 Pacers season through Oct. 1, 2020.
— Phase 2 includes an entry pavilion expansion and exterior construction along with additional interior renovations, which will take place after the 2021 NBA All-Star Game until Dec. 31, 2021. The building will be closed for events from the end of the Pacers' 2020-2021 season through Oct. 1, 2021.
— Phase 3 construction will take place between Jan. 1 and Oct. 1, 2022, to complete the entry pavilion expansion, exterior plaza and remaining interior renovations. The building will be closed for approximately 60 days in the summer of 2022.
The Fever are expected to be able to return to Bankers Life Fieldhouse to finish out their regular season games in 2022. Barber confirmed the team "absolutely" has every intention to return to the downtown venue for the long term when construction is over.
"We'll have some challenges, absolutely," she said. "There are tradeoffs, but we are excited about the Fieldhouse of the future and what we will come back to. For the Fever, the tradeoff (to get that) is playing in a different location."
Barber said while there was some heartache associated with having to find a new temporary venue, but there is precedent in the league for such a shift.
Atlanta and Phoenix's respective teams used college venues while their home arenas were being renovated, and the Seattle Storm is currently playing its games at a college venue as well. The Dallas Stars plays full time at a collegiate arena.
It also won't be the first time Hinkle, which opened in 1928, will serve as a home for the Fever. In 2004, the arena hosted a preseason game for the franchise. The arena has also hosted the Big Ten women's basketball tournament twice and the 1968 American Basketball Association All-Star Game.
Please enable JavaScript to view this content.