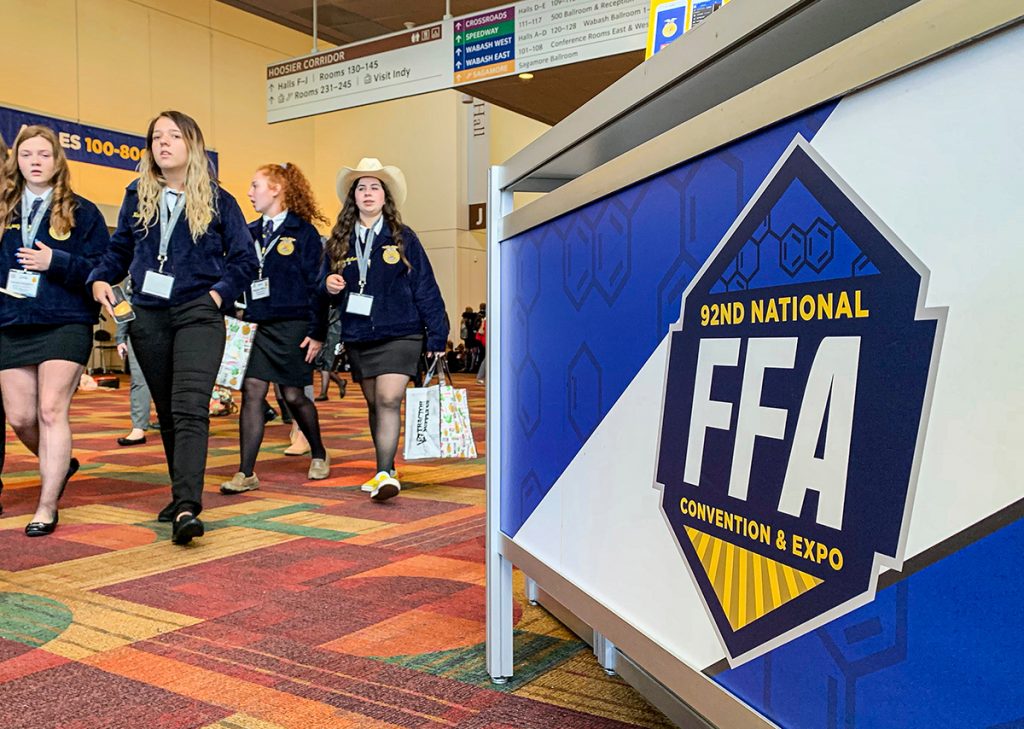 The National FFA Organization is moving ahead with plans for an in-person convention later this year in Indianapolis, making it the latest organization to announce such plans after scrapping face-to-face meetings in 2020 because of the pandemic.
The Indianapolis-based group devoted to agricultural education said Wednesday morning that it expects anywhere from 30,000 to 40,000 people to attend its convention this fall, slated to run Oct. 27-30 at the Indiana Convention Center and Lucas Oil Stadium. FFA's huge annual event in Indianapolis typically brings at least 65,000 people, but organizers expect some restrictions might still be in place that limit attendance this year.
The annual event is well-known for filling downtown streets and venues with young, blue-coated attendees.
Mandy Hazlett, FFA's associate director of convention and events, said the 2021 event "will look a bit different," with a hybrid approach that offers in-person events for those who can attend in person and virtual activities for those who cannot.
"Just like everybody else, we've been watching things progress" over the past several months, Hazlett told IBJ. "Having smaller and larger events starting to come back into play, and seeing how that's working specifically here in Indianapolis—and how the city is handling everything—was a big factor."
FFA is scheduled to convene in Indianapolis through at least 2033, following a contract extension that was announced last June alongside the group's decision to temporarily go virtual. The event has been hosted in Indianapolis since 2006, with the exception of a three-year stint in Louisville from 2013-2015.
Hazlett said FFA plans to work closely with the Marion County Public Health Department to determine whether any restrictions will be in place locally that limit attendance, but the organization is anticipating having about 50% to 70% of typical capacity.
It's also possible some students who would typically travel to the convention will be prevented from doing so due to school budget cuts or rules set to limit exposure to COVID-19, even as the disease wanes nationwide.
In 2019, FFA brought more than 68,000 people—mostly high school students—with an economic impact of $38 million. Before it was taken virtual, the 2020 convention was expected to generate an economic impact of about $40.3 million for the city. A firm figure has not yet been made public for this year's anticipated economic impact.
"We're expecting to have a lower attendance than what you typically see for our convention," Hazlett said. "That's why we're also adding a virtual program this year—so we can still reach those individuals who may want to be here, but for various reasons can't."
Hazlett said FFA does not plan to require attendees to be vaccinated, but since high school students from across the United States are expected to travel to the event, FFA expects school districts will have their own guidelines for participants.
A majority of the organization's typical in-person events will go on as usual, like competitions, business sessions, the FFA Expo and various speeches. But some things, like teacher and student workshops, general sessions and the Blue Room—which showcases technological advancements in the farming industry—will have virtual components.
FFA has not yet finalized plans for how each of its programs will occur, such as some early rounds in certain competitions being held virtually, or modifying the number of people in certain areas. But Hazlett said many of those decisions are likely to be made in the next few months.
"We're going to continue to be flexible throughout this planning season, and as things continue to progress and restrictions get lifted, we'll see where we can be flexible in some of our planning," she said. "Some things we'll be able to flex on and make changes to on the fly, but there's just some other things that we're just going to have to hold to what the plans are."
In a written statement, Gov. Eric Holcomb lauded FFA's decision to return to an in-person event.
"Our state is thrilled to safely host the FFA annual convention again right here in the heart of the heartland," Holcomb said. "This event brings together some of our country's top future leaders, and I am excited to see what opportunities come from it."
Visit Indy President and CEO Leonard Hoops said he's "extremely grateful" that FFA is returning to the Indiana Convention Center after its year online. He added the move shows a "continued confidence in Indy and commitment to keeping its convention on track.
Hazlett said the organization hasn't entirely ruled out virtual components for future years, but noted FFA is designed for face-to-face interaction.
"We'll see what happens this year; there will be, I'm sure, some things that will change for years to come, but it's a little hard to nail all of that down for future decisions," she said. "We learned a lot last year—there are some strategic things that we can do to make those that are at home still feel involved in convention, and that's a positive. But there is nothing that that can replace that in-person experience."
FFA will join several other major conventions that will be making comebacks in Indianapolis this year, including the FDIC International (Fire Department Instructors Conference) scheduled for Aug. 2-7, GenCon (Sept. 16-19) and the Performance Racing Industry Trade Show (Dec. 9-11)
The first major trade show to come to Indianapolis since the pandemic began will be the Sweets & Snacks Expo, which moved from Chicago this year because of restrictions there. The June 23-25 event is expected to be among the first big trade shows in the country to take place since March 2020, according to Visit Indy.
Please enable JavaScript to view this content.