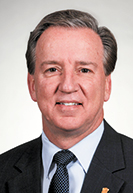 First Merchants Bank President and CEO Mike Rechin, 62, plans to retire Dec. 31 after 13 years as top executive at the Muncie-based financial institution, which has 24 branches in the Indianapolis-area.
The bank announced the news Tuesday morning, along with several other executive promotions triggered by Rechin's departure.
Mark Hardwick, 49, the bank's chief financial officer and chief operating officer, will become CEO. Chief Banking Officer Michael Stewart, 54, will become the bank's president. Michele Kawiecki, 48, senior vice president of finance, will step into the role of CFO.
All of the changes are scheduled to take effect Jan. 1.
"It has been a great privilege to lead First Merchants Corp.," Rechin said in a written statement. "The management team we've developed is well prepared to take First Merchants to the next level, as Mark, Mike and Michele have all earned their next leadership responsibilities. My wife Debbie and I consider Indiana home. We plan to stay for the foreseeable future, and I will continue to assist the new leadership team."
Rechin is well-known in Indianapolis business banking circles. He spent more than 10 years as executive vice president of corporate banking at National City Bank in Indianapolis before joining First Merchants. He will remain a member of First Merchants' board of directors.
Rechin joined First Merchants in 2005 as chief operating officer, and he was promoted to his current position in 2007. The bank has seen significant growth during his tenure.
In 2005, First Merchants had $3.2 billion in assets, 65 banking offices, 1,109 employees, and an annual profit of $30.2 million. In comparison, the bank now has $13.8 billion in assets, 128 banking offices and 1,891 employees. During the first half of this year, amid the pandemic, it earned $67.3 million, down from $79.9 million during the same period in 2019.
Forbes placed First Merchants fifth on its 2020 "America's Best Banks" list, which ranks the country's 100 biggest publicly traded banks and thrifts based on growth, credit quality and profitability. First Merchants also ranked second on Forbes' 2019 list and fourth in 2018.
Established in 1893, First Merchants entered the Indianapolis market in 1998 and has 24 Indianapolis-area offices. The bank broke ground recently on a new branch that is expected to open in late November in the Avondale Meadows neighborhood on the city's northeast side.
Please enable JavaScript to view this content.