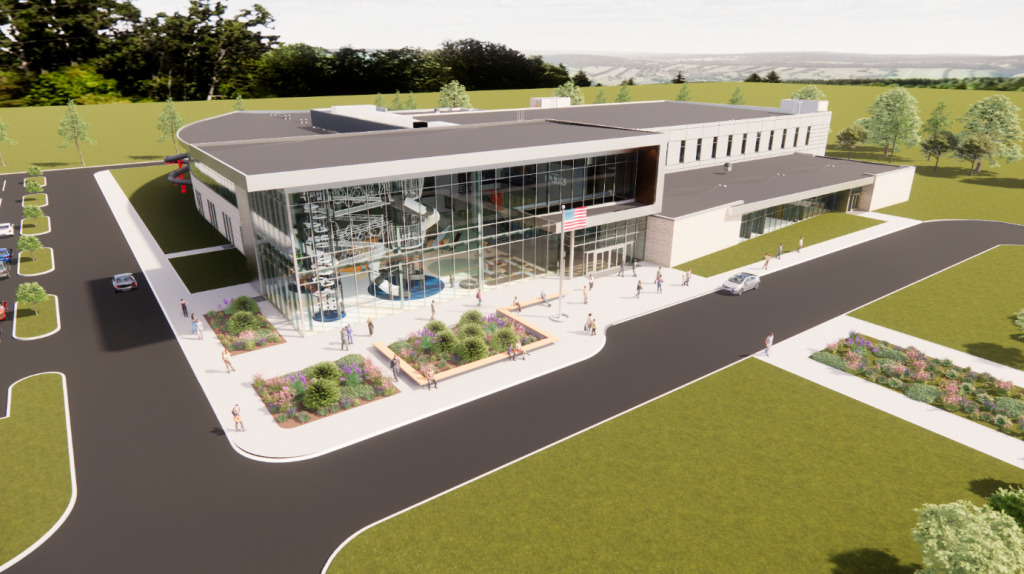 The city of Fishers on Tuesday announced plans to build a 105,000-square-foot community center at Johnson Farms on Hoosier Road near East 121st Street.
The $60 million Fishers Community Center would offer a dog park, indoor playground, gymnasium and an aquatics facility. City officials expect to break ground this fall and open the community center in the spring of 2025.
"As we strive to build a culture of health in our community, a vital component of this is creating a place where our community can come together to care for their overall well-being," Mayor Scott Fadness said in written remarks.
The main level of the community center would include a 5,300-square-foot indoor playground, aquatics facility with a lap pool and zero-depth entry warm pool with a waterslide and play features. Visitors would also find an 18,600-square-foot gymnasium with three basketball courts that would also be able to be converted into volleyball and pickleball courts, as well as clinical rooms and offices for the Fishers Health Department, a child care facility, multipurpose rooms, public gathering spaces and a cafe.
The second level would have a fitness and wellness center, including a spin studio and group exercise rooms, and an indoor track for walking and running.
Future phases include plans for a roof terrace that would host outdoor exercise and gatherings.
Plans for the Fishers Community Center also include accessibility features for people with disabilities, such as adult changing tables, water wheelchairs and accessible fitness equipment. Indianapolis-based not-for-profit Outside the Box Inc. will hold its adult day care program for people with intellectual and developmental disabilities at the community center.
"With this new community asset, we not only offer a place for health, fitness and recreation, but also a place to gather and socialize with the friends, family and neighbors, which we know is equally important to fostering a strong quality of life in our community," Fadness said.
Plans call for the Fishers Community Center to offer memberships and day passes with discounts for Fishers residents. Free amenities also would be available for residents and nonresidents, including the indoor playground, indoor track and cafe.
The city estimated the cost of the community center would not exceed $60 million. It would be paid for through city-issued bonds following a build-operate-transfer agreement that would end in 2026.
A build-operate-transfer agreement—which was authorized by a 2017 state law—is a form of public-private partnership that shifts the burden of cost overruns to a developer.
The Fishers Finance Committee will review the project resolution on Wednesday. The Fishers City Council will vote on the project at its next meeting on June 19.
Nearly 3,500 residents completed a survey sharing which amenities they wanted at the community center. The top amenities included a dog park, indoor playground, indoor walking/running track and an aquatics facility.
Other items included fine arts classes and space for the performing arts, which will be included at the new City Hall & Arts Center, which is under construction in the Nickel Plate District.
The $22.8 million City Hall & Arts Center is scheduled to open in the spring of 2024.
Fishers recently opened the 70-acre Geist Waterfront Park, which includes a 100-yard-long beach along a cove with a channel connecting the cove to Geist Reservoir.
Please enable JavaScript to view this content.