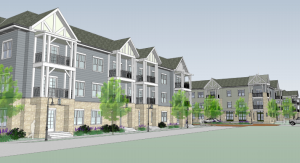 The Fishers City Council will wait until next year to decide whether a vacant property's potential for commercial development outweighs a developer's plan for a $17 million apartment complex along State Road 37.
Florida-based Regency Windsor Capital Inc. is petitioning the city to rezone a 5.33-acre parcel just east of SR 37 and south of 141st Street to allow for residential uses. Steve Hardin, an attorney with Indianapolis-based Faegre Baker Daniels representing Regency Windsor, said the developer plans to expand the existing Woods of Britton apartment complex with two new buildings containing 128 apartments.
Just before a vote on the project, Hardin requested the council continue the meeting until next month. His his request was approved by voice vote. If the council does not act within 90 days of the Fishers Plan Commission's Dec. 4 recommendation of the project, it will be automatically approved.
As proposed, the second phase would be built directly west of the complex's initial 521 apartments. In addition to Woods of Britton, Regency Windsor has several developments in Fishers, including the 608-unit Sunblest Apartment Homes and the 450-unit Sunlake Apartment Homes.
Phase two of Woods of Britton would bring eight studio units ranging from $860 to $940 per month, 44 one-bedroom units  ($1,160-$1,240) and 12 three-bedroom units ($1,560-$1,640). Buildings would feature elevators, a key fob system, 56 direct-access garages, a courtyard, fitness facility and connections to nearby sidewalks and trails.
City Councilor Todd Zimmerman said he might not be opposed to the project in the future, but he's interested in waiting to see what major upgrades to SR 37 that are just underway will do to the area before giving up on non-residential development.
A $124 million three-year construction project to turn SR 37 into a free-flowing highway through Fishers to Noblesville officially began in September. The project—which aims to address traffic congestion and public safety challenges from 126th Street to 146th Street—began with work to the 126th Street intersection.
"I think this is an opportunity where we are molding, shaping the future. That is an economic corridor there," he said. "Right now, I think this (project) is short-sighted."
Councilors Eric Moeller and Cecilia Coble agreed, citing bad timing as the reason why they didn't support the project.
Hardin said the site has proven to be too restrictive for retail or other commercial development. And, if any developer were to invest in the property, he said, a single-story commercial complex might only be a $5.3 million project.
He said Regency Windsor's planned $17 million investment contains no requests for city incentives and would ultimately generate about $300,000 in annual property taxes.
Phil Lambert, vice president of Regency Windsor, said 25% of the tenants residing in the Woods of Britton are 65 years old or older. Roughly 50% are young professionals and the rest are new families, he said.
The additional units would bring the total residency of the Woods of Britton to more than 1,100—a benefit to nearby businesses, Lambert said.
Councilor Brad DeReamer said he wouldn't buy the property for $1 if he had to build retail there. He said residential use would immediately utilize land that could otherwise sit vacant for years as construction continues on SR 37. Councilor Pete Peterson agreed.
"If we don't do the project, you've got a piece of bare ground for a long time," he said.
Councilor Richard Block said he knows the nearby Zaxby's and Verizon stores have struggled because of traffic issues in the corridor.
Please enable JavaScript to view this content.