Fishers Deputy Mayor Leah McGrath, a Republican, announced Monday that she's running for Indiana House Speaker Brian Bosma's seat.
Bosma, 62, announced last month that he'll step down as speaker at the end of the 2020 legislative session and will not seek re-election next year.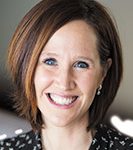 Bosma's seat, which he has represented since first being elected in 1986, includes the northeast portion of Marion County and parts of Hamilton and Hancock counties.
McGrath, 42, had already announced in November plans to leave her role in city government for a private sector gig with Knowledge Services. She begins her role as vice president of public affairs for the Fishers-based company early next month.
She became the first deputy mayor of Fishers in June 2015 under Mayor Scott Fadness. She previously worked for the Indiana Association of Cities and Towns, now known as Accelerate Indiana Municipalities, and formerly served as vice chair of the Indiana Republican Party.
"We have a real opportunity to look at problems in new ways, to challenge the status quo when necessary, to bring innovation to public policy," McGrath said. "That's just the kind of thing I want to be a part of."
She said she would want to focus on helping Indiana's most vulnerable populations, like those with disabilities and their caregivers; mental health; and preparing the workforce for future challenges. She also mentioned wanting to modernize and find efficiencies when dealing with infrastructure problems, and said she's been supportive of regionalism efforts spearheaded by Fadness.
McGrath's name had been tossed around for a potential candidate in Indiana's 5th Congressional District, which Rep. Susan Brooks is vacating next year, but she said the Statehouse is better fit for her because it keeps her family in the same place, and she thinks there's more opportunity to have a bigger impact in state government.
She is the first candidate to publicly announce plans to run for the District 88 seat. Her announcement came on the same day that House Republicans are expected to choose Bosma's successor as House speaker.
Fishers Rep. Todd Huston is the only announced candidate to fill Bosma's leadership position.
Please enable JavaScript to view this content.