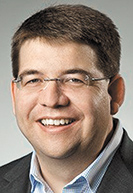 A startup that's planning to launch a $60 million drug-manufacturing plant in Fishers says its business model is built on helping pharmaceutical companies get new products to market faster.
That could even include treatments or vaccines for COVID-19, said Tedd Green, co-founder of INCog BioPharma Services.
"I'm hopeful, like everyone else, that the strength of the biologics and pharmaceutical companies around the world will help find the solution to COVID-19. The supply chain is stressed at the moment, and I think it will only continue to have a ripple effect for years to come," said Green, the company's co-founder and chief operating officer.
Green and his co-founder, CEO Cory Lewis, come to the venture with plenty of credibility. Both helped run Bloomington-based Cook Group's contract-drug-manufacturing subsidiary, Cook Pharmica, before its 2017 sale to New Jersey-based Catalent Pharma Solutions for $950 million.
INCog is in the same business, with a specialization in bringing early-phase injectable drugs through the development process to commercial launch.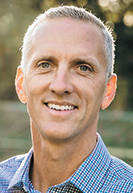 Contract-drug manufacturing is a growing field, one that's seen even more activity since pharmaceutical companies began a frenzied quest this year to develop COVID-19 treatments and vaccines.
The sector's growth is poised to continue long term, said Lewis, necessitating the creation of additional companies to meet the demand.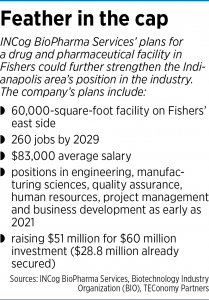 "There's not enough capacity in the marketplace to support a market that's going to double in the next eight to 10 years," he said.
INCog will focus on injectables, a way of administering drugs that allow more precise and quicker dosing. Market Study Report LLC projects the $15 billion, global injectables industry will grow by more than 8% annually through 2027, as the population ages and experiences increasing rates of autoimmune diseases.
Lewis and Green are in the process of raising $60 million to build and equip a 60,000-square-foot manufacturing facility somewhere east of Interstate 69; the company is still narrowing its site search.
A fundraising effort launched in February to raise $51 million had garnered $29 million by the end of September, according to a Securities and Exchange Commission filing. INCog officials said they expect to open their manufacturing plant in 2022, with employment growing to as many as 260 workers by 2029.
"We wanted to come at this scale because we've got experience at this scale and we know there's a market need," Green said. "We want to be in the tier-one competitive landscape."
Added Lewis: "We said we wanted to go big, to make an investment and compete at the highest level of the industry."
A growing sector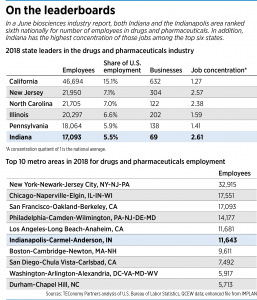 INCog is set to be a major player in the state's life sciences industry, which already employs 55,000 Hoosiers and is the second-biggest exporter of life sciences products in the country.
Major Hoosier players range from drugmaker Eli Lilly and Co. and medical-device maker Cook Group to Warsaw-based orthopedic-implant giant Zimmer Biomet and Roche Diagnostics, which employs about 3,000 workers just inside the Marion County line, on Hague Road south of East 96th Street.
Employment in the sector nationally has grown 7.2% since 2016, twice the rate of the private sector as a whole, according to a June survey from the Biotechnology Industry Organization and TEConomy Partners.
Lewis and Green have the credentials to make a splash with their new company, said Gil Roth, a former editor of the trade publication Contract Pharma who now is president of the New Jersey-based Pharma and Biopharma Outsourcing Association.
Lewis was vice president of business development and marketing for Cook Pharmica from 2009 to 2017, and Green served as Cook Pharmica's president from 2008 to 2017. Both men stayed on and worked for Catalent before deciding to cast out on their own.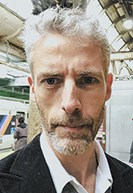 "Tedd and Cory hold a really high reputation, and they know the CDMO sector very well," Roth said, referring to so-called contract development and management organizations. "They know that whole chain; they know how to run a business. [Customers] need support from early development to commercialization, and Tedd and Cory know how to provide that service."
Green said that, because he and Lewis already have helped develop a contract manufacturing facility from its inception, they understand the importance of putting customers first and hiring the best employees.
"Having that experience and being able to continue to do it in a different way with a new company—that will help us attract the business we hope to attract," Green said.
Roth is convinced Lewis and Green will be able to replicate their previous successes.
"They helped build Cook Pharmica into one of the premier CDMOs in the world," Roth said. "I wouldn't bet against them with turning INCog into a great success."
Building momentum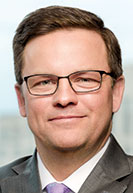 Brian Stemme, senior vice president of engagement for BioCrossroads, said it's exciting to see Green and Lewis start their "second thing" in central Indiana.
"Just like other industries, life sciences is one where people have started companies, grown it to a certain point, sold it and then started something new," Stemme said. "Seeing those guys do that work here and the size of the investment they're making validates the strength of the sector."
Stemme said the central Indiana region has a particularly strong supply of "FDA-literate" workers who have the skills and knowledge needed to adhere to strict federal regulations.
"We need access to talent, and we feel that Fishers certainly is well-equipped from a community standpoint to be able to attract talented employees to our business," Green said.
Mayor Scott Fadness said he hopes landing INCog will help Fishers attract additional life sciences companies.
This is the second big life sciences announcement this year for the Hamilton County city, whose population tops 93,000. In April, Genezen Laboratories, which makes therapeutic agents for gene therapy companies, announced plans to open a $7.8 million R&D facility in Crosspoint Business Park.
Fadness said life sciences firms often pay high wages, noting the INCog positions are expected to average $83,000 a year. In addition, he said, the INCog facility will draw executives from other companies to Fishers for months at a time, a span when they'll be spending money at restaurants, hotels and entertainment venues.
"This is all part of a broader picture to try to recruit these types of companies to our city," Fadness said.
"We're into ecosystem-building. We want to see more of this. We've been in the tech industry, we've been in the administrative and back office of things. To be in the biopharma sector now—in this day and age and with this massive of an investment— is really exciting."•
Please enable JavaScript to view this content.