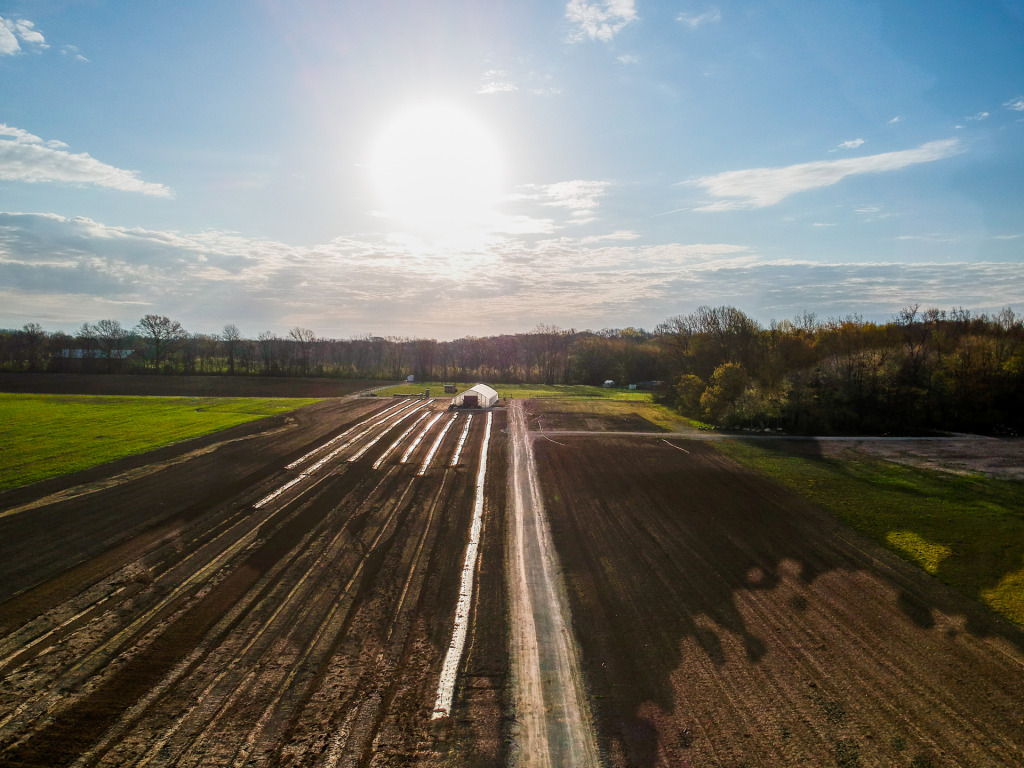 Fishers' newest park is set to open to the public next week to offer residents free produce, agricultural education opportunities and farmland experiences in a suburban setting.
Described by city officials as the largest park in the country dedicated to a working farm, the 33-acre Fishers AgriPark at 11171 Florida Road is designed to offer an agricultural experience and educational opportunities about food production. Indianapolis-based Mann Properties donated the land to the city in lieu of a park impact fee in 2018 and the city has since spent roughly $150,000 to bring the park to life.
"The big mission of this park is education," Fishers Parks and Recreation Director Sara Sandquist said. "We want to teach the community where their food comes from."
The park features a 3,000-square-foot high tunnel, 10 acres of field corn that can be turned into a corn maze, a 5-acre tree nursery used to replenish the city's tree supply, a 4-acre sunflower field and sweet corn area, a 2-acre pumpkin patch, a 3-acre produce and outdoor garden area, nearly an acre of wildflowers, children's play areas, trails and more.
Initially, the park's 5-acre livestock area will serve as a home to two cross-bred beef steer, one horse, three sheep and a handful of chickens.
The first of 10 planned open houses is scheduled for July 28. Because of social distancing guidelines, interested parties must reserve a spot to attend an open house online at www.playfishers.com/register. On Aug. 6, Fishers Mayor Scott Fadness will give remarks and host a ribbon-cutting ceremony.
Only 100 visitors will be permitted for the open houses, which are scheduled for Tuesdays and Thursdays from 5 p.m. to 7 p.m.. The park's regular hours, which take effect in September, will be 11 a.m. to 1 p.m. on Mondays, Wednesdays and Saturdays, and from 5 p.m. to 7 p.m. on Thursdays. The park will be closed on Tuesdays, Fridays and Sundays, and will likely close for the season by Nov. 1.
"I imagine we'll have a pretty good response. There's been a really high level of curiosity," Sandquist said.
As the park matures, Sandquist said residents will be able to pick their own produce and a 3,000-square-foot barn will be built to host education programming for both public and school-based programs with Hamilton Southeastern Schools.
She also said a portion of the food produced will be donated to the Good Samaritan Network and other organizations battling food insecurity in the community.
Previously, the city had partnered with Greenfield-based Brandywine Creek Farms to manage the park. The city and the not-for-profit mutually agreed to "discontinue" their partnership last August after the city's vision for the park grew beyond its original concept.
Now, the city's parks department will staff and operate the park. Fishers AgriPark Operations Manager Trevor Wildey and Agriculture Coordinator Jackie Leeuw are the parks' two full-time employees. Sandquist said there are plans to eventually hire up to five part-time, seasonal employees.
To continue supporting the park's operations, Sandquist said the city is looking into sponsorship opportunities that might allow donors to pay for naming rights.
"We've heard from so many potential partners interested in working with us, we're just trying to figure out how all of this fits together," she said.
Please enable JavaScript to view this content.