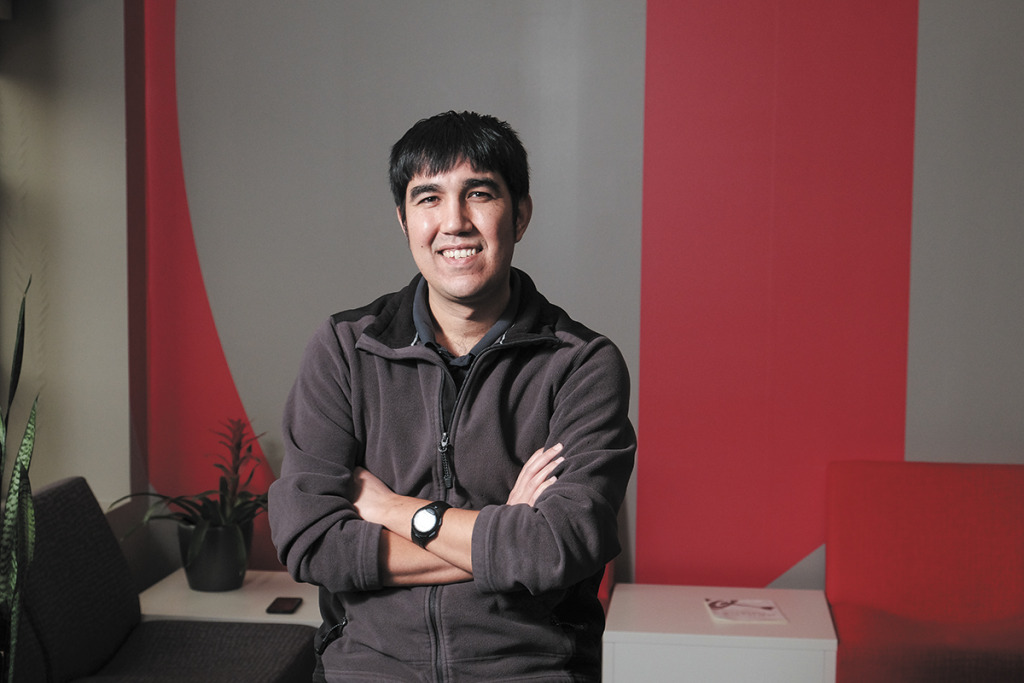 A Fishers-based social media startup has partnered with the philanthropic arm of a hip-hop-inspired snack company to teach financial investing to Black communities.
StockBossUp, a social media platform that teaches users to trade stocks by connecting them with high-performing traders, launched last March. The app is targeted to students at historically Black colleges and people in communities that have not had much exposure to information about investing.
The app grew out of Stockteamup, the Fishers startup, which aims to educate users about investing by creating a game-like setting, in which virtual dollars are used to simulate real stock trading. Its platform is outfitted with an algorithm that pushes successful investors and their advice to the top of users' feeds.
To date, the platform has more than 8,300 users.
Stockteamup CEO and founder Chaster Johnson partnered with Miami-based Rap Snacks Foundation to launch StockBossUp, which operates similarly to Stockteamup but carries the Rap Snacks branding.
Rap Snacks Foundation is the philanthropic arm of Atlanta-based Rap Snacks, which was founded in 1994 and specializes in chips and instant noodles adorned with famous artists, including Rick Ross, Cardi B, The Notorious B.I.G., Lil Yachty and others. The foundation was created to form youth programs, grants and partnerships with organizations to support disadvantaged communities across the country.
Rap Snacks Foundation President and CEO Timothy Grimes, whose hip-hop stage name is Wise Intelligent, told IBJ he had already planned to open a brick-and-mortar investors club in Atlanta for disadvantaged communities but that the pandemic stymied his plans for monthly, in-person meetings.
Grimes, a former emcee for the 1990s group Poor Righteous Teachers, said he thought the digital approach Stockteamup was taking to promote wealth building through financial literacy was an appropriate alternative to what he was trying to create with the investors club.
"It was timely, because everything is shifting digital. The pandemic just accelerated the rate, the speed at which everything is going digital," Grimes said.
Johnson, a former aerospace engineer and hedge fund data scientist, said his app has been helped in large part by the Rap Snacks branding and its effort to market the platform to historically Black colleges and universities, including Lincoln University of Pennsylvania, Delaware State University, Cheyney University and the Florida Memorial University of Miami.
"Our aim is to empower and enrich," Grimes said. "To impart information and a comprehensive understanding of the economy and all of its working parts, and where you fit in on that scale as an individual and a community."
Michael H. Casson Jr., dean of the business college at Delaware State University, said his students have been involved in several Rap Snack Foundation-sponsored programs.
One such initiative is an on-campus test kitchen, which Casson called an "innovation cafe." He said, when it opens after the pandemic loosens its grip, students will be able to create new snack flavor profiles, manufacture short-run goods, sell the items and conduct focus groups to evaluate them.
"It gives our students, across the board, an opportunity to go through the full product-development cycle to see how it would work," he said.
The app in action
Delaware State students have also been involved with the StockBossUp app through Delaware Multicultural and Civic Organization, called DEMCO. The Dover, Delaware-based not-for-profit promotes educational, economic and social stability through tutorial services, academic programming, and social and economic development.
University students worked with DEMCO to host a stock market challenge last fall for Central Middle School. Casson said StockBossUp's specific appeal to DEMCO was the opportunity for a different kind of virtual learning.
"The students loved it," Casson said. "It gave them an opportunity to understand the landscape and the financial background behind the stock market. We're looking to really expand that program to include more K-12 schools, as well as the university itself."
He said Rap Snacks' celebrity endorsements are a way to attract young people, as is the choice to deliver financial-literacy education through the familiar lens of social media.
"That's the beauty of this platform," Casson said. "It pulls in today's culture and entertainment, which ultimately pulls in today's youth. I saw it as an extremely innovative and creative way to bring forth this financial-literacy and stock-market awareness to our communities—many of which are unbanked and many of which do not participate in these investment activities."
A 2015 Black Investor Survey by Chicago-based Ariel Investments found that, even though more middle-class African Americans are participating in the stock market than in previous decades, their participation still trails the number of white investors. The group surveyed 500 Black and 500 white households with incomes of at least $50,000 and found that only 67% of the Black respondents had invested in stocks or stock mutual funds, compared with 86% of the white respondents.
The study pointed to income inequalities and different education levels within those communities as the key reason for the disparity.
Grimes said others might look at the survey's data and describe the Black community as underserved or under-resourced, but he'd describe it as "over-extracted. Nothing comes back to the community. We find ourselves in this dilemma where our collective buying power is extracted out of the community at the point of purchase."
That's happening, he said, because Black individuals are purchasing or consuming goods that aren't manufactured or produced by Black-owned businesses, so resources are being spent outside the community. The same goes for cultural and educational resources, he said.
"A lot of that has to do with the fact that, for many decades, the Black community was not only blocked out of social life, but every sphere of life—especially business," Grimes said.
To increase investing among Black people, Grimes said, teachers and mentors have to meet them where they're already gathering, whether it's online or in line for the latest shoe release or gadget.
"When you engage them and tell them, 'You can own shares in Nike; you can get paid while you're wearing that—I'm not telling you not to buy that; buy what you like—but know you can get paid for it,'" he said. "'If you own shares of AT&T, you can pay your phone bill in dividends.'"
Hot market
But just how much financial literacy young people can pick up on a mock trading site remains to be seen.
Todd Saxton, Indiana University Kelley School of Business associate professor of strategy and entrepreneurship, said financial literacy is currently a hot market.
Stockteamup's decision to partner with the Rap Snacks Foundation capitalizes on Rap Snacks' social media influencers and celebrity relationships to reach targeted communities.
"You're kind of riding the coattails of credibility and access to those folks," Saxton said, but "it's still really hard to get traction. Whether this is the best market, or the fit is going to work? That comes down to the implementation and experimentation. The devil is in the details of how you pull it off."
Stockteamup, which launched in 2019 and grew to 400 users before its partnership with Rap Snacks Foundation, is still small, with a five-person executive board supported by a team of contractors in England and India.
Johnson moved the company into an official space at Launch Fishers in September, and he hopes to hire two front-end developers and a program manager by the third quarter.
Currently, Johnson said, the free site gets roughly 100 to 200 new users, 400 new posts and 200 likes and comments each month.
Vivek Astvansh, an assistant professor of marketing at IU's Kelley School of Business who researches social media and content marketing strategies, told IBJ the app's clear objectives and target audience will serve the company and its users well.
"The more these people are closely knit and communicating, the stronger the value of the app. It becomes not like a platform, but a home for like-minded people," Astvansh said. "If they can complement these opinions with some factual information sourced from the firm's … regulatory reports, that would be some valuable information."
Treading carefully
The site might not be quite there yet.
After reviewing Stockteamup's and StockBossUp's feeds, Saxton said it appears most posts say only whether a user bought or sold stock. There isn't a lot of content generated by the platform's members yet, he said.
"'Buy low, sell high' doesn't really get into the sophisticated mechanics of the stock market and how that works," Saxton said. "You want to make sure that it's not just all sizzle, no steak."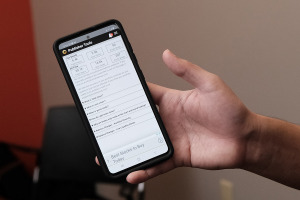 Astvansh said that, while StockBossUp's target demographic is part of its appeal, Stockteamup could be perceived as an opportunistic attempt to capitalize on Black communities. He said Rap Snacks Foundation's involvement should help ensure StockBossUp stays true to its financial-literacy mission, even if Stockteamup looks to diversify its target audience with other targeted partnerships.
Johnson said because he and the foundation are building something that's never been done before, they are treading carefully. Stockteamup and its sister apps won't sell or provide users' data to third parties, and the company is using a former Financial Industry Regulatory Authority officer as a consultant to make sure the app's functions aren't a liability, he said.
"On Facebook, there are lots of posts about stocks. And [elsewhere], there are dozens of stock simulators," he said. "The truth is, no one has ever put a simulator together with a social network. We have the resources to guide and protect us, but we are doing something innovative, so we have to build the road map ourselves."•
Please enable JavaScript to view this content.