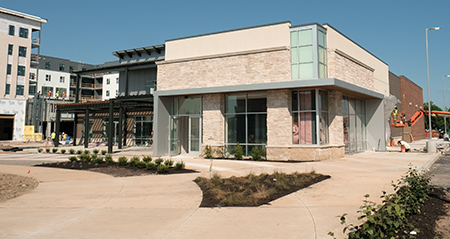 The Fishers Test Kitchen, which is expected to open next month at The Yard at Fishers District, has replaced one of the members of its inaugural class of chefs.
Chef Leisha Berg has decided to "step away from the project," Fishers city officials announced Monday. Berg had planned to run West Coast Nook, featuring California-inspired street food.
Taking her place will be King Dough Pizza owners Adam and Alicia Sweet, who will launch their concept, Natural State Provisions.
Natural State Provisions will feature menu items such as fried chicken, doughnuts, and root-beer-braised pork, among other dishes inspired by food from Adam Sweet's hometown of Little Rock, Arkansas.
The Fishers Test Kitchen is a restaurant accelerator developed by the city of Fishers and Launch Fishers. It is scheduled to open in February inside the Sun King Fishers Innovation Brewery building.
Other inaugural chefs announced in September are Rook co-owner and chef Carlos Salazar, who will operate global street food concept Lil Dumplings, and brothers Jung Min Kim and Jung Gyu Kim, who will operate Korave Korean BBQ.
The Sweets launched King Dough Pizza in Bloomington in 2015 and opened a second location in Indianapolis' Holy Cross neighborhood at 452 N. Highland Ave. late last year.
"Adam and Alicia Sweet are simply a slam-dunk addition to our Fishers Test Kitchen lineup," said John Wechsler, Launch Fishers and Indiana IoT Lab co-founder, in written remarks. "They understand the ups and downs of entrepreneurship, and we expect them to be an exciting addition to the entrepreneurial culture of Fishers."
Chefs at the Fishers Test Kitchen are expected to take up residency at the kitchen for one to two years, showcasing their food, gaining business skills, and building a local following in preparation for moving on to open their own locations. As each chef leaves, another aspiring restaurant owner will be chosen to take his or her place.
Please enable JavaScript to view this content.