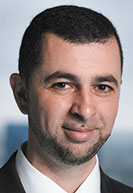 Former City of Indianapolis Controller Fady Qaddoura starts a new gig Monday as as chief innovation officer at Katz Sapper & Miller, the city's largest accounting firm.
The position was created for Qaddoura, who announced in November that he was leaving his job with the city, where he had worked for four years.
As chief innovation officer, he'll be charged with using data and technology to find new ways to better serve Katz Sapper & Miller clients. He'll also be responsible for expanding the firm's existing suite of services.
Tim Cook, CEO of KSM Location Advisors, who served on the executive committee that made the hire, said the firm jumped on the chance to add someone with Qaddoura's background and experience.
"His experience and reputation is so unparalleled in central Indiana," Cook said. "When we became aware he was leaving (the city) … we instantly wanted to talk with him."
Before joining the Hogsett administration during the mayor's first term, Qaddoura served as a senior manager of Health Care and Technology/Business Intelligence for the state of Indiana and helped with the expansion of Healthy Indiana Plan 2.0. He previously served as an adjunct professor at the Indiana University Lilly Family School of Philanthropy.
Qaddoura told IBJ he was drawn to Katz Sapper & Miller because the company "inspires exceptional and thoughtful leadership, innovation and a commitment to public good" and aligns with his personal goals to work for an organization that cares about the community it serves.
Please enable JavaScript to view this content.