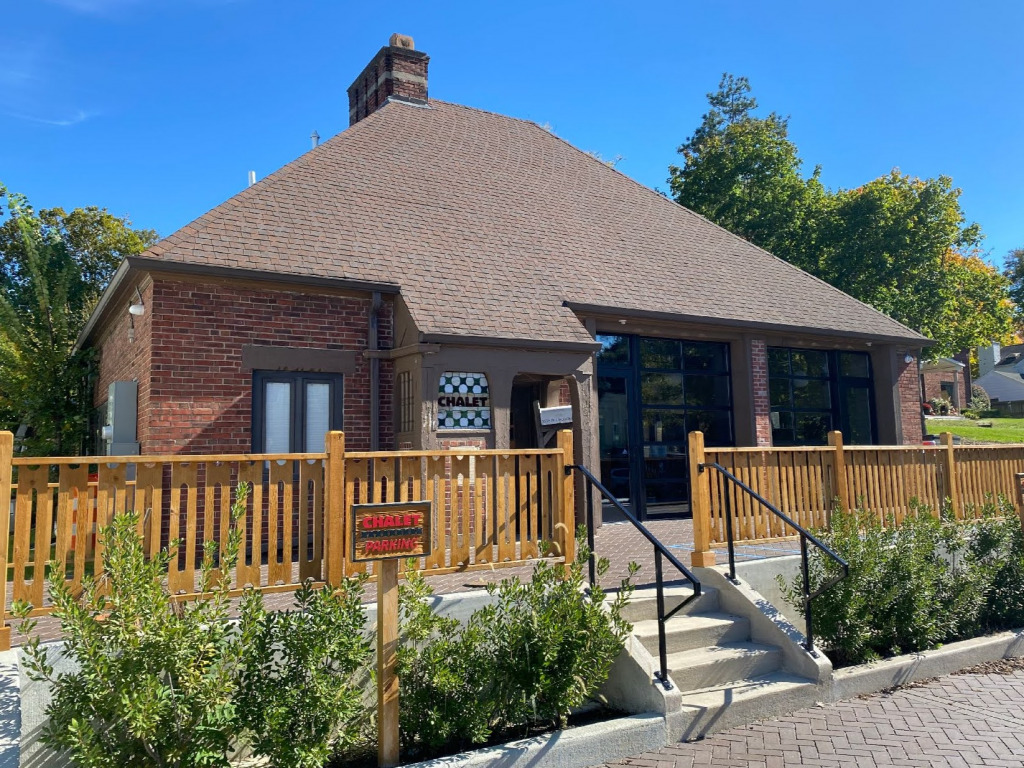 The owners of Provider and Coat Check will branch out from making coffee to brewing beer in 2022.
Chalet, planned as a daytime cafe and an evening bar, is targeted for a February opening at former Fire Station No. 16, 5555 N. Illinois St. 
The business will be the seventh launched in five years by Small Victories Hospitality, owned by brothers Neal and Paul Warner.
Neal Warner, 36, is a self-described "avid home brewer" who's setting up a single-barrel production system in the basement of Chalet, where members of the Indianapolis Fire Department did laundry before the city decommissioned the firehouse in 2016.
The Chalet name takes inspiration from a sloping roof that dominates the building's appearance. A retro but new stained-glass window announces "Chalet" next to the main entrance.  
A sturdy fireplace contributes to the inside decor, and the Warner brothers accented the walls with thick racing stripes evocative of the 1970s. 
"It's a ski lodge for people who never have been skiing," Neal Warner said with a laugh.
He said beer adds a key component to Small Victories' concept of an "ecosystem of businesses" that supply each other with goods.
Beer brewed at Chalet, for instance, also will be on tap at the Heartbreaker hamburger restaurant in Irvington. Coffee roasted at Certain Feelings in the Bottleworks District makes its way to Provider along the Monon Trail and 16th Street. Doughnuts originating at Irvington's Landlocked Baking Company entice customers at Coat Check inside the Athenaeum.
The roster of Small Victories sites:
Coat Check Coffee, 401 E. Michigan St. (opened in 2017);

Provider, 1101 E. 16th St. (2018);

Strange Bird rum & oyster bar, 128 S. Audubon Road (2019);

Heartbreaker, 118 S. Audubon Road (2020);

Certain Feelings Coffee Co., 906 Carrollton Ave. Suite 445 (2020);

Landlocked Baking Company, 120 S. Audubon Road (2020);

Chalet, 5555 N. Illinois St. (scheduled to open in 2022).
Small Victories also maintains an urban garden in Irvington, which makes it possible to garnish Provider's avocado toast with edible flowers.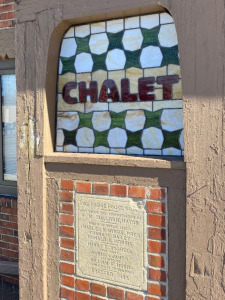 Warner said there's a chance Chalet's beer will be brewed off site if he and Paul, 34, decide to install a kitchen in the building's basement. Either way, customers will find Small Victories products exclusively at Small Victories stores. 
Noting that the company could have duplicated the popular Provider concept at multiple locations, Warner said variety is more interesting and it strengthens the Small Victories workforce. 
"We can keep people in the family, so to speak, and offer a variety of opportunities and schedules," said Warner, a Richmond native and an alum of Indiana University.
With Chalet, Small Victories will have a presence in Butler-Tarkington near the lively intersection of 56th and Illinois streets. Illinois Street Food Emporium and a Graeter's Ice Cream location are next-door neighbors across the street from Chalet.
"People might think this is Broad Ripple, but it's not," Warner said. "I think a lot of people are looking for a spot like (Chalet). With long-term residents plus Butler University nearby, it's hopefully a recipe for success."
In terms of devising beers, Warner speculated Chalet will offer IPA styles as well as Kolsch and gose selections that follow traditions established in Germany.
Warner said he doesn't expect to see Chalet beverages sold in liquor and grocery stores.
"The world of craft beer is so wild and huge at this point," he said. "We don't plan to compete in that way."
Developer Antone Najem, principal of Indianapolis-based Third Street Ventures, paid $400,000 for the former firehouse after his proposal was selected by a city review committee in 2017.
New offices for Third Street Ventures occupy more than half of the 4,000-square-foot building. Warner said Small Victories is investing less than $200,000 to renovate the front part of the building.
Designed by architect partners Lee Burns and Edward D. James, the firehouse opened in 1932.
Please enable JavaScript to view this content.