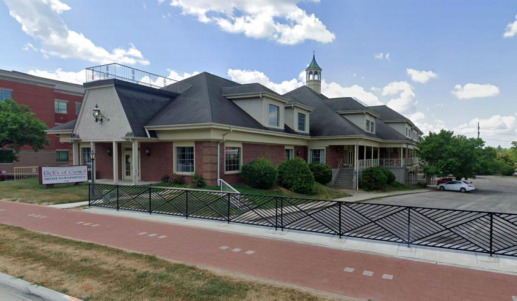 Turner Woodard, the former majority owner of the Stutz Business and Arts Center in Indianapolis, has purchased two properties in downtown Carmel—including the former Rich's Home Furnishings building—and is planning to redevelop them into an arts and business center.
Woodard also has a third building nearby under contract, and he's still determining how that might fit into the plan.
As owner of the 400,000-square-foot former Stutz Motorcar Co. building, Turner Woodard worked for nearly three decades to redevelop the former manufacturing facility as offices for more than 200 artists, manufacturers, tech companies and other tenants. In January, he sold his majority stake in that building and the nearby Stutz II property to real estate investment firm SomeraRoad Inc.
Three days later, Woodard closed on the former Rich's Home Furnishings building in Carmel for an undisclosed amount and started planning another Stutz, of sorts.
Woodward plans to redevelop the 32,000-square-foot building at 1030 S. Rangeline Road into an art and automobile gallery, for-lease boutique office space and an office for his company, Turner James Investment.
In addition to the Rich's Home Furnishings building, Woodard acquired an industrial building at 520 W. Carmel Drive on Thursday, and is under contract to purchase the Horton Inc. building at 201 W. Carmel Drive.
A sequel to the Stutzes
Originally designed for multiple tenants in 1975, the Rich family's furniture showroom has filled the 32,000-square-foot building for the past 30 years.
Bob Rich, the company's founder, died in May. The family has been winding down business since and listed the building for sale.
"I heard that was available and some other developers or businesspeople were making a run at it, but I think COVID dampened everything for a little while," Woodard said. "Then, with the Stutz deal coming along and the money I'd have available, I remembered the building and pursued it."
There is still some furniture inside that's being auctioned off as part of Rich's closing sale, but Woodard is already inside and looking to give the building new life.
He's planning to turn the first floor facing the gazebo at Carmel's Civic Square into an art and automobile gallery for receptions and rotating shows. Though a portion of Woodard's Stutz car collection will remain in the Stutz buildings in Indianapolis, he said he's planning to showcase as many as seven of the cars he drives and takes to rallies in a community event space with room for 100 people.
He's calling the space One West, and he's planning to move the old wooden bar from the Canterbury Hotel space in the Indianapolis Stutz building to that gathering space in Carmel.
On the second floor, Woodard is planning to lease out as much as 25,000 square feet of boutique office space. He said those offices will be divided according to market demand, but he thinks there will be about 15 to 20 separate spaces of anywhere from 1,000 to 3,000 square feet.
The building features an atrium, glass elevator and floor-to-ceiling windows that Woodard said gives the whole place a "wow" factor. The top floor will be entirely dedicated to offices for Woodard's company, Turner James Investments.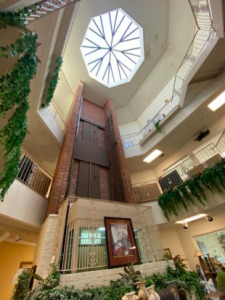 "Really, it will be what best serves the building and what is most thoughtful to have there for Carmel," he said. "I've had a very nice reception by the Carmel community. We've started taking applications for the space and people have been able to walk through and see a little bit of what I'm talking about."
Rich's Home Furnishings is expected to be completely cleared of the building by mid-March, and Woodard said he hopes everything will be ready for tenants by July or August.
"I do plan on, once things settle down, probably carving out a studio on the third floor where I might on a Saturday afternoon or Sunday do some painting of my own," Woodard said. "I'm keeping my wonderful studio downtown, that keeps me connected to the downtown and the Stutz factory."
Two more for the road
On Thursday, Woodard closed on the 31,000-square-foot Keltner building at 520 W. Carmel Drive for an undisclosed amount. Woodard said he first looked to locate his cars at the flex building's industrial space before acquiring the Rich's building down the street.
Though it needs some improvements, Woodard said he liked the Keltner building enough to buy it anyway.
"My team thinks that medium-sized product of office and industrial is a product that does well in Carmel. The plans are to let it just unfold," Woodard said. "It gives me an opportunity to sort of freshen up the space and then rent it out, more or less, on my terms."
Brian Bondus, vice president of Indianapolis-based ALO Property Group, said Woodard is amassing properties that find a niche market in Carmel's developing core.
"That one, the way it's situated, it's a stable asset," he said. "You can just lease that stuff all day long."
Woodard said the building has eight units ranging from 2,500 to 3,000 square feet, as well as warehousing space with high ceilings in back. Current tenants include Signarama and Options Charter School.
And though he's not closed on the building yet, Woodard said he's also under contract to buy the 80,000-square-foot Horton Inc. fan manufacturing building at 201 W. Carmel Drive, just across the street and next to the Monon Trail.
"The Horton, in my playbook, is sort of just beginning. I don't really know what the final chapters there will be," Woodard said. "I think it will be worth my efforts, however it may unfold."
Woodard said he's not sure whether continued manufacturing operations would be the highest and best use of the building, so he's imagining he might subdivide the 5.45-acre property so that it can find a new life.
Bondus said Horton Inc. is winding down its operations there now to move to a new facility in South Carolina, so there isn't necessarily a clear path forward for an initial redevelopment of the property.
That being said, Bondus believes Woodard has big plans to collaborate with the city on making it an extension of Carmel's downtown.
"(Woodard) puts so much thought into what he does, and he has an incredible way of seeing gaps in the market—in this case, unique office and industrial opportunities," Bondus said. "He's truly a visionary."
Please enable JavaScript to view this content.