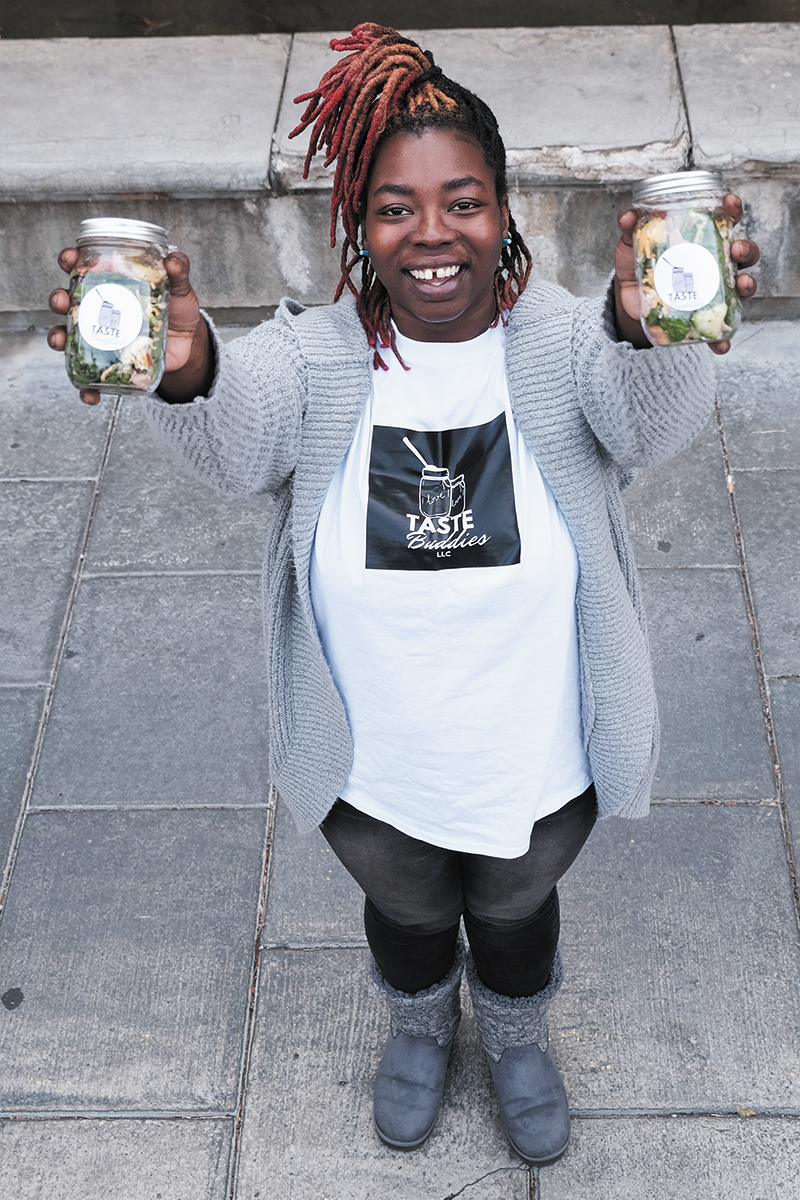 Tichina Clark, 33, is a convicted felon, but she's also an entrepreneur. And those two things are more closely linked than you might at first assume.
In 2018, Clark was in the early stages of launching her meal-prep company, Taste Buddies LLC, when she was incarcerated. She served 10 months at the Indiana Women's Prison on a weapons offense, was released in July 2019 and is now serving a nine-month probation term for a separate drug-related offense.
"I did take shortcuts to try to get to the top, and it didn't work," Clark said. "And I'm not ashamed to tell people, 'Yes, I messed up.'"
While in prison, Clark took part in the Indy Chamber's Re-entry Entrepreneurship Development Initiative, or REDI, which offers business training to people who are or have been incarcerated. In November 2019, she officially launched her business, which sells homemade soups, salads and desserts packaged in mason jars.
Last month, Clark won REDI's 2020 Pitch Night competition, earning a $2,500 cash prize and a package of professional services to support her business.
The east-side resident is also pursuing a career in the building trades as a "Plan B." She's a first-year apprentice in the drywall finisher and painter program offered by the International Union of Painters and Allied Trades Local 47 District 91.
You told me that one of the biggest lessons you gained from the REDI program was, "Don't be ashamed." What do you mean?
Everyone has a story. My life's no greater than yours. I don't know, you probably are going through something. But me talking to you, I might inspire you over the phone, where you'll be like, "I can't wait to see this girl."
Your website, tastebuddiesllc.com, isn't yet set up for online ordering. How do customers order your product?
Everyone can just call me and I'll take the order. Normally what I do is deliver the next day, kind of like a meal prep.
How are sales so far?
I gross anywhere from $1,000 a week to maybe $2,000 every three weeks.
Have you turned a profit yet?
Currently, I'm still learning. I'm still learning how to market my money right, how to budget, how to build my credit. … I'm still learning the ins and outs. I'm still a beginner. I don't know how to market my gross revenue or figure out my specific traction. I'm still learning all of this. I'm still asking as many questions as I possibly can because I want my business to be successful—because I do think that it's a great idea.
So you're not making money yet?
No, I'm not making money yet.
Do you have a vision for what the business might look like in five years?
I'm not really looking to hire employees until after I'm through the first five years. … I don't want to fail and have employees, because then I'm failing not only myself but my employees, their families. I've already failed enough. …. I do have help [her family], but I don't have employees.
What would you say to someone who has a business idea but feels discouraged and doesn't know where to start?
Come up with a bucket list. A bucket list doesn't just have to be about things that you want to do, like, "Oh, I want to go to Hawaii." A bucket list is generally goals. I came up with that bucket list, that I still have, in prison. … Come up with a bucket list. Come up with affirmations. Believe in yourself. Perseverance. There's just so much.•
—Susan Orr
Please enable JavaScript to view this content.