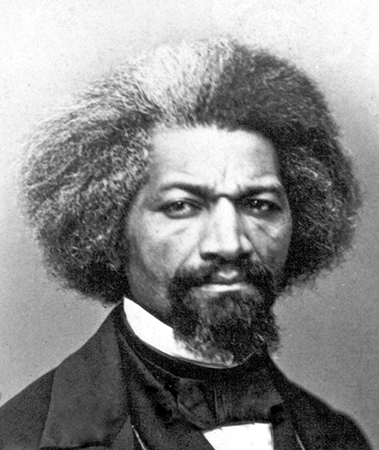 Frederick Douglass lived most of his days near the East Coast, but today his home is Indianapolis, where IUPUI's Institute of American Thought houses the Frederick Douglass papers. With the nation roiled by protests against police brutality and racism, the summer of 2020 is a particularly auspicious time to revisit the legacy of one of America's greatest abolitionists and campaigners for human rights.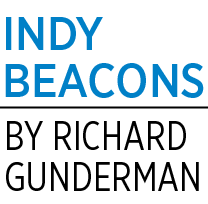 Born into slavery in Maryland in 1818, Douglass never knew the identity of his white father and rarely saw his slave mother, who died when he was a boy. Sent into service in Baltimore, his owner's wife took an interest in his education and taught him the alphabet. Yet his owner disapproved, convinced his wife that education would undo slavery, and she relented.
Douglass soon learned to read and began teaching other slaves as well. Eventually, however, slave owners put a stop to his efforts, and he was sent to a "slave-breaker." Despite many beatings that "broke his spirit," the teenage Douglass eventually fought back, putting an end to the abuse. He wrote, "You have seen how a man was made a slave; you shall now see how a slave was made a man."
In 1837, Douglass fell in love with a free black woman who helped him escape and then joined him in New York, where they married and, to avoid detection, adopted a different surname. Inspired by William Garrison's "Liberator" newspaper, Douglass began speaking and writing against slavery and in 1845 composed his autobiography, which became a national and international best seller.
Fearing that his notoriety would draw the attention of his owner, Douglass embarked on a two-year tour of Ireland and England, his first experience with cultures devoid of racial prejudice. While there, his hosts raised funds to purchase his freedom, and on his return he founded his first newspaper, the "North Star," with the motto, "Right is of no sex, truth of no color, and God is father of all."
Douglass was a powerful orator and writer. He questioned the Fourth of July, a celebration of the "Declaration of Independence"—a title bitterly ironic to blacks held in slavery. Douglass declared, "I will, in the name of humanity which is outraged, in the name of the Constitution and the Bible which are trampled upon, denounce everything that serves to perpetuate slavery."
Douglass argued that, on its face, the Constitution is anti-slavery, citing its language of "We the people," not "We the white people," writing "Not even we the citizens, not we the privileged class, not we the high, not we the low, but we the people. Not we the horses, sheep, swine, and wheel-barrows, but we the people, we the human inhabitants."
Douglass believed that only agitation could bring freedom: "If there is no struggle, there is no progress. Those who profess to favor freedom, and yet depreciate agitation, are men who want crops without plowing up the ground. … Find out just what any people will submit to, and you have found out the exact amount of injustice and wrong which will be imposed upon them."
Douglass had several notable visits to the Hoosier state. In 1843, an angry mob in Pendleton beat him before he was rescued by a local family. Nearly a half-century later, in 1892, Douglass attended a national conference in Indianapolis, where he passionately renounced efforts to turn blacks into refugees through resettlement in Africa. He died in Washington, D.C., three years later.
Pulitzer Prize-winning biographer David Blight describes a Civil War meeting between Douglass and President Abraham Lincoln. Although the two did not agree on all matters, Douglass later wrote that it "did much to assure me that slavery would not survive the war and the country would survive both slavery and the war." As recent events attest, however, Douglass's struggle continues.•
__________
Indy Beacons celebrates the history of Indianapolis in the year leading up to its 2021 bicentennial by telling the stories of famous city residents. It appears the second and fourth issues of every month. Gunderman is chancellor's professor at Indiana University.
Please enable JavaScript to view this content.