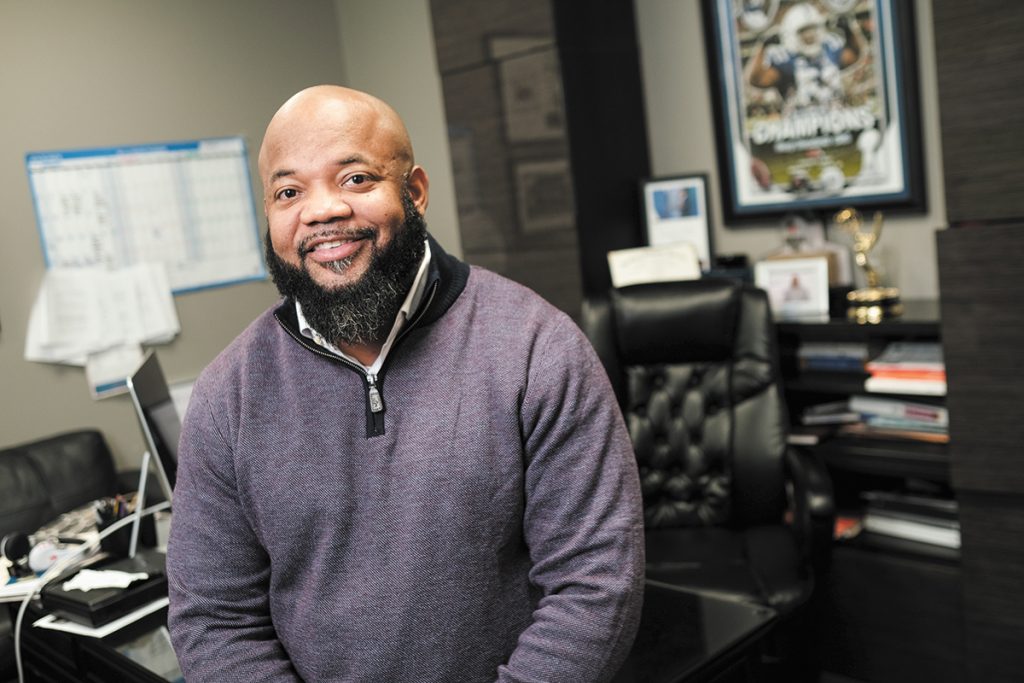 Gary Brackett, 39, knows what it's like to face long odds in pursuit of a dream.
He joined the Indianapolis Colts as a walk-on in 2003, and soon after faced a series of family tragedies. Over 16 months, Brackett's father, mother and brother died. Brackett worked through his grief, helped the team win the 2007 Super Bowl and remained with the Colts until he retired from football in 2011.
His latest challenge: making a feature-length movie about his life's struggles and successes.
The Indianapolis restaurateur, who owns the Stacked Pickle chain, has been working since May 2017 to bring his story to the big screen, and this month he launched a crowdfunding campaign to help raise part of the estimated $2.2 million to $2.5 million cost of making the film, whose working title is "Brackett."
The movie will be based on his 2012 book, "Winning: From Walk-On to Captain, in Football and Life." Brackett said he wrote the book with the goal of making a movie that could inspire others who face hardship. "It's a passion project of mine."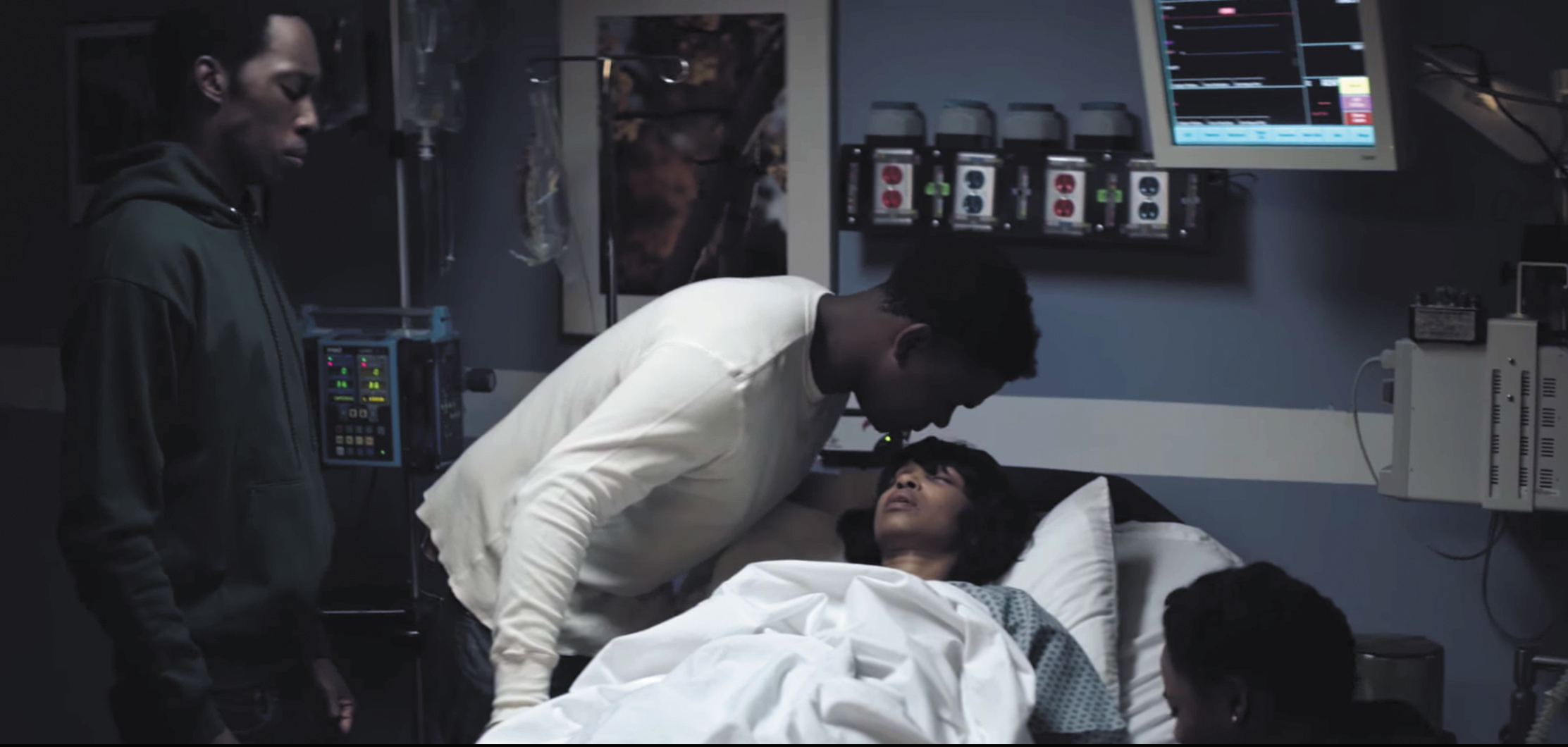 Moviemaking is a tough business, and there's no way to know at this point whether Brackett's project will succeed—but he has achieved significant milestones.
Thanks to the $150,000 Brackett already has invested, the movie has a script, a website (brackett.movie), a director, a fellow executive producer, a promotional trailer and a short version of the film designed to spark interest from investors.
With these pieces in place, Brackett said, things should move quickly once funding is in place. "Essentially, we're in a position that, as soon as we have the money, we can go."
This month, a crowdfunding campaign launched on the online platform Wefunder. Via Wefunder, individuals can invest as little as $100 toward the project, whose goal is to raise $1 million by the end of April.
The Wefunder investment is structured as a revenue-share loan: Investors are repaid from the revenue the film generates. As of Jan. 29, the campaign had raised $2,530 from 15 investors.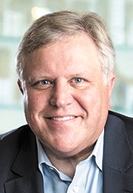 Brackett's co-executive producer, Chicago businessman Tom McCabe, declined to say how much the project has raised in total; nor would he reveal how much he's invested.
But McCabe said he's pleased with progress to date. "If we weren't confident with our private fundraising, we wouldn't have gone to Wefunder."
McCabe and Brackett both grew up in Glassboro, New Jersey. The two connected after McCabe read Brackett's book and was captivated by the story.
"It just resonated unbelievably," he said.
McCabe and Brackett brought McCabe's cousin, Mark Famiglietti, on board. Famiglietti, who has extensive experience as a writer, actor and producer for film and television, helped produce the short version of the film in 2017. He also co-wrote the script along with Brackett and writer Lane Garrison.
"Without Mark, Gary and I would have been lost with this," McCabe said.
Brackett's project also has attracted the notice of Bloomington-based film production company Pigasus Pictures LLC.
Established in 2014, Pigasus provides financing and other support—everything from casting to post-production work, marketing and distribution—for Indiana film projects. Pigasus' first feature-length film, "The Good Catholic," was shot entirely in Bloomington. It starred Danny Glover and was released in theaters nationwide in September 2017.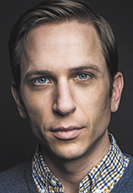 "We pull together all the resources required to get a film made," said Pigasus' chief operating officer, John Armstrong. "We are constantly in development for projects that fit our model and complete our mission."
Though Brackett is not a Hoosier native, Armstrong said, his story of triumph over adversity "was really compelling and it resonated with us."
Plus, Armstrong said, "He's a Colt—and we're huge Colts fans."
So far, Armstrong and Brackett said, Pigasus has raised $250,000 for "Brackett."
McCabe emphasized that Pigasus has not been confirmed as a partner in the project.
Armstrong conceded that Pigasus does not have a written commitment to serve as "Brackett" production partner, and that if "Brackett" finds another funding source, it is free to choose another production partner.
Pigasus, however, will contribute funding only if it's also production partner.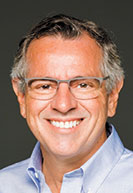 Funding an independent film is challenging, said Bob Compton, a former Indianapolis resident who has invested in several film projects.
Compton, who now lives in Los Angeles, helped fund numerous Indiana tech firms starting in the 1980s, including Software Artistry, Interactive Intelligence, Aprimo, ExactTarget and TinderBox. His movie investments include the 2017 feature film "Columbus," which achieved critical praise and nationwide release.
"It is hard to raise money for independent films right now. That is just the honest truth," said Compton, who is not involved with "Brackett."
Within the last decade or so, Amazon, Netflix and other online streaming companies have begun to produce their own movies, Compton said, which makes it much harder for independent filmmakers to compete.
"They're flooding the market," he said.
That said, Compton sees several factors working in Brackett's favor.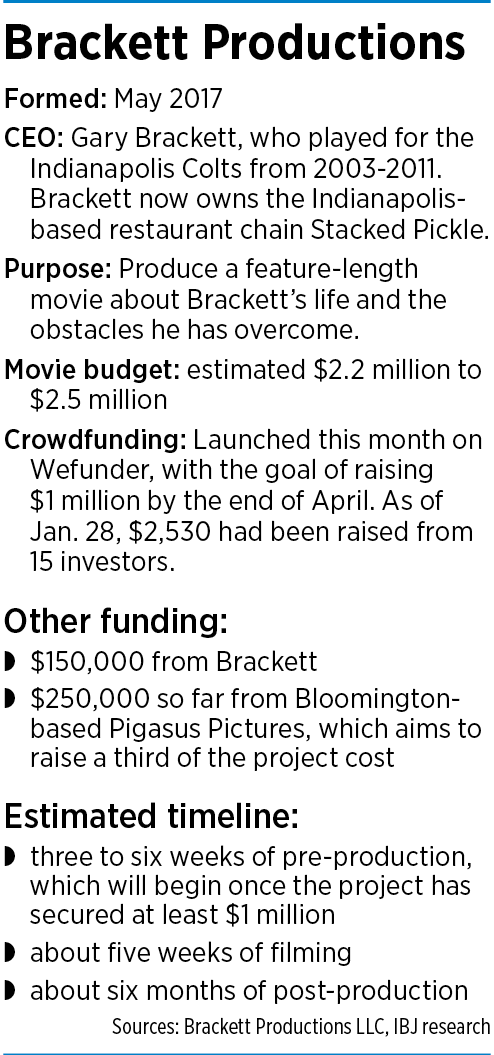 For one thing, he said, both Brackett and the Colts are well-known entities, which should help attract interest in the film.
Audiences also like sports stories, Compton said, as well as stories about the triumph of underdogs—and "Brackett" fits both categories.
"The trailer [for "Brackett"] made me want to see the movie, so I hope it gets made," he said.
If the movie hits its fundraising goals, it will launch a three- to six-week pre-production process that includes hiring a cast and crew and securing shooting locations.
Following that, filming would take about five weeks.
"We'd love to do the filming in 2020. It's not imminent, but probable," McCabe said.
The post-production process takes about six months, meaning the film could be complete as early as next year.
The next step would be finding a studio that wants to buy the film and release it in theaters.
Brackett is optimistic.
"We have some distribution partners in L.A. that we spoke with [that are] watching our project. We have a plan for distribution," Brackett said.
He declined to name the studios he's spoken with because they haven't committed to the movie.
Brackett said that, after his book came out, he met with a producer in Los Angeles who was interested in purchasing the rights to the story.
Brackett said he turned down the offer because he would have had to give up control over how his story was told. "Authenticity in the movie is important to me."
In deciding to make the movie himself, Brackett knows he's chosen the harder path.
He's OK with that, because he knows from experience that the underdog can prevail.
"Nothing has been easy to this point—so no need for it to be easy now."•
Please enable JavaScript to view this content.