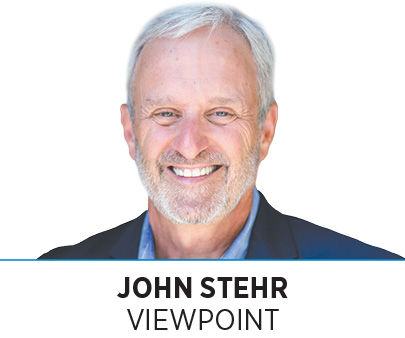 I have spent most of my adult life telling stories—of people, places and events. Just about every year, that included the story of election night. Primaries, generals, local and national. I had a front row seat for all of it.
In a journalistic career that lasted for more than 40 years, I covered campaigns and elections in places like Erie, Pennsylvania; Grand Rapids, Michigan; Salt Lake City; New York City, and, of course, for a quarter century in Indianapolis. As a political science and communications major in college (quite a few years ago), election night was always one of my favorite nights of the year.
While covering politics was a professional rush, I prided myself in being a journalist of the "Walter Cronkite model," always taking great pains to never share publicly my own political preferences. But, as a citizen, I never missed a vote. Never. I am proud of having an unblemished record of voting in every primary, municipal, special, presidential and midterm election since I first became eligible to vote in 1976. Too many Americans sacrificed too much to give us that right. Exercising it ties us to them—and helps build a foundation for the future of our democracy.
Through it all, I never imagined that one day I would be on the other side of the process. But this year, for the first time, that's where I am. Instead of counting votes cast for others, it's my name on the ballot. I've gone from "frying pan" (an air-conditioned television studio) straight into the "fire" of being a candidate.
When I started thinking about running for mayor in Zionsville, I asked a political friend if I should do it. He told me to define my "why" in 10 words, and if I couldn't do it, I shouldn't run. My 10 words: "I want the town we all love to do better."
Then he said I needed to come up with 10 words for why I am the right person. "Because I have the communication skills to do the job." With that, my friend told me that I was ready. I filled out my candidate paperwork the next day.
All of this has led me to where I am today: winner of May's GOP primary and running unopposed in the November general election. Career 2.0 begins Jan. 1, but I think there are transferrable skills to bring forward. Just like a news anchor has a large team behind him or her, a mayor needs to rely on many people, as well. On some level, all of us are in the communication business. As mayor, a main focus will be on telling Zionsville's story.
The story begins with our first-class school system and continues with one of the lowest property tax rates in the state. We have a welcoming business climate and are poised to grow as the LEAP district brings billions of dollars of investment to our Boone County economy. We will be engaged with our regional partners in bringing appropriate economic opportunities and develop a comprehensive master plan to guide Zionsville's development through the mid-21st century—a plan that protects our iconic Main Street business district, our natural heritage and our historic rural character.
Building community must be at the heart of it all, with a goal of bringing together all of our generations and being even more welcoming to anyone who chooses to come for a visit or to move into our town.
Zionsville's story will evolve—as will the opportunities we find to work with our neighboring municipalities, because that which benefits one of us in central Indiana benefits us all. Stay tuned. I truly believe that our town's best days are ahead!•
__________
Stehr previously worked as an anchor at WTHR-TV Channel 13. The Republican is running unopposed for mayor of Zionsville.
Please enable JavaScript to view this content.