There's only one place where you can walk on pieces of artificial turf used during the 2012 Super Bowl, be mesmerized by animatronic figurines that once were Santa Claus dolls, play Sonic the Hedgehog on an early 1990s Sega video game system and view an ironic altar to disgraced televangelist Jimmy Swaggart.
That place is the immersive music venue and art space Healer.
But Healer, which bursts with eclectic installations accented by heaps of artificial vines and flowers, isn't in one of the city's arts districts or up-and-coming neighborhoods. It's in a former health care billing center tucked in a nondescript retail strip near the intersection of East Raymond Street and South Sherman Drive, just north of Beech Grove.
Art Director Matt Panfil is one of Healer's creators and said he's inspired by connections among humanity, nature and technology. His displays are sensory overloads of repurposed items that are suggestive of the work of Nick Cave, the Chicago visual artist known for 3D pieces crafted from found objects.
"It's mostly either my own grad school art that was just sitting in my basement studio, or it's been thrifted from Goodwill outlets or found on street corners, thrown away," Panfil said of Healer's installations. "I love the idea of upcycling and using found material because I feel like we live in a very throwaway, wasteful culture."
One of the city's best-kept secrets, Healer is celebrated in the art community. Online magazine Atlas Obscura—which bills itself as a guidebook to the "world's most wondrous places"—lists the venue as one of the places to visit in Indianapolis.
And in September, Healer received one of 10 Power Plant Grants distributed by Indianapolis-based Big Car Collaborative and funded by New York's Andy Warhol Foundation for the Visual Arts.
The $10,000 in funding will help keep the creative surprises coming at Healer, which opened in 2018 and is accessible to the public when the venue hosts music performances and art talks.
Panfil said it's a compliment when attendees ask if they can touch the art or if they can enter installations that resemble otherworldly caves.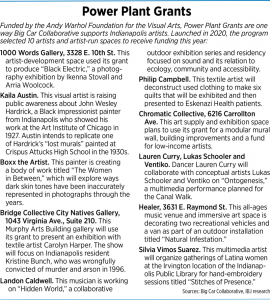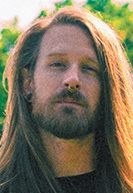 "Having no border between the spectator and the art is very exciting to me," Panfil said. "My goal with Healer is to make something crunchy and earthy, something tactile. I want people to be able to crawl around and feel and engage with the art."
Musician Joshua Powell, who's made multiple music videos at Healer, said the venue with a "please touch the art" policy deserves recognition from arts funders.
"I'm happy they're getting some money," Powell said. "I live and breathe for art. But it's also an industry that's so intrinsically tied into classism and high thresholds of accessibility."
Big Car Collaborative is one of 32 organizations authorized to distribute grants to support artists using funds from the Warhol foundation. Big Car's Power Plant program began in 2020 with 60 Indianapolis artists receiving pandemic-related emergency grants of $1,000 each.
Shauta Marsh, Big Car's program director, said the 10 recipients of this year's grants received $2,000 to $10,000 each.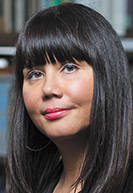 In addition to Healer, the recipient list included painters Kaila Austin and Boxx the Artist.
Austin is using her grant to raise public awareness about John Wesley Hardrick, a Black impressionist painter from Indianapolis who showed his work at the Art Institute of Chicago in 1927. Boxx the Artist is using her grant to explore ways dark skin tones have been inaccurately represented in photographs through the years.
Marsh said grant recipients aren't selected by the Warhol foundation or by Big Car. In its role as program facilitator, Big Car enlists three jurors who pick the recipients.
This year's jurors included Indiana artists LaShawnda Crowe Storm and Ish Muhammad, as well as Amy Kligman, executive director of Kansas City arts organization Charlotte Street Foundation.
"It keeps the whole process as unbiased as possible," Marsh said.
Jonathan's van
Healer sought Power Plant funds for "Natural Infestation," a plan to decorate two recreational vehicles and a van displayed in an art park behind the venue. The art park debuted in 2020 as an open-air space for socially distanced music events.
The exterior of one RV is painted green and the other is painted silver. Panfil said he expects to use funds to refurbish the interiors of the RVs, but he's primarily focused on the Ford Econoline van that will serve as a permanent memorial to Jonathan Lee Horne.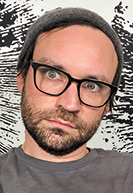 Before he died at age 33 in January 2021, Horne worked for Indianapolis-based music label Joyful Noise Recordings. Horne, who also worked at Healer, died less than a month after being diagnosed with bone cancer.
Joyful Noise founder Karl Hofstetter said he purchased the van for $2,500 a few years ago to drive vinyl records from Joyful Noise's office to Bloomington shipment company Secretly Distribution.
"That was the only purpose of the van, and it was mostly driven by Jonathan," Hofstetter said. "He spent a lot of hours in that thing."
Joyful Noise has released albums by notable underground acts such as Kishi Bashi, Son Lux and Sebadoh. Horne's roles at the label included customer service and the making of limited-edition lathe-cut singles.
Panfil said a guitar and amplifier owned by Horne, a member of Indianapolis rock band Hell Year, will be available in the back of the van for anyone to play.
With hopes of completing work on the van by November, Panfil said the installation will include examples of Horne's visual art and a video tribute.
Panfil changed the van's exterior color from white to black, and he commissioned Indianapolis artist Tylar Lee to paint a red dragon on the side of the vehicle.
"He loved heavy metal," Panfil said of Horne. "This is meant to be his spirit form in some kind of dragon phoenix."
Joyful Noise continues to raise money to buy guitars to give to music programs in Horne's memory. To learn more about the Jonathan Lee Horne Memorial Music Fund, visit churchofnoise.org.
Art without limits
Panfil leads the visual art component of Healer, and co-founder Colin Oakley schedules music performances at the 300-capacity venue. Ben Sutphin, Healer's other co-founder, exited his management role in 2021.
The previous health care tenant factored in the venue's name, and Healer retained that company's office-cubicle format for many of its installations. An installation titled Tetsuo II, which Panfil said is influenced by 1989 Japanese cyberpunk film "Tetsuo: The Iron Man," features a futuristic statue flanked by walls of closed-circuit video monitors.
"Artmaking to me is a compulsion," said Panfil, who grew up in Indianapolis and attended North Central High School. "I've never been in it from a business angle or from some chasing of success. It's always just been what I've done since I was a kid. And I have no choice. I have to do it."
Acknowledging that he and Oakley run Healer on a modest budget, Panfil said he's grateful for the Power Plant Grant as well as for the backing of building landlord Sam Sutphin—father of Healer co-founder Ben Sutphin.
"The support is the closest to a patron I've ever had," Panfil said. "Having the existential security of it has been really gratifying. And the opportunity to go wild and create without real limits besides the fire code limits has been really nice."
While Big Car co-founder Marsh didn't participate in the juried process to award Healer one of the Power Plant Grants, she's comfortable saying she's a fan of the venue.
"Since it's opened, it's been one of my favorite spaces," Marsh said. "It's thematic. It's thoughtful."
Musician Powell has visual art on display at Healer, thanks to a series of papier-mache monster heads he crafted for the 2018 "Arrowheads or Worse" video made at the venue.
"After I made them and used them in our video, I thought, 'I can't really have these gigantic monster heads around my home,'" Powell said. "But they fit in really well in the geography of Healer."
Panfil said he believes art should be inclusive.
"It's important to me that we showcase artists of all different backgrounds and all different levels," he said. "There has been no one who's come to me with an idea, whether it's for a temporary installation or for wall art, that I have said 'no' to."
Making jaws drop
When Panfil studied film production at the College of Santa Fe in New Mexico from 2007 to 2009, he became acquainted with members of the Meow Wolf art collective who opened a multimillion-dollar immersive art space titled House of Eternal Return in 2016. In 2021, Meow Wolf expanded to open immersive locations in Las Vegas and Denver.
Marsh said Panfil's interaction with Meow Wolf members likely influenced what's now seen and heard at Healer.
"I think it's important for artists to look at other artists' work," Marsh said. "You bring that knowledge back here, and people can riff on it."
Shortly before the pandemic began, Joyful Noise Recordings moved from Fountain Square to a space next door to Healer.
Hofstetter said his company needed more room, and the lower rent was an incentive to relocate.
"We decided to take the plunge out here, mainly because Healer is next door," Hofstetter said. "It felt good to be in proximity to that."
More than 40 musical acts from multiple continents are signed to Joyful Noise, and Hofstetter said he sends all artists who visit the label's headquarters over to Healer to check out the atmosphere.
"It's a special place that's blossoming with art," Hofstetter said. "It's hard not to be inspired in that place."
Powell said he's booked many shows at Healer for touring musicians he knows.
"Invariably, they have to pick their jaw up off the floor. 'This is the craziest venue we've ever played,'" Powell said. "When you see that impact every time, something real is happening here."•
Please enable JavaScript to view this content.