The cards have been dealt, and Terre Haute is getting a casino.
The Indiana Gaming Commission on Friday awarded a casino license to Spectacle Jack LLC, which plans to build a $120 million casino near Interstate 70 and State Road 46 in Terre Haute.
Spectacle Jack will have to pay a license fee of $5 million for the casino license.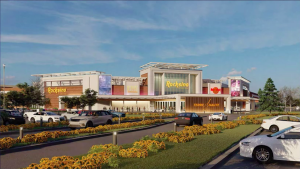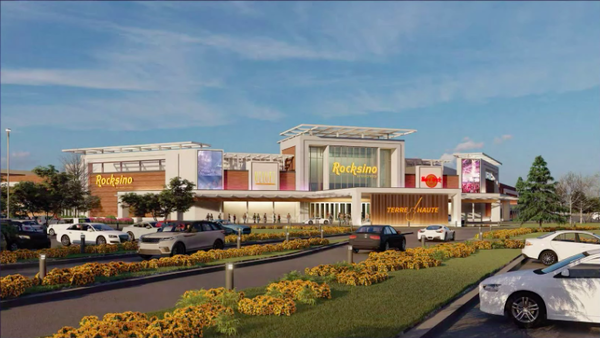 Florida-based Hard Rock is partnering with Spectacle Jack on the 100,000-square-foot casino, which will have 1,150 slot machines and 50 table games with 250-275 gaming positions, a 300-seat theater and four restaurants, including a Hard Rock Cafe. The project also has the potential for an on-site hotel.
"We want it to be a fantastic facility that will impress everyone that visits," said Terre Haute entrepreneur Greg Gibson, who is the principal investor in Spectacle Jack. "To make that type of project possible, we wanted to find an established gaming partner with a well-known brand identity. Landing a brand like Hard Rock is like hitting the jackpot."
The casino, dubbed Rocksino, is expected to employ more than 700 when fully operational.
Construction is expected to start in September, with the casino opening in September 2021.
Jim Brown, CEO of Spectacle Jack, said gaming revenue is estimated to be $120 million in the first year while total revenue is expected to reach $145 million.
The casino is expected to generate $26 million in state gaming tax revenue and $3.3 million in local gaming tax revenue in the first year of operations.
The local gaming tax revenue will be used for projects related to economic development, health and wellness, infrastructure, quality of life, talent attraction and retention and tourism.
The casino could have an annual economic impact of $126 million, but that could be lowered depending on any economic effects to casinos caused by the pandemic, according to an analysis by IU Public Policy Institute senior policy analyst Drew Klacik.
"This is going to have such a tremendous impact," Terre Haute Mayor Duke Bennett said. "We're ready for this. We're excited."
The state will continue to have a total of 13 casinos, even after the addition of the Terre Haute casino. The two casinos on Lake Michigan in Gary—Majestic Star I and Majestic Star II—will close once the new inland casino in Gary opens.
Indiana state lawmakers approved the casino shuffling with legislation that passed in 2019. The law required Vigo County voters to approve a referendum to allow the casino. That passed in November with 63% in favor of it.
The Gaming Commission initially planned to meet Feb. 7 to consider awarding the casino license to Spectacle Jack but postponed that meeting after allegations one of its officers was involved in a federal campaign finance scheme.
Spectacle Jack was initially a subsidiary of Spectacle Entertainment, which is owned in part by former executives of Centaur Gaming.
Centaur, which was based in Indianapolis, sold its horse-track racing casinos in Anderson and Shelbyville to Caesars Entertainment in 2018 for $1.7 billion.
A federal plea deal that became public Jan. 23 alleged that Centaur was involved in funneling thousands of dollars in campaign contributions to an Indiana congressional candidate in 2015.
Court documents didn't name Centaur, but the Gaming Commission confirmed that it is the company involved. The plea deal also implicated the then-vice president and general counsel for the company, John Keeler.
Keeler and former Centaur Chairman and CEO Rod Ratcliff now operate Spectacle Entertainment, which is operating the riverboat casinos in Gary and constructing the $300 million land-based casino there. Spectacle Entertainment is also partnering with Hard Rock on the new Gary casino.
Spectacle Jack revised its application for the Terre Haute license and indicated that Keeler and Ratcliff are no longer invested in the entity. Now, Spectacle Jack is owned by Gibson, Brown and one of Gibson's other business entities.
Gaming Commission Chairman Michael McMains said during Friday's meeting that the board would not have considered the application without that change.
Ratcliff and Keeler are still involved with the Gary casino, though, and remain with Spectacle Entertainment. They also have the option to reapply to repurchase shares in the Spectacle Jack during the next 36 months, according to the agreement the Gaming Commission approved Friday.
The change in license ownership would be subject to Gaming Commission approval though.
Gibson said he never imagined he'd be involved in the gaming industry like this and spent a lot of time analyzing the risks associated with the project.
"I don't look to get involved in projects that don't have a chance to be financially successful," Gibson said.
Please enable JavaScript to view this content.