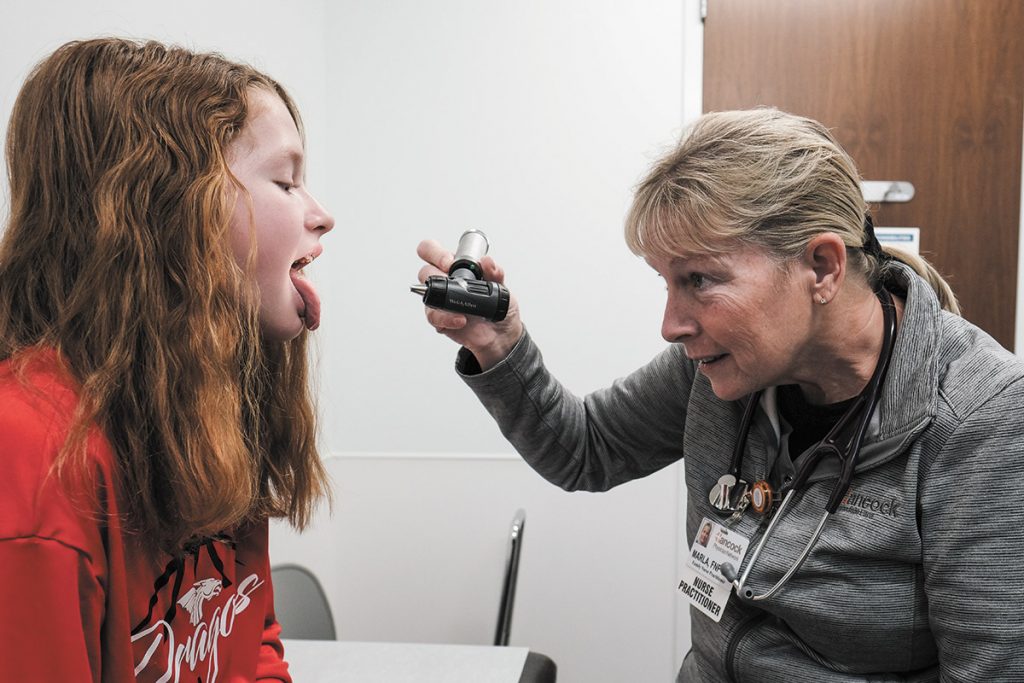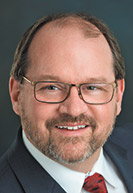 Standing in the lobby of Hancock Health's new medical clinic off of Interstate 70's Mount Comfort Road exit, CEO Steve Long looked through the windows and took in the view.
On a chilly February afternoon, the scene was barren: empty fields, with woods in the distance and the busy interstate off to one side. But Long said he sees big things coming.
"I would envision, at some point, there's a hotel," he said. "I would envision there's restaurants. I would envision some retail."
He is just getting started. He also sees office buildings, a senior-living community and high-density housing. There might be a coffee shop and a place to drop off your laundry.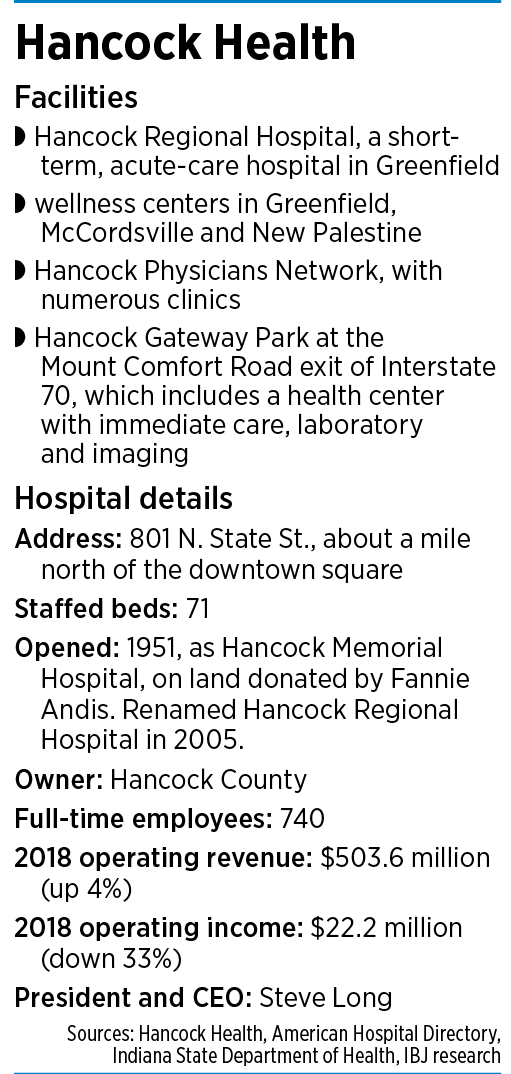 It's a big list—one that might take decades to play out. For now, the two-story, 17,000-square-foot clinic, which opened in September, is the only structure on the site, which is located on the southwest side of the interstate exit.
Long and his board at the county-owned health care system say the location is ripe for growth, and they want Hancock Health to be a big part of it.
Over the past two years, Hancock bought this property—140 acres of empty farmland—for $12 million from an assortment of sellers. They named the development Hancock Gateway Park to emphasize its location on the western edge of Hancock County, about 15 miles east of downtown Indianapolis.
In getting into the real estate game, Hancock Health—one of the smallest hospital groups in central Indiana, with 740 employees—is embarking on an unusual strategy. It wants to be a player not only in planning its own future, but also in deciding what should sprout up around it.
The health system is counting on Hancock Gateway Park as the cornerstone of its growth for the next 30 years—and wants a strong voice in how it will look.
Long said Hancock's property and those around it should be welcoming—and that's not yet the case. The assortment of businesses currently near the Mount Comfort Road exit include fast-food restaurants, a truck stop, a recreational vehicle dealership and a trash transfer station.
"I mean, it is not an attractive gateway into the county," he said.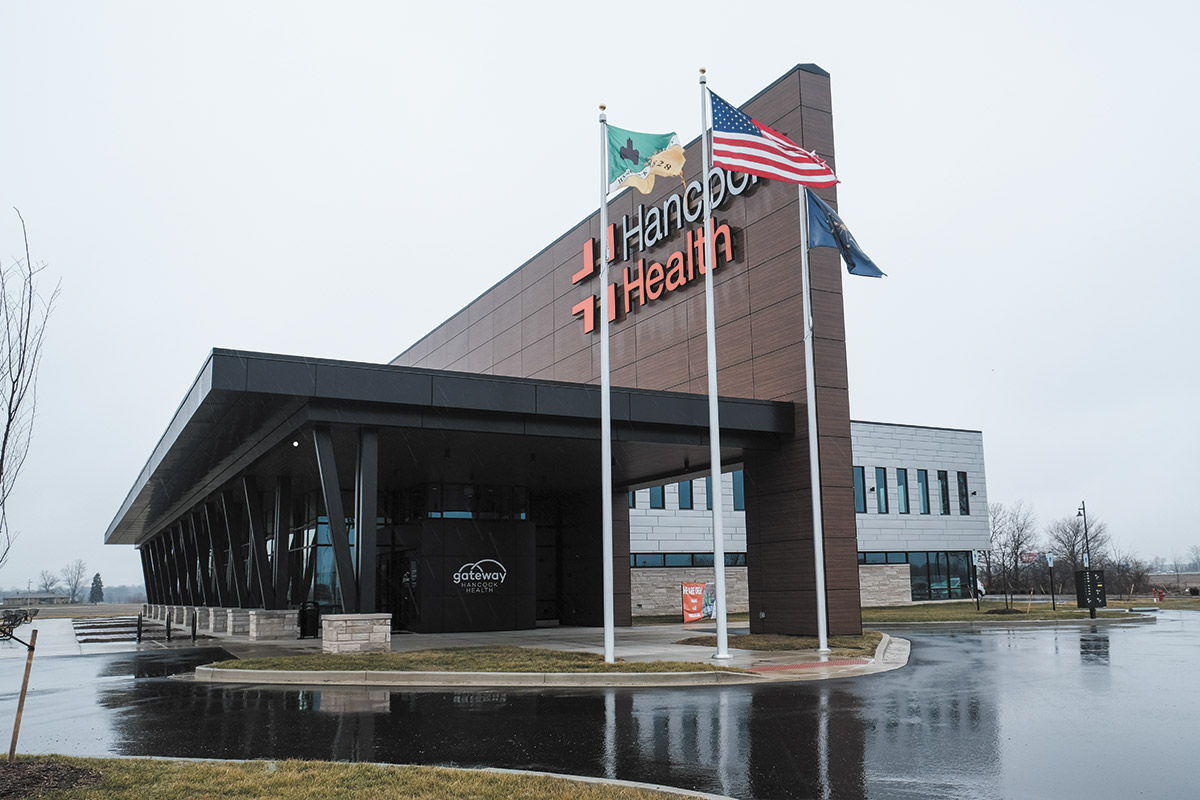 Betting on growth
But Hancock Health's ambitious growth plan is not without risks. For its eight-figure investment in land, it needs to attract the right kinds of businesses that will bring people to the campus and surrounding areas, increase the population and boost Hancock's patient base.
"The biggest risk is that it costs money, and you ask yourself, 'Will they get a return on the money?'" said Ed Abel, director of health care practice at Indianapolis-based Blue & Co., an accounting and consulting firm. "But I do think that, as the metropolitan area moves in that direction, they'll get every penny that they've invested. They just may have to wait a year or five years or 10 years."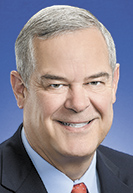 Hancock is one of the state's fastest-growing counties. From 1990 to 2018, its population surged 67%, to 76,351, far outstripping Indiana's statewide growth of 21% in the same period.
Along the way, Hancock Health is defending its home turf. In the big scheme of things, the system is a tiny player in central Indiana, with just one hospital: Hancock Regional in Greenfield, about 10 miles southeast of the Gateway project.
By comparison, the state's biggest hospital system, Indiana University Health, has 16 hospitals, from Monticello to Paoli. It is nearly 13 times as big as Hancock Health in operating revenue and 28 times as big in assets.
For the time being, Hancock Health rules the roost in its back yard. It operates the county's only hospital, along with three wellness centers—combination gyms and rehab clinics—in Greenfield, McCordsville and New Palestine. With its physician network, it claims about 65% of the health care market in central and eastern Hancock County.
Suburban expansion
But it can't afford to sit still. The larger health systems—including IU Health, Ascension St. Vincent and Community Health—have been pushing into the suburbs at a fast clip and show little sign of slowing.
Two years ago, IU Health said it had formed an in-house group to look at "future expansion of services that might be considered in the south and east areas of suburban Indianapolis."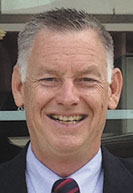 Words like that make suburban officials take notice. Randy Sorrell, executive director of the Hancock Economic Development Council, said smaller health systems around central Indiana, from Noblesville-based Riverview Health to Danville-based Hendricks Regional Health, have been expanding in recent years and are feeling the pressure to continue.
"The suburban health organizations, if they don't grow, the big three will run them over," he said.
Hancock Health's transformation began more than five years ago, when leaders looked out and saw a county quickly changing from a sleepy agricultural center to a booming residential and industry center.
In recent years, the county has seen large investments from BeijingWest Industries Co., Keihin North America Inc. and other manufacturers. Meanwhile, the north side of Interstate 70 became home to one of the largest collection of warehouses and distribution centers in the region.
Hancock Health decided it needed to keep up—and the most likely place to expand was the western edge, which was quickly becoming a suburban cluster for Indianapolis.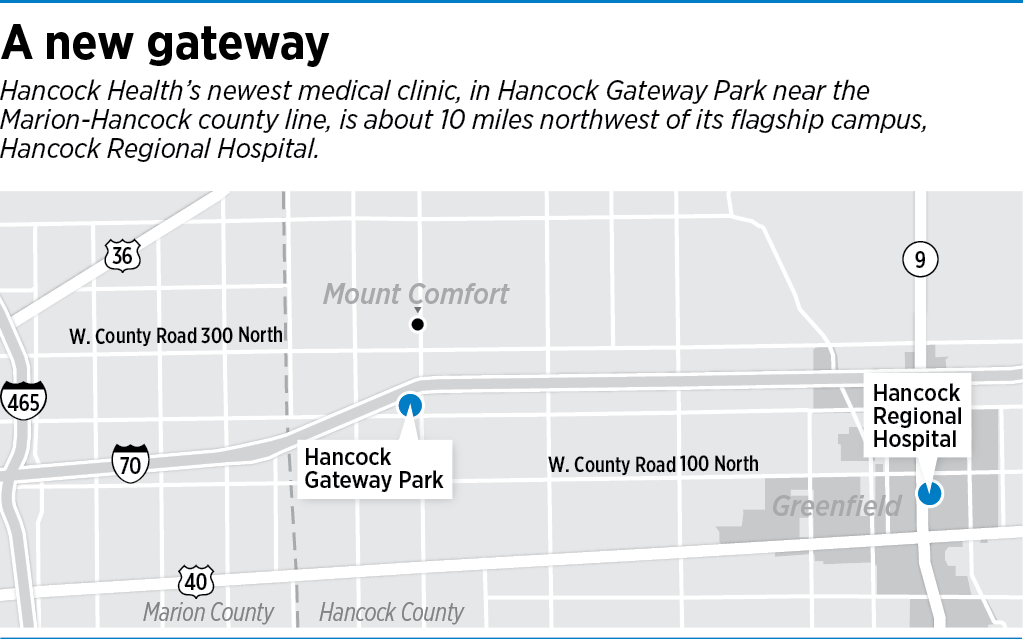 A report from the Washington, D.C.-based Urban Land Institute to community leaders last year said Mount Comfort Road, which stretches north/south for 15 miles through the county, could see an additional half-billion dollars in economic impact if the communities encouraged a mix of housing types, mixed-use developments and new industry.
Hancock Health officials see the same potential.
"We see the growth that is happening in Hancock County," Long said. "We believe that's all happening up and down Mount Comfort Road. We asked ourselves, 'What ought to be our strategy to be able to provide the services that we have here?'"
Plotting strategy
To help it plan its future, the health system hired consulting firm Navigant to study the market. Together, they came up with three growth targets for investment: Mount Comfort, McCordsville and New Palestine.
Mount Comfort, for now, is the biggest part of the plan. Last year, Hancock Health got permission from the county plan commission to rezone the land as a planned unit development, a move that allows it to carve out different uses, from retail and office to hospitality and residential.
Hancock Health is now looking to team with a developer to find the right players and buildings to fill in the landscape around the clinic.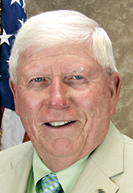 Greenfield Mayor Chuck Fewell is watching the growth. He said that, while it's happening outside his city limits, he expects the entire county will benefit.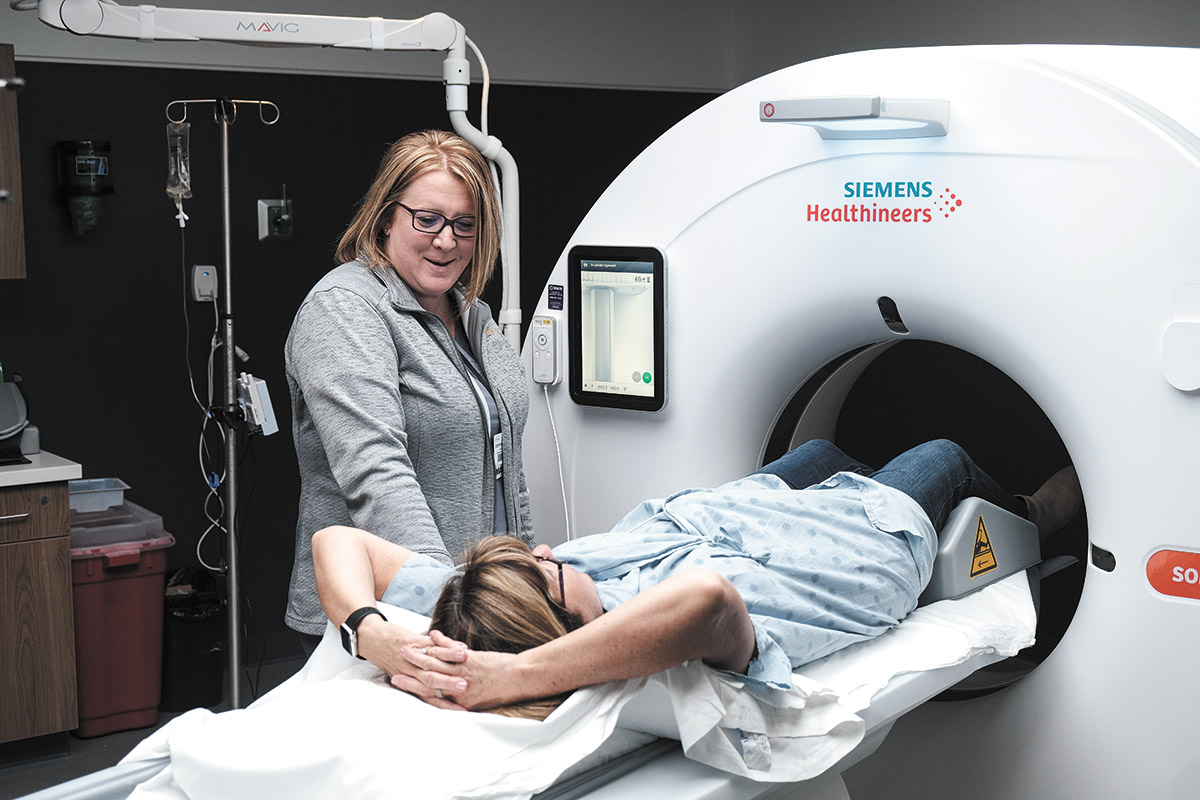 "That gateway project is a great entrance into our county," he said. "Now, it's not in the city, but it's in the county. But it doesn't matter. When the county has those type of projects, it makes us all vibrant."
NineStar Connect, a partner in Hancock Gateway Park, is constructing a water tower on the southeastern edge of the property, a move designed to spur development of Gateway Park and surrounding areas.
In addition to trying to attract development, Hancock Health is saving about 30 acres—or a little over 20% of the site—for itself, to build a medical campus in phases.
Phase I was the clinic, which offers immediate care with six exam rooms, a laboratory, and an array of imaging, including X-rays, MRIs, CT scans and ultrasound. The clinic has about 10 employees on duty at a time.
Another phase, many years down the road if population growth justifies it, could be a hospital, Long said.
Hancock Health, of course, will never rival Indiana's biggest hospital players. It doesn't offer the same kind of high-acute procedures, such as organ transplants or brain surgery. It doesn't have a Level 1 trauma center, a burn center or a partnership with a medical school.
But for now, it is content to serve its community with the traditional array of services, from emergency care to cancer treatments. And it wants to be in a position to serve the community as the population continues to swell.
"I can tell you part of the vision that I had for this place is that, 30 years from now, when the population of this county has more than doubled—and it's likely to do that—that the person in my spot is going to say, 'Wow, there needs to be a second probably inpatient facility in Hancock County, and that needs to sit here,'" Long said.
"And the person in that seat is going to say, 'I don't know who bought this land, but I'm sure glad they did 30 years ago.'"•
Please enable JavaScript to view this content.