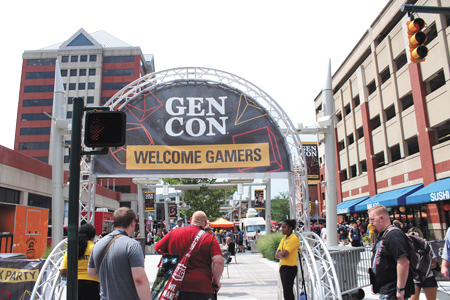 More than a year after canceling its 2020 event due to the pandemic, Gen Con—one of the city's largest annual conventions—is back in Indianapolis this week.
The massive gaming event is expected to draw upward of 40,000 people to downtown Indianapolis from Thursday through Sunday, marking the largest convention the city has hosted since before the coronavirus outbreak.
David Hoppe, president of Seattle-based Gen Con, said the event will be a slightly scaled back version of what participants have seen in years past, with shorter floor hours (the Indiana Convention Center will close from midnight to 6 a.m.), more cleaning and a stronger focus on community gaming.
"Overall, I think people will find that community, the gaming, the whole experience, at Gen Con is going to feel a lot like it always has," he said. "We're also running pop-up Gen Con in retail stores around the country—over 200 stores are participating in miniature versions of Gen Con, running demos and game sales."
There will be virtual offerings, too, like the opening ceremony and "several thousand events," including panel discussions and gaming opportunities, said Hoppe. He said in-person attendance will be anywhere from 50% to 60% of 2019's event, which was attended by about 70,000 people.
Gen Con will require participants and vendors to wear masks, but is not requiring vaccines, although that was a step considered early on in planning. Hoppe said a recent survey found about 90% of registered attendees are vaccinated. After consulting with the Marion County Public Health Department, the organization settled on masks.
"We felt the best way to ensure safety was to require that everyone is masked, all the time," he said. "We're going to be really good at enforcing that."
Tables will also be spaced farther apart than usual, and cleaning will occur every evening after the convention hall is closed.
Chris Gahl, vice president of Visit Indy, said Gen Con will have an extensive economic impact on the area.
"After hosting more than 150 in-person events over the last year, we are confident in Indy's ability to successfully host Gen Con, an event generating a much-needed $37.3 million in economic impact," he said. "We've worked with Gen Con's leadership over the last year to ensure the health and safety of their attendees is paramount."
Gen Con has been held in Indianapolis since 2003. When it was called off in 2020, organizers extended their contract with the city by two years, through 2026.
Please enable JavaScript to view this content.