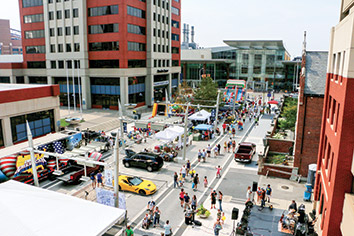 The city's Department of Public Works plans to shut down vehicular traffic on Georgia Street for a month starting Friday, giving restaurants there an opportunity to expand outdoor seating during the Big Ten and NCAA basketball tournaments.
Georgia Street, which connects Bankers Life Fieldhouse to the Indiana Convention Center, will be blocked until April 6—the day after the NCAA National Championship. Cross streets like Illinois and Meridian streets and Capitol Avenue will remain fully operational, and the eastern and middle blocks of Georgia will allow some vehicular traffic because of parking garage entrances.
Abbey Brands, DPW's deputy director for policy and planning, said the closure will be utilized by the Indianapolis Cultural Trail and the NCAA for various "passive" activities throughout the NCAA tournament. A media hub is planned for at least one of the Georgia Street blocks, allowing visiting media to take photos, do live shots and conduct interviews.
"Each block will have different stuff going on," she said. "The Cultural Trail has been really been working with the NCAA and the [local organizing committee] to figure out what kind of activations they want to do on those blocks. Restaurants will … be able to expand into the right of way, too, so they'll get a little bit of extra space as we have more foot traffic."
In 2015, the NCAA had several activities along Georgia Street, which was capped by the Final Four Fan Festival at the Indiana Convention Center. Indiana Sports Corp. told IBJ last month it's unlikely many festivals or public gatherings will occur during for the tournament because of ongoing health and safety concerns.
Even so, restaurants like District Tap, Hooters and Mikado are expected to be able to capitalize on the expansion of outdoor seating. Brands said having additional seats outside "encourages broader distancing" than what might be found indoors.
Marion County on March 1 allowed restaurants to expand to 75% capacity. District Tap owner Michael Cranfill said on the IBJ podcast this week that he was pleased with the move and was eager for Georgia Street to be shut down to allow for additional seating opportunities.
The closure of Georgia Street isn't unusual. In fact the city has regularly closed the street for large events in the past, including Gen Con, the National FFA convention and major youth sports tournaments.
The Cultural Trail was already planning some beautification of the street as part of ongoing cleanup efforts throughout downtown.
Last summer, several of the city's streets were closed to give restaurants more outdoor dining space amid the pandemic. This time around, the city opted not to close Illinois Street—it did little to help the restaurants the first time—and a survey of restaurants found those on Massachusetts Avenue and in Broad Ripple were opposed to having their roadways closed again.
Brands said the response from restaurateurs "basically made the decision for us to just move forward with" only closing Georgia Street.
City officials are likely to monitor the area to ensure restaurants are operating within their permits, and to encourage people to mask and physically distance. IMPD officers will also be stationed along Georgia Street, but they won't act as "mask police," she said.
"We're trying to find a really good balance of how to entertain guests in the city, and how to … spread folks out and bring people back downtown, while still keeping it safe," she said. "I think we have a really good plan in place to do that with this space over the next month."
A representative of the Cultural Trail did not immediately return a call seeking comment for this story.
Please enable JavaScript to view this content.