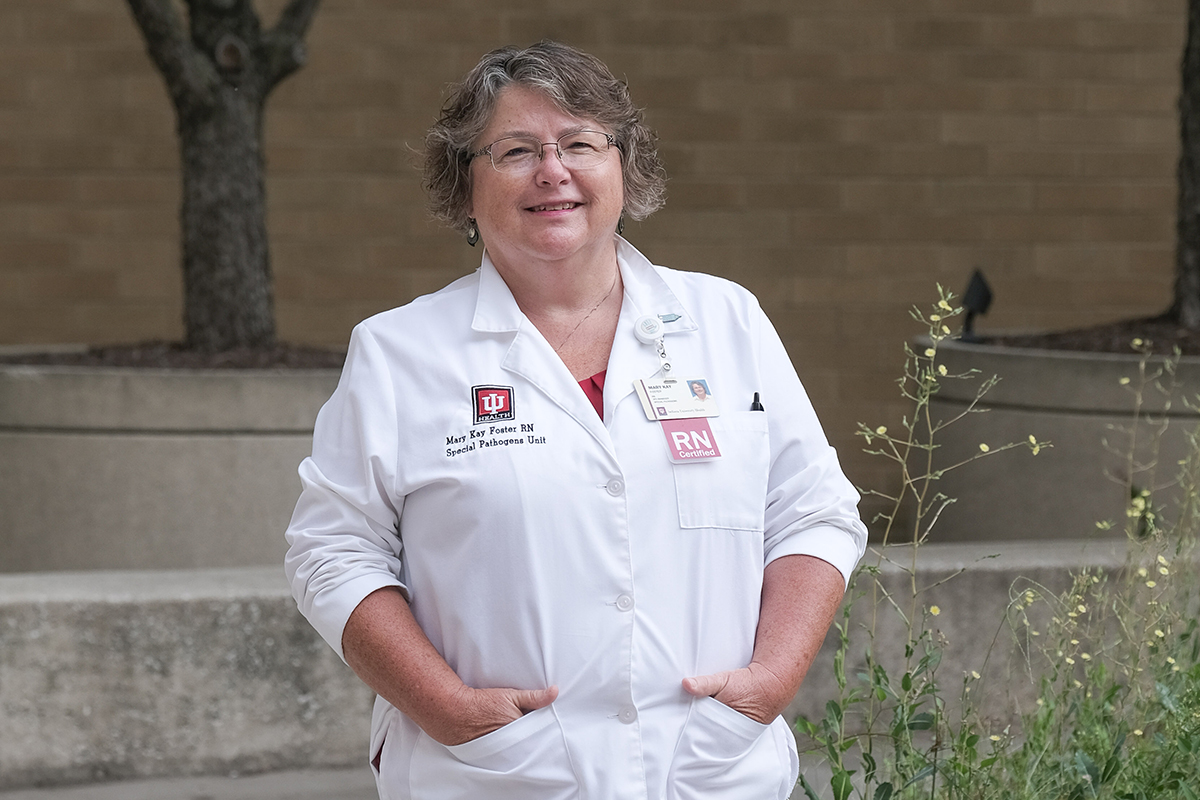 Mary Kay Foster knows a thing or two about highly infectious diseases, and can name more than a dozen of them, from avian influenza to smallpox, practically in one breath.
Foster, 58, is a registered nurse and program manager of the special pathogens unit at Indiana University Health, which is dealing with many facets of the pandemic, from vaccinations to keeping bedside workers safe.
A year or so ago, the country was seeing lots of images of doctors who were camping out on their porches or spare bedrooms to avoid infecting their families with the coronavirus. In hindsight, was that level of precaution necessary?
I think so, because at that time, we didn't know much. It was a new virus and [we] really had no good understanding of it. And I think this is what frustrates people. They don't understand why things change. Well, we know better now, because with science, we're constantly studying and understanding and learning and making better decisions. Now, I think we have a better understanding how the virus is spread.
How long has personal protective equipment (PPE) been part of your life?
I realized back in September 2014, when we got our first Ebola patient, that nurses were more focused on taking care of the patient and not so much worried about ourselves. That changed with Ebola. We realized that we needed to understand how to put the equipment on but, more importantly, how to get that off. And that's the same thing today with COVID.
Tell me about taking the equipment on and off.
You've seen those pictures on TV where somebody in a hospital is wearing a spacesuit and three different types of face masks and a respirator. And really the most important part is how to take the equipment off without contaminating yourself. I train every new nurse on how to put the equipment on and, most importantly, how to get it off to minimize the risk of exposure and contamination.
Why did you want to become a nurse?
I just kind of fell into it in the early '80s. I applied to nursing school on a whim and got accepted. And I fell in love with it. In my 37 years of nursing, I have never quit learning.
When the country started to roll out vaccines for COVID-19 last winter, did you think we'd still be in the thick of the pandemic, now dealing with another major surge?
I would have liked to think that it wouldn't happen. But history shows that it would. Anytime you have a virus that replicates and changes, there's always an opportunity for it to continue. And that's what's happening with this delta variant.
How much longer is the pandemic going to last?
I have always said realistically it's probably going to continue into the second quarter of 2022, just knowing historically how pandemics run. I try to be realistic with people because we'd hope with all the vaccination we did that we wouldn't see this current awful surge.
Really, it's in the hands of the people. It's in each of our hands to get this to stop. We own it. We have to understand and accept the fact that we have to get vaccinated, and we have to wear a mask to get back to a more normal life.•
Please enable JavaScript to view this content.