London-based Learning Technologies Group has announced Indianapolis will be the headquarters of its new learning-management subsidiary, a boost to the city's already growing educational-technology sector.
And LTG will make the move with a group of Indianapolis ed-tech veterans, including Phil Miller, who will be CEO of the new company.
The decision comes just after LTG announced it was acquiring Open LMS—which provides online teaching, learning and course-management software based on the open-source Moodle platform—from ed-tech firm Blackboard, based in suburban Washington, D.C.
LTG paid about $32 million for the Open LMS division, which had been the Moodlerooms company before Blackboard acquired it. The deal is set to close this month.
While the former Moodlerooms was headquartered in Baltimore, a contingent of the company was in Indianapolis, and that office remained after the company was acquired by Blackboard.
"LTG is a global firm with a strong reputation in corporate learning. With this acquisition, [it becomes] a major player in global higher education and K-12 learning as well," said Ray Henderson, managing director of Lessons Learned Ventures LLC, an Indianapolis-based educational-technology strategy development and investment consultancy.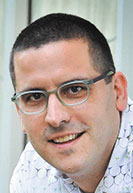 Moodle has "100 million learners worldwide, overwhelmingly the most widely used," Henderson added. Open LMS "will be the largest and most important service provider to that community. Phil Miller's broad experience developing international markets at Blackboard will be a serious asset for LTG."
Open LMS will have roughly 65 employees, Miller told IBJ, with about 12 at the Indianapolis headquarters. And he said the company's employee count in Indianapolis and elsewhere is likely to grow—and grow soon. Open LMS also has offices in Bogota, Colombia, and in Adelaide, Australia.
"People know that Indianapolis is a really strong marketing tech town," Miller said. "But it's also a very strong ed-tech town. That's one of the best-kept secrets in the Indianapolis technology sector.
"We're going to use the talent here," he added, "and the resources of LTG to grow this operation considerably."
LTG's takeover of Open LMS comes as the coronavirus outbreak has left shuttered schools around the world dependent on e-learning tools. That could be an opportunity for explosive growth in the remote-learning sector.
The coronavirus "has just clarified for educators at all levels that it's time to fortify their online learning infrastructure if they have it, or invest with real seriousness if they do not," Henderson said. "The implications are also serious for how educators [measure students'] learning to show progress, and how they assist everyone in understanding learner activity when it's online."
He said elected officials and schools must rethink some policies that have prevented or made it difficult for high-stakes testing to take place online or remotely.
"Long term, all are positive trends for online education," Henderson said. Learning-management systems tend to be "the hub of much of this activity and the key interface for instructors, learners and parents. It is immensely more important at all levels going forward."
While some schools already have learning-management systems, it is still a "market with a lot of expansion opportunities around synchronous technologies, instructional-measurement platforms, and anything that generates new online course inventory," Henderson said.
Industry sources said global markets with an emerging middle class—like the Middle East, Africa, South America and Asia—have a big need for this software, as do corporate settings—where LTG is a major player.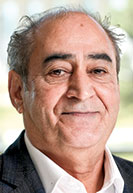 Deep Indiana roots
Although a number of players have helped grow Indianapolis' ed-tech sector, much of its growth in the learning-management systems sector can be traced to Angel Learning, a company spearheaded by IUPUI professor Ali Jafari and one of his students, David Mills, and spun out of Indiana University in 2000.
Angel Learning turned out to be a boon for IU, which invested $130,000 in the innovative company and netted $23 million when it was sold to Blackboard for $100 million in 2009. Blackboard opened an office in Indianapolis—working out of a facility on the north side—and swelled to more than 100 employees here.
In 2010, a number of leaders who were part of Angel joined educational-technology firm Moodlerooms and opened an Indianapolis office for the company, giving the city yet another boost in the learning-management sector.
In 2012, Blackboard bought Moodlerooms and absorbed its Indianapolis presence.
Eight years later, LTG bought the Moodlerooms division of Blackboard.
"This makes a lot of sense for LTG," Jafari told IBJ. "Much of its business is outside the U.S. and Moodle is big outside the U.S. The adoption of this open-source software will continue to grow and Moodle will continue to dominate the market. That will help LTG grow faster and bigger."
Ed tech companies and learning-management systems firms in particular have been settling in Indianapolis "because of the talent here," Jafari said.
Blackboard, which still has more than 100 employees in Indianapolis—out of 2,000 worldwide—isn't going anywhere.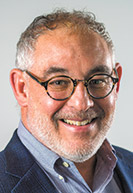 "Indianapolis is a great market for us," said Tim Tomlinson, Blackboard's chief product officer.
He said LTG approached Blackboard about acquiring Open LMS a couple of months ago and the companies concluded it was good for both firms. Their deal requires LTG to integrate Open LMS with a number of other Blackboard products.
"It's going to take two solid products and give more focus to both of them," Tomlinson said. "Our presence in Indianapolis won't change much. We'll maintain our product innovation center, software engineering team and client support group here."
Miller time
Miller, who turns 40 next month, was one of Angel's first employees when he was hired in 2002. He was a self-taught programmer who eventually became a product manager.
Jafari said having ed-tech talent here is a bit of a revelation for some in the tech sector—and one of those revelations is Miller, an Elwood native who graduated from Ball State University in 2002 and went on to earn a law degree and an MBA from IU.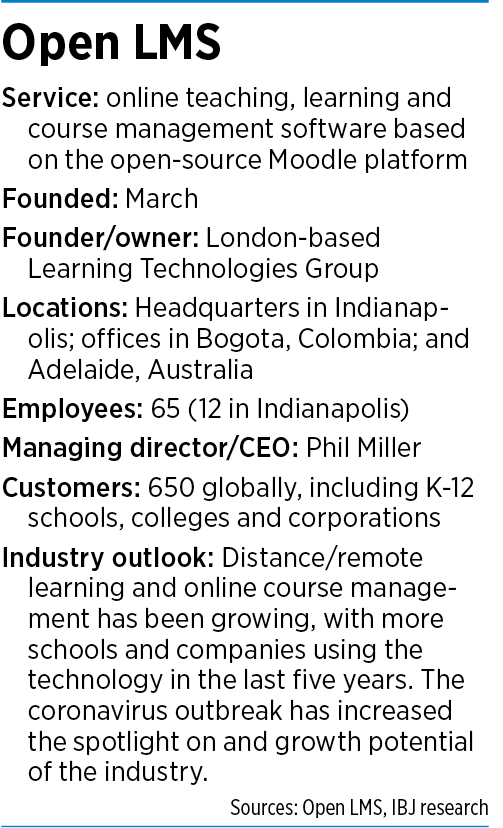 "Phil is a very interesting guy. And a very sharp guy," said Jafari, who later founded and still leads another local ed tech firm, CourseNetworking. "For Angel Learning, he wrote up the entire portfolio package—designed it, architected it—all by himself."
Miller later went on to become an executive at Blackboard and then Moodlerooms. He went back to Blackboard, where he climbed high on the organizational chart. While working for Blackboard in the United Kingdom, he met officials with LTG.
In early 2019, Miller became known locally for spearheading the relaunch of Indianapolis-based Gravity Ventures, a seed fund that invests primarily in tech and tech-enabled businesses,
Miller always had a broad perspective, Henderson said. "Phil was a developer when I first met him, but he was very broad-minded and in tune with strategy."
Few people have his "discipline and temerity," Henderson added. "Phil takes on big challenges with relative ease. I don't know anyone else like him."
Challenges ahead
The learning-management sector has been challenging for several reasons, Jafari said.
Since Moodle is open-source, companies trying to market their own software often find themselves competing with a free alternative. Even some of the industry's major players have struggled to make money in the sector.
Miller jokes that Moodle is "free like a puppy," noting that it comes with myriad, continual operating and managing expenses.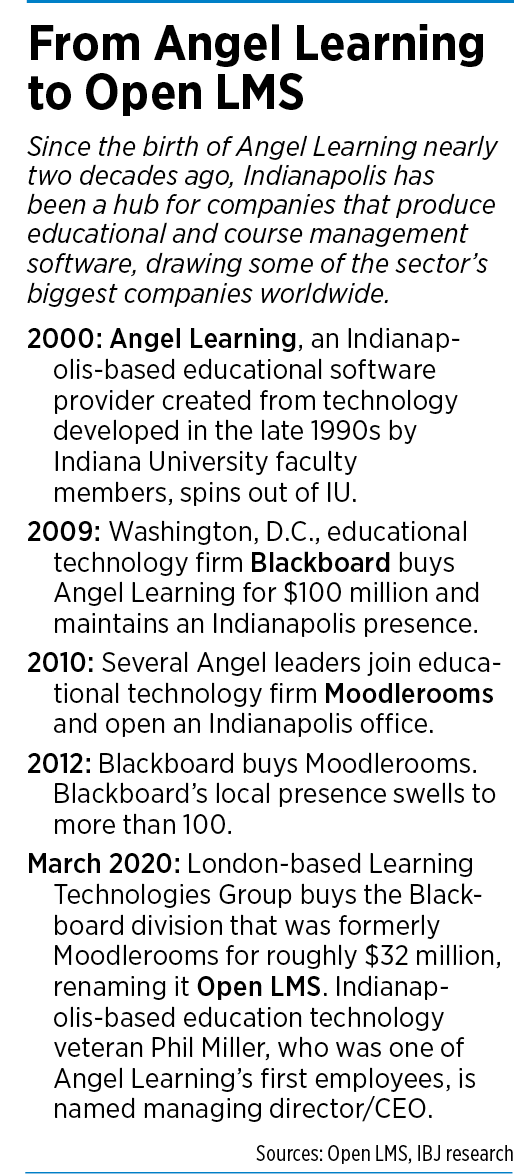 LTG, a publicly traded company that reported $150 million in revenue in its most recent fiscal year, has focused on helping K-12 schools, colleges and corporations use the Moodle platform more efficiently, by giving them tools for operations and service. LTG has, until now, been more focused on corporate clients—providing tools for on-the-job learning—but the recent acquisition should give it a foothold to grow on the education side.
"We have big plans to grow and invest both here in Indianapolis and globally," Miller said.
Open LMS will start hiring immediately, he said, and that means jobs in Indianapolis in sales and marketing, technical support and other areas.
Today, Open LMS has a host of features—including private websites, teleconference and video streaming capabilities, archived lectures, calendars, gradebooks and more—to help educators create online, collaborative courses.
Still, Jafari said, one of the main challenges Open LMS will face is the need to update its software, which is based on technology that is more than 20 years old.
He also said learning-management systems have to do better at incorporating social elements in the way social media does, and the platform needs to include an e-portfolio, which shows employers and potential employers exactly what a student has learned and provides proof, along with endorsements and testimonials. Learning-management platforms also need to give students access after they complete the class or graduate.
"There has to be an element of portability or ownership from the student side," Jafari said.
Tomlinson, who worked with Miller at Blackboard, said he is well-positioned "to take Open LMS to the next level."
"Phil knows this industry and, just as important, he's highly respected and a very capable leader," Tomlinson said. "I'm excited to see what he does to grow this company."
Open LMS will make immediate investments to improve integration with other LTG products, institute personalized learning, beef up dedicated customer support and increase sales and marketing, Miller said.
"Open LMS was a small part of Blackboard," he said. "We're going to pull this out and invest to create a better experience for our clients. And that's what will lead to growth."•
Please enable JavaScript to view this content.