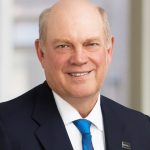 Robert Grand, who has led Indianapolis-based Barnes & Thornburg through seven years of growth—including a nearly 40% increase in annual revenue—plans to step down as the firm's managing partner in November 2022, the law firm announced Monday.
Andrew Detherage, partner in the firm's litigation group, will take over as managing partner. He is an Indiana native and is listed as working from the firm's offices in Indianapolis and Los Angeles.
"Having known and worked side by side with Andy during most of my career, I am confident that the future leadership of Barnes & Thornburg is in excellent hands," Grand said in a written statement. "He cares immensely about this firm and all of its people, and he will be a passionate and thoughtful steward for the organization as we embark on the next chapter of our progress and development."
Under his leadership, the firm's gross revenue increased from $346 million in 2014 to $506.2 million in 2020. Also, the firm's AmLaw 200 ranking improved from 90 to 78 while highs in profits per equity partner and revenue per lawyer were realized.Grand has led Barnes & Thornburg as managing partner since 2014.
In addition, Barnes & Thornburg grew its footprint with the opening of eight new offices during Grand's tenure. Likewise, the attorney headcount increased from 580 to 700.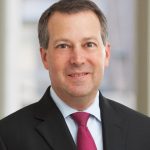 Barnes & Thornburg is now one of the largest law firms in the country. In addition to Indianapolis, it serves clients fromoffices in Atlanta, California, Chicago, Indiana, Michigan, New York and Washington, D.C.
Detherage, a graduate of Indiana University Robert H. McKinney School of Law, has been with Barnes & Thornburg since 1989.
He is on the firm's Management Committee and chair of its Strategic Planning Committee. He also is co-chair of the firm's Insurance Recovery and Counseling Practice Group.
Please enable JavaScript to view this content.