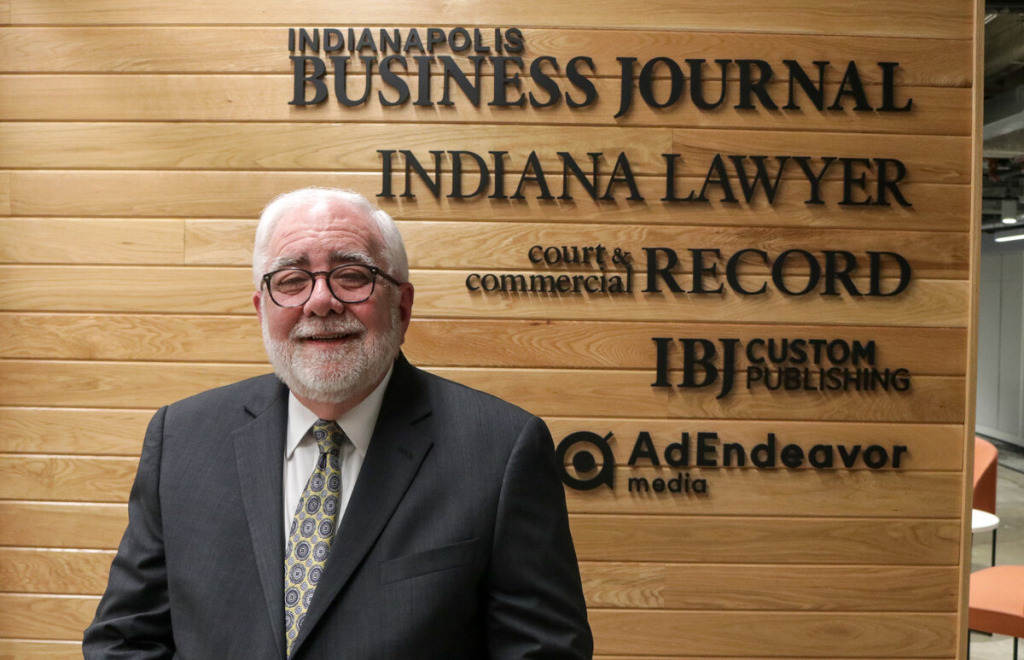 Greg Morris, publisher of Indianapolis Business Journal and The Indiana Lawyer, announced Friday he will retire at the end of the month from IBJ Media Corp. after nearly 30 years with the company.
IBJ Media CEO Nate Feltman, one of the company's three owners, will add the publisher roles to his responsibilities.
The change comes as IBJ has experienced a surge in readership—despite challenges in the newspaper industry overall—breaking a record this month for subscriptions that had been set in 2001. The number of people subscribing to IBJ has increased 39% in just the past two years.
Morris, 64, came to IBJ from what was then WKLR-FM in the spring of 1991, starting as sales director for the weekly business newspaper. For several years, he held the same title at the former MyStar Communications, a company IBJ co-owner Mickey Maurer sold in 2004.
In 2010, Maurer named Morris the company's publisher and president. It was a crucial time for IBJ, which was in the early stages of putting news online.
"Greg's promotion to publisher marked a new beginning for the IBJ and catapulted us from the way we had done business before into a position that enabled us to compete by adapting to the new technological reality," said Maurer, who partnered with Indianapolis businessman Bob Schloss to buy IBJ in 1991.
Feltman became a one-third owner of the company—with Maurer and Schloss—in 2017 and then increased his shares to 50% last April, when he took over as president and CEO. At that time, Morris retained his position as publisher.
During Morris' tenure, IBJ launched a new website and introduced more than a dozen newsletters, including its popular Eight@8 morning email.
"My mission was to ensure IBJ provides the best and most comprehensive business news available to the central Indiana business community—and to provide that information in the format you want to receive it," Morris said.
But as technology changed the way readers consumed news, the number of people subscribing to the print publication started dropping. It was a problem that struck the entire newspaper industry.
IBJ started to turn that around in 2014 when it implemented a website paywall—a move it made earlier than many news organizations—that required readers who made repeated visits to the website to subscribe or be locked out. The paywall initially stabilized subscriptions and then starting driving the numbers higher again.
That growth has included not just a boost in the number of people reading IBJ online but also an increase in the number of people who receive the print edition. That number, which IBJ did not disclose, has increased 25% over the past two years.
Morris attributed IBJ's push through the leaner years to the company's local ownership. "If we had been a public company," he said, "a lot of us wouldn't be here anymore, because the first thing a public company would have done when times got tough was cut the staff by 25%."
But Maurer was focused "on trying not to decimate the newsroom," Morris said, which has been key to building the newspaper's reputation as well as its subscriber base.
During his decade as publisher, Morris has written a regular column that appeared on IBJ's opinion page. His last column is in Friday's IBJ.
"I'm calling this occasion my 'first retirement,'" he writes in the column. "Today, everything at IBJ Media is in capable hands, so I feel really good and at peace with my decision. I know this is the right move at the right time for me and the company."
Feltman praised Morris' work and what he described as "a fantastic career" in media.
"He's led the IBJ through many years and been a voice of IBJ through his columns and through representing IBJ at our events and being involved in many community organizations," Feltman said. "We're appreciative of all that he's done and wish him well in his 'first' retirement."
Morris said he has no immediate plans other than to spend a few months relaxing and thinking through his next moves—but he said there will be next moves. "I'm sure there will be other careers and retirements after a brief break and 'detox' period," he wrote in his column. "I just don't know yet what those will be."
Please enable JavaScript to view this content.