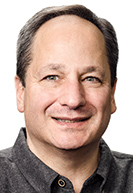 Buoyed by the success of its first special-purpose acquisition company—or SPAC—last year, a group led by former Brightpoint Inc. CEO Bob Laikin is launching its second—and this time much bigger—SPAC.
Novus Capital Corp II, a SPAC targeting businesses enabling smart technology evolution, filed Wednesday with the Securities and Exchange Commission to raise up to $250 million in an initial public offering.
Laikin declined to comment on the launch of Novus II due to SEC regulations.
The Indianapolis-based company plans to raise $250 million by offering 25 million units at $10 each. Each unit consists of one share of common stock and one-third of a warrant, exercisable at $11.50 at a future date. At the proposed deal size, Novus Capital Corp. II would command a market value of $313 million.
A SPAC—also known as a blank check company—is an entity that exists to acquire one or more businesses and merge with them as a way to take those companies public.
In its first SPAC, Novus filed a prospectus with the SEC in late April laying out plans to sell 10 million units at $10 apiece, with proceeds funding acquisitions. It quickly raised $100 million and, in September, forged an agreement to form "a business combination" with a Lexington, Kentucky-based AppHarvest, a developer and operator of large-scale and high-tech indoor farms.
That deal, which will make AppHarvest a publicly traded company, is set to close Jan. 29.
Novus last year was one of the fastest SPACs to acquire or combine with a company, and it had the highest overall stock price increase of SPACs launched in 2020, according to Cowen Inc., a New York-based investment bank and financial services company.
Including the warrant, an initial $10 investment in Novus' first SPAC is now worth $35.
Novus Capital II officials—and their underwriters—appear to think there will be high demand from potential investors. Novus II has six more months—a total of 24—to come up with a company to acquire before it must refund investors' money plus interest. The more confident investors are in the success of a SPAC, the more time they'll give it to come up with an acquisition target.
Novus is also offering less incentive—via warrants—to buy into its second SPAC.
When an investor buys one unit of stock in a SPAC, they get one share of common stock and a warrant. The warrant is an option to buy an additional share or a portion of a share at $11.50 per share in the future. Warrants can be redeemed for stock up to five years after the SPAC acquires or combines with another company. The warrant can also be sold on the open market.
In Novus' first SPAC, company officials required one warrant to equal one share of stock. In Novus II, it takes three warrants to convert to one share.
SPACs emerged in the early 1990s and, initially, they often included terms that were highly favorable to their founders. That, along with some poor performances, gave these companies a tarnished image in the 1990s and early 2000s.
But, in recent years, SPACs have become a popular choice for private companies spooked by the ups and downs of the traditional initial public offering market. Instead of a traditional IPO, which would raise funds through a share sale, a fast-growing number of IPO candidates are choosing to sell themselves to SPACs instead.
Merely launching a SPAC doesn't assure success.
In 2019, 59 SPACs had initial public offerings. That number grew to 248 in 2020, according to Dealogic, a London-based financial markets research firm. At the end of last year, there were still 252 SPACs looking for acquisitions.
The focus of Novus I was more broadly technology. In its SEC filing, Novus II is targeting companies in the technology and sustainability space, and specifically sustainable agricultural technology with a focus on firms in the environmental, social and corporate governance—or ESG—space.
Like Novus' first venture, Laikin and his partner—former Brightpoint, Nokia and Qualcomm executive Larry Paulson—have pulled together a team of heavy hitters.
Novus II has six board members. In addition to Laikin and Paulson, the board includes former Indiana Pacers player and serial investor Jeff Foster, and Hersch Klaff, a board member of Albertson's grocery store chain—of which he owns 10%—and a successful real estate and agricultural executive who has done more than $10 billion in real estate and private equity deals
Also on board is Ron Sznaider, former vice chairman of Minneapolis-based DTN, a global agricultural technology company; and Heather Goodman, co-founder, president and chief operating officer of San Francisco-based wealth-management firm True Capital Management.
Foster, Klaff and Sznaider are new to Novus.
Please enable JavaScript to view this content.