If he'd been born a few decades earlier, Nick Carter, CEO of the farm-to-home delivery service Market Wagon, might have become a farmer instead of a serial entrepreneur.
Carter, 37, grew up on a classic Hoosier agricultural spread—a large farm covering hundreds of acres that pumped out mountains of high-volume, low-margin corn and soybeans.
"When I was 18, it was not big enough to make a living for both myself and my dad," he said. "So I left. That's a problem that's plaguing the agricultural industry. Every year, the average age of the farmer goes up by about a year. My generation can't stay."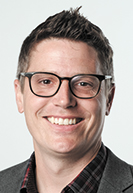 Carter moved to Indianapolis, where he got involved in the tech industry and founded or co-founded seven companies, including the customer-relationship-management software firm AddressTwo and Meat the Rabbit, Indiana's first state-inspected rabbit meat processor.
His latest project, Market Wagon, is by far the most ambitious. The company, which debuted four years ago, uses proprietary software and legions of small farmers and gig drivers to create an Amazon-like system that delivers fresh produce, meats, dairy products and other Indiana-grown victuals to customers' doors.
The pandemic supercharged demand, greatly accelerating the company's push to go national.
"In March, our business grew 600% in two weeks," Carter said. "All of our systems held up, our supply chain held up. We had no problems. Because we built our systems and technology to scale."
Today, the Midwest has 10 Market Wagon "hubs"—four in Indiana and the rest in surrounding states. The idea is to create a central order-processing facility in a metro area that sits within driving range of a million people. Carter says about 100 places fit this bill nationally, and his goal is to put a hub in every one of them within three years.
To help fund its next phase of growth, the company just raised $1 million in a seed round led by Tapas Capital of Bellevue, Washington. Also contributing were San Francisco-based Village Global and Chicago-based New Stack Ventures.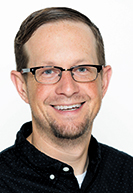 Market Wagon plans to use the money to open another dozen hubs by the end of the year.
The company is well-positioned to achieve big things, said Geoff Zentz, the Indiana director for gBeta, a seven-week business-accelerator program that Market Wagon participated in last fall.
"I think they're rock stars," Zentz said. "They were a little more mature than what the typical Beta company would be. They really focused on the things they were struggling with, as far as telling their overall story to investors, and taking a look at what their expansion plans for new markets would be."
Inside the strategy
Each hub draws from the small farmers in its geographic footprint, creating a sorely needed new market for local producers. For instance, organic farmers might be surfing the latest trend, but their primary retail outlets—farmers markets and roadside stands—are straight out of the 19th century. Or 10th century, for that matter.
Market Wagon's "killer app" is proprietary software that eases the massive logistics burden of getting crops from multiple producers to individual homes.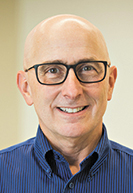 The process can best be seen at the company's central Indiana hub, which serves customers in 17 surrounding counties. Over a typical week, about 100 local farmers and artisan food producers place their available items on Market Wagon's consumer website, where the company's approximately 10,000 Indianapolis-area clients shop. Then, the night before orders are to be filled, each producer is issued a "pick ticket" telling them exactly what they've sold and to whom.
It's called a pick ticket because, in many cases, the producers fill their orders by picking the produce off the vine.
On Tuesday and Thursday mornings, producers bring their wares to Market Wagon's 3,000-square-foot hub, in a light industrial area at West 99th Street and Michigan Road in Carmel. The producers, bearing everything from beets to beef to bread, show up with that week's individually packaged orders, which they place into hundreds of soft-sided totes, each numbered for shipment to a particular client.
Once everything is in its proper place and the farmers depart, the totes are picked up by a hoard of gig drivers, who deliver them to customers. By early afternoon, the entire process is finished.
Producers typically receive about 75% of the price of their products, while Market Wagon gets 25% (grocery stores and other traditional produce sellers typically split the cash about 50/50). The firm's cadre of part-time drivers is compensated hourly, with Market Wagon covering mileage. Beyond the software that makes all this possible, there's another bit of genius that sets Market Wagon apart from other to-your-door services, such as Indianapolis-based Green Bean Delivery. While Green Bean holds produce in large, refrigerated storage areas before it's shuttled to clients, Market Wagon holds absolutely nothing.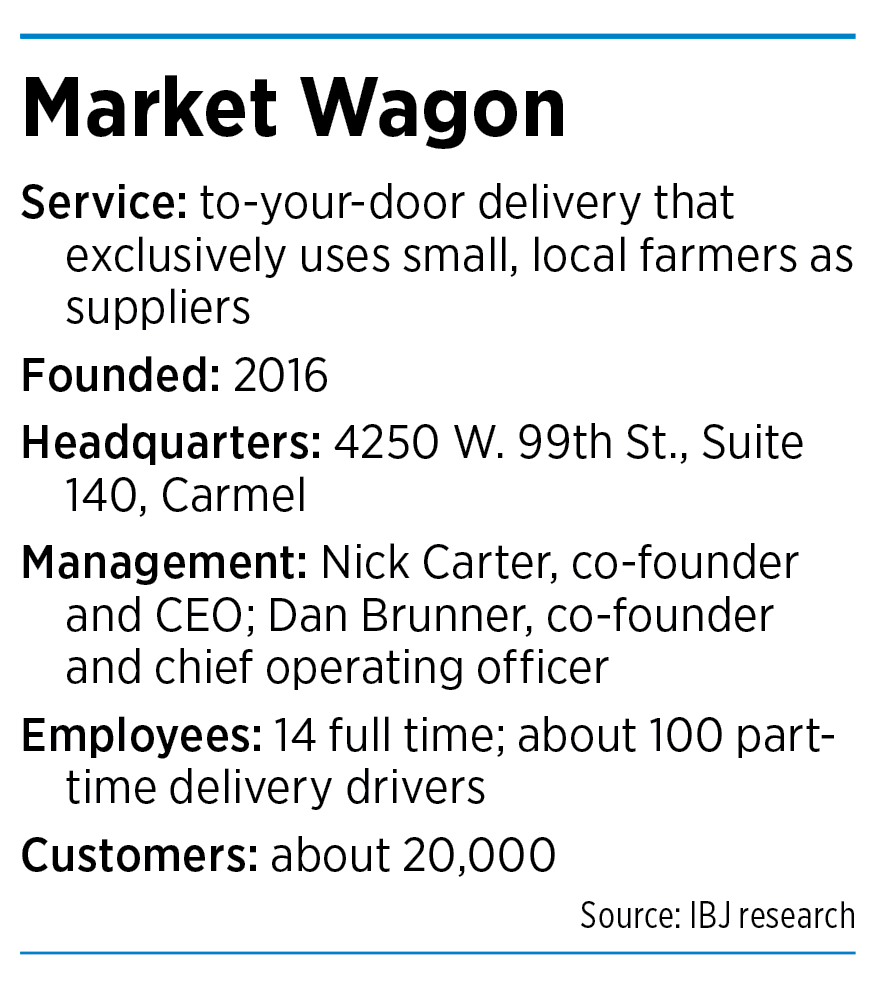 "When you place an order with Market Wagon, the inventory is more than likely still in the field, on a vine," Carter said. "It will be picked for your order."
This means customers get hyper-fresh local products. It also means Market Wagon shifts all warehousing duties down to producers. Only already-purchased items are brought to the hub on the appointed day, where they're distributed and sent to consumers within hours.
Which is why the Indy hub is basically just a big, empty room.
Market Wagon's technology-driven business model is "hugely impressive," said Rob Eldridge, managing partner of Tapas Capital. "Market Wagon is a great example of the type of founder-led, capital-efficient business that we like to invest in," he said.
Farm to table
Market Wagon has become a lucrative sales channel for the growing ranks of "boutique farms," operations that produce high-labor products such as organic fruits and vegetables and grass-fed beef.
One new vendor is Little By Little Farm, a 10-acre Brownsburg spread run by Stephanie and Robert Pinder. It looks exactly like what an untutored city dweller imagines farms look like, with fields growing everything from strawberries to tomatoes, plus chickens for egg production, a flock of turkeys, and beehives for honey. Little By Little even offers goat yoga classes.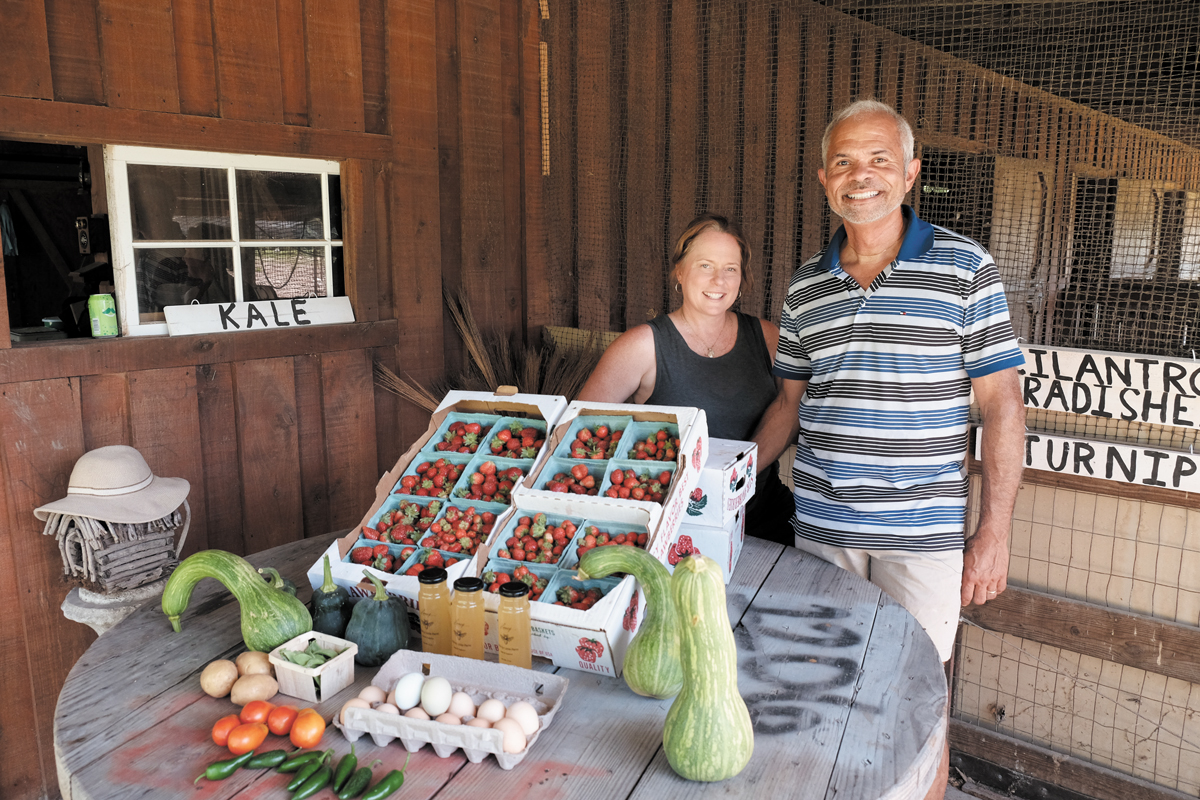 Lately, however, the Pinders have been consumed with keeping up with Market Wagon orders. Though Little By Little came aboard only last year, Market Wagon already accounts for half of its revenue.
"We participate in Market Wagon two days a week, and every week we sell out," Stephanie Pinder said. "We cannot keep up with demand."
The couple's strawberries are so coveted that buyers sometimes must cool their heels on a waiting list.
Also popular are the tomatoes, which are more toothsome and thinner-skinned than the varieties supermarkets rely on that must be able to withstand hundreds of miles of travel.
"Market Wagon [or, rather, its Indianapolis hub] is maybe six miles from our farm," Pinder said. "It keeps it fresh and not tasting like plastic. It's our name on the bag, so for me it better be the best."
Hoosiers are showing increased interest in local foods and products, and, thanks to the pandemic, they're also eager for delivery and pickup options, said Heather Tallman, program director of Indiana Grown, which promotes Indiana-based agriculture.
"Farmers and producers who pivoted to an online or delivery method of sales immediately felt that growth," she said. "Farmers who didn't have the bandwidth to pivot did not."
She said producers that failed to evolve have seen hard times, as previously important sales channels, including schools, restaurants and corporate customers, have imploded.
"I spoke to a very well-known specialty crop farmer who is at a tenth of where he would be normally, due solely to the loss of restaurant sales," Tallman said.
Going national
Right now, Market Wagon serves about 20,000 customers at its 10 hubs, with half of those customers in central Indiana, its most-established location. Company officials aim to achieve their coast-to-coast ambitions in two to three years.
The company faces competitors, though most are small and local and lack anything like the software Market Wagon uses to manage everything from customer orders to producer fulfillment lists to delivery-driver scheduling.
Any serious national competitors would have to gin up their own systems, which Market Wagon officials consider a substantial barrier to entry.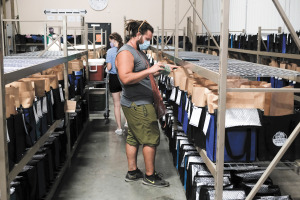 "People ask all the time how we prevent competitors," said Dan Brunner, Market Wagon's co-founder and chief operating officer. "There really isn't anything to prevent someone from starting this. But it would take a long time to replicate the technology we've built."
Not that there haven't been growing pains. When the pandemic caused an explosion of orders, the firm couldn't find enough of the signature black totes it uses to deliver its goods.
"They're not all black anymore, because we consumed the entire supply of unprinted black totes that was in the country before the pandemic," Brunner said. "I wish we could buy them locally."
Though gBeta's Zentz said he thinks Market Wagon is poised to "hit it out of the park," he said any firm trying to manage explosive growth is going to face hurdles.
"I think the biggest challenge is going to be manpower," he said. "As you scale, the people are the most important part. Dan and Nick have done a great job with the hubs they've opened. So as long as they keep doing that, they'll continue to scale successfully."
Successfully expanding the business would give Carter and Brunner many options, such as taking the company public or finding a buyer.
"We realize that what we're building is going to be something that someone is going to want to buy," Carter said.
For the moment, however, he is more interested in developing what he's come to see as his legacy project: creating a future where small farmers can make a living off of perhaps 10 acres of intensively cultivated land, as opposed to the thousands of acres typically needed today.
"When I turned 18, I didn't have the option to farm," he said. "But when my son turns 18, he will. And that's going to be, in large part, due to what I've created here."•
Please enable JavaScript to view this content.