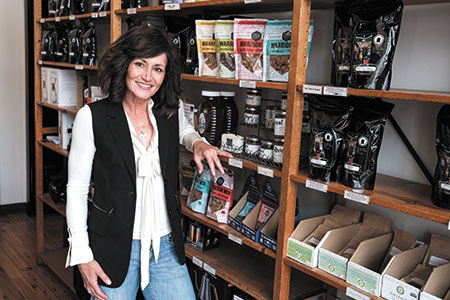 What started in one Noblesville mom's kitchen as a special diet for her son has turned into a snack mix sold in thousands of grocery stores across the country.
Jennifer Wiese is the founder of Bee Free, a gluten- and dairy-free bakery headquartered in Noblesville that makes the Warrior Mix, which can be found in 4,000 stores across the country, now including Walmart. The chain agreed just this week to begin selling the snack in 2,000 of its stores.
Some 15 years ago, Wiese and her husband, Michael, were encouraged to limit the gluten in their young son's diet. August, now 23, had recently been diagnosed with autism, and the diet was growing popular among families looking for ways to help their children.
Willing to give it a try (studies conflict about whether the diet is helpful), she stopped at a Whole Foods on her way home but found few gluten-free options. And those the family did try didn't taste good.
So Wiese decided to get to work in her own home. She enlisted the help of her mother, known by most as Nana, and they began re-creating favorite family recipes: chocolate cake, pizza, and chicken and noodles.
"I just started getting busy in the kitchen," Wiese said. "And a lot of it honestly went right into the trash."
But some of the recipes worked, and soon the family was noticing that August seemed calmer.
Several recipes became favorites among her boys—chocolate chip cookies, for example—and by 2008, about the time gluten-free diets started to become trendy, Wiese saw a business opportunity.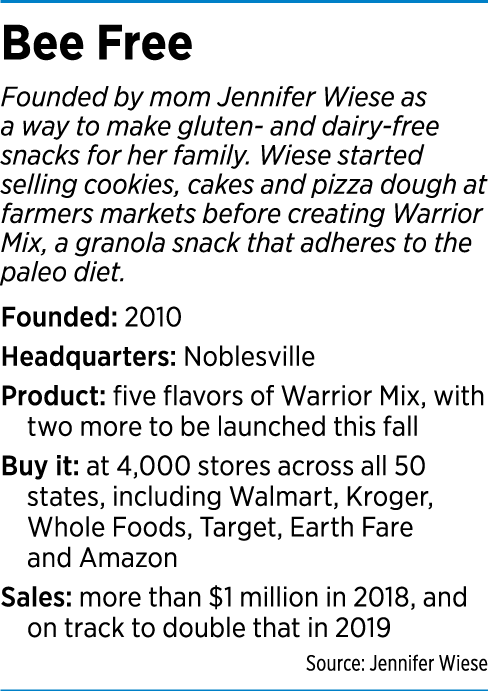 Friends, family and acquaintances who tried her treats wanted more, so she began making them available for purchase.
She never envisioned she would own a food business, let alone become an entrepreneur. She was a stay-at-home mom who found it difficult to feed her children delicious, gluten- and dairy-free foods. She knew other mothers probably didn't have the same time or resources.
"I felt like I had this little secret, and it was my duty to share it with the world," she said.
Before long, she was selling the goodies—mostly cakes, cookies and pizza dough—at area farmers markets.
Then in 2010, she began renting a commercial kitchen in downtown Noblesville and launched Bee Free (the name does not connote honey-free products) as an online business.
Soon, the local CrossFit community, which Wiese and her family were a part of, asked her to make a snack that was paleo-certified. Warrior Mix was born. The snack mix is made of gluten-free granola, seeds, nuts and other natural ingredients. It can be enjoyed right out of the bag, as a granola cereal, or as a topping for yogurt.
In 2014, she introduced four flavors (each one named after her sons) and began approaching local grocery stores about selling the snack mix.
Green Bean Delivery, which sells organic, natural and local foods online, was her first customer. She also began working with Indiana Grown, a statewide initiative that helps Indiana businesses market their local products. Soon, Bee Free products were popping up in stores across central Indiana.
Heather Tallman, program director at Indiana Grown, said Bee Free joined Indiana Grown in 2015 and she could tell Wiese was on a mission to fill what she viewed as a void in the market.
"In Indiana, she kind of blazed the trail for those products," Tallman said.
She said Bee Free's branding—the story behind the products plus its simple labels—has helped make it successful. Customers can pick up a product and understand exactly what they're putting in their body.
Through Indiana Grown, Bee Free snack mix and products from other Indiana producers are sold in a "local" section at stores across the state.
But Wiese wanted Warrior Mix to be sold nationally—she had narrowed her offerings to focus on this one product—so she kept "knocking on doors" to try to get large retailers on board.
That's meant taking short-notice road trips to pitch Warrior Mix to a retailer, especially as the company branches out further along the coasts.
In the past year, business has exploded, Wiese said. In December, Bee Free announced that Target had agreed to sell Warrior Mix nationwide. Just a few months ago, Wiese was able to get it in 150 Meijer stores after trying for three years.
And this week, it was placed on shelves in 2,000 Walmarts across the country.
Today, the snack mix is sold in all 50 states. It can also be purchased on Amazon and on Bee Free's website.
Launching in Walmart stores is a big accomplishment, Wiese said. All along, she's wanted her product to be accessible to families everywhere, not just those with access to a specialty grocer.
"Walmart speaks to all kinds of people," she said. "That's where we want to be—affordable and easily accessible wherever people live."
In 2018, sales reached $1 million, Wiese said, and the company is on track to double that figure this year.
The small company (only five employees) operates out of Wiese's Noblesville basement and from a warehouse in Cicero. The mix is manufactured by third-party bakeries in Batesville and in Michigan and then shipped across the country.
Suggested retail for a 9-ounce bag is $8.95, but it sells for $7.95 at Target and Kroger, and for $10.95 at Whole Foods, she said.
Today, the company has five flavors (Hagen's Berry Bomb, Auggy's Original Mix, Mae's Apple Pie, Clay's Chocolate Buzz and Drake's Spicy Chocolate), but Wiese said two new flavors will come out this fall: Nana's Pumpkin Spice and Babe's Ginger Snap.
She said part of the company's success lies in its branding. Every product is named after a family member, including Nana, who helped from the very beginning.
Going forward, Wiese and her team will continue to try to find new stores to sell their Warrior Mix, but they're also considering new products. Whatever is introduced next will come from customer suggestions and it will be good for you, Wiese said. Loyal customers have already asked for some type of snack bar and a protein cookie.
"We haven't arrived," she said. "There's still so much work to be done, so many more stores out there that don't know about us. My hope is that Bee Free will be a recognizable brand. … They'll hear Bee Free and see that label on something, and they'll know whatever is in there will be good."•
Please enable JavaScript to view this content.