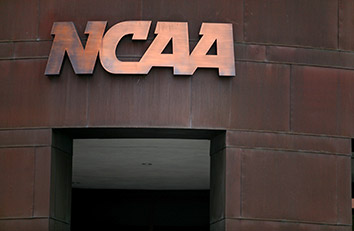 For the past three months, former U.S. defense secretary Robert Gates has led a daunting mission: rewriting the NCAA constitution, which dictates how sports are conducted at roughly 1,100 colleges and universities.
On Monday, representatives of the full NCAA membership get the chance to weigh in during a specially called constitutional convention after being given a week to digest the 19-page document by Gates's 23-member commission.
Avid sports fans will be hard-pressed to connect the dots between the Indianapolis-based NCAA's overhauled constitution and the college football they cheer each fall and the March Madness they cheer each spring. But it represents the essential first phase of a process that will get meatier in phase two, sometime next year.
Among the highlights of the proposed constitution, which is considerably leaner than its predecessor:
It supports college athletes' right to profit financially from their name, image and likeness, marking a reversal from the NCAA's long-standing denial of those rights.
It opposes a "pay for play" model in which college athletes would be treated like salaried employees.
It streamlines the NCAA Board of Governors, paring its members from 21 to nine, and includes for the first time a former college athlete.
And it delegates considerable power to the NCAA's three divisions, including the "authority and autonomy" to restructure themselves, setting the stage for further division among the roughly 350 members of Division I.
While Patriot League Commissioner Jennifer Heppel acknowledges there are some "unknowns" in the draft, she doubts anyone will oppose its fundamental tenets during Monday's virtual convention.
"Reading the draft, it's hard to argue with it, I think," Heppel said.
But this is simply the first phase, laying out broad principles that will underpin a streamlined, decentralized NCAA. The more compelling work comes in phase two, when Division I members hash out what they intend to do with their newfound autonomy, assuming the full NCAA membership approves the new constitution at its 2022 convention in January.
Will Division I be subdivided further, given that small schools with $5 million athletic budgets have little in common with football powerhouses with $200 million budgets? Will the requirements be raised for belonging to Division I, which many feel has grown unwieldy and incoherent?
The current constitution guarantees access for all Division I members to the NCAA basketball tournament, which is the "golden goose" in terms of revenue-sharing and national profile.
For the Patriot League, nothing is more important in any revision to Division I membership rules than preserving its athletes' ability to compete for national titles in all Division I sports in which they compete.
"The clear, clear priority is that our student-athletes have access to Division I championships," Heppel said.
That's also a top-line priority for the Big East, a non-football Division I member with a rich tradition of NCAA basketball championships among Georgetown, Villanova and Connecticut.
"Keeping the NCAA basketball tournament intact for men and women is, for us, of primary importance," said Big East Commissioner Val Ackerman. "Most would agree that it's not just a basketball tournament. It's a cultural institution that brings people from all over the country together. It matters to everybody to keep it intact and keep everybody under one tent."
Other issues to be sorted out in Phase II: What sort of spending controls will Division I institute, with nearly all athletic directors acknowledging the need to manage the competitive "arms race" of escalating coaching salaries and lavish facilities? How much will schools invest in college athletes' health and safety? In women's sports? In Olympic sports? Who will take on the NCAA's former role of enforcing rules, which appears to be the "jump ball" that no one is eager to grab?
This sweeping overhaul of the NCAA, which has dictated nearly everything about college sports for more than a century, comes at a volatile and uncertain time.
On one hand, the riches generated by college sports are poised to multiply with the anticipated expansion of the College Football Playoff.
College football's bowl system and playoffs aren't governed by the NCAA. But the fact that the richest conferences are about to get richer is of particular concern to the Knight Commission on Intercollegiate Athletics, an independent group that for more than 30 years has advocated reforms to strengthen the higher education underpinning of college sports. The panel has developed a proposal that would alter the way that the NCAA, Division I conferences and the College Football Playoff distribute their more than $3.5 billion in revenue to more closely align with higher-education values.
In the run-up to the NCAA constitutional convention, the Knight Commission leaders have advocated adoption of their financial model now, before the anticipated flood of new revenue skews future decisions on how college sports are governed.
Knight Commission Co-Chair Nancy Zimpher characterized the decision over whether to adopt or reject the values central to its model as "the clarion designation of whether once and for all we are an academic enterprise as opposed to a commercial enterprise."
Meanwhile, the political and regulatory climate for college sports has never been more uncertain, with forces outside the NCAA curtailing its authority on antitrust grounds and challenging the organization's bedrock claim that college athletes are amateurs.
From the Supreme Court to state legislatures to the National Labor Relations Board's general counsel, the questions are being posed: Why aren't the athletes who generate billions in annual revenue classified as employees? Why aren't they entitled to the rights and privileges of employees, such as a fair wage and collective bargaining?
In the view of former congressman Tom McMillen (D-Md.), a three-time all-American basketball player and Rhodes scholar, the grounds are shifting so wildly that it's impossible to predict whether the "givens" of today will be "givens" in three or five years' time.
For example, the proposed new NCAA constitution states that college athletes can't be paid for their performance. But there's a chance the Supreme Court could rule otherwise, as Justice Brett M. Kavanaugh signaled he favors in a blistering concurring opinion in the unanimous NCAA v. Alston decision that the NCAA violated antitrust law in limiting pay for academic-related expenses.
Kavanaugh went further, writing: "Nowhere else in America can businesses get away with agreeing not to pay their workers a fair market rate on the theory that their product is defined by not paying their workers a fair market rate."
Given the gamut of employment issues in college sports in play, McMillen is skeptical about the value of a new NCAA constitution just now—not because the draft is flawed but because future decisions may render it moot.
"You are drafting a constitution in the middle of a Category 5 hurricane," said McMillen, executive director of the Lead1 Association, which represents athletic directors of the roughly 140 Football Bowl Subdivision members. "You are doing it at a time where the ground and everything is moving, which means that we don't know what's going to be left standing after this hurricane. The U.S. Constitution has lasted 250 years. With the change that's going on in this era of college sports, I'm not sure this [new NCAA] constitution will last five years."
Please enable JavaScript to view this content.