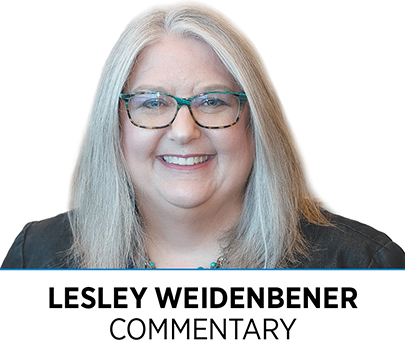 I was rooting for Michigan. I still am.
Sitting nearly by ourselves in the rafters at Lucas Oil Stadium on Monday, my husband and I found ourselves clapping to the University of Michigan fight song as the team battled Louisiana State University in the NCAA Tournament's second round.
I don't actually have any loyalty to Michigan. In fact, the Wolverines are fairly far down in my personal preference of Big Ten teams. And I've got nothing against LSU. The Tigers played tough. At the half, Michigan was up by just one point and I didn't have a great feeling about the whole thing. After all, the Big Ten hadn't impressed me much in the tourney so far.
Still, there I was, humming the fight song, cheering the Wolverines on their way to a victory.
Two reasons: my dad and the Indy economy.
First up, my dad. Bill Stedman's rules for choosing a rooting interest when I was a kid went something like this: Indiana University, first. Purdue University, second. Any other Indiana school, third. (Later, I went to Ball State, so it moved up the list.) Next, any Big Ten school. Then, any Midwestern school. And then, this last rule was my mom's, any school not in Florida or California.
These rules are embedded in my brain. I couldn't shake them if I tried, except to say that I am the rare person in Indiana who actually doesn't have a preference between Purdue and IU.
But there was a more important reason to root for Michigan in its game with LSU—and it was obvious that night at Lucas Oil Stadium. Michigan is Indiana's neighbor and its fans travel. That means when Michigan plays in an NCAA Tournament here, more people will show up to cheer on the Wolverines.
I don't mean to imply that Lucas Oil was at capacity (and by that, I mean the COVID-related cap of 8,500 fans). I purchased our tickets the day they went on sale at Ticketmaster, but when I checked the website just an hour before the game, hundreds were still available—not as resales but from the box office at just $40 a pop.
Still, inside, the Michigan fans significantly outnumbered LSU fans. And they were loud, giving the game a tournament atmosphere despite the sea of empty seats around us.
I'm not just going by crowd noise, of course. Visit Indy Vice President Chris Gahl told me that Illinois and Michigan are Indiana's top two tourism markets. That's why it's good for the tournament's economic impact that Michigan and Loyola University, which is in Chicago, are in the Sweet 16.
"Michigan's fan base in particular has carved a path to Indy for previous Big Ten championships, so keeping this team moving further in the bracket would help drive tourism further," he said.
Of course, that's not as important as it might be in another year, one in which a pandemic isn't keeping fans at home and in which capacity at the game venues isn't capped.
Or is it actually more important this year, considering those same factors? I'm going to guess the latter. And at a time when Indianapolis could use every single dollar a visitor wants to spend, I'm happy to have teams whose fans are within a few hours' drive of the city.
So, go Michigan. Go Loyola. Go Villanova (Pennsylvania is farther away but still drivable). I'm rooting for a Final Four that brings as many fans as possible to Indianapolis. I think my dad would approve.•
__________
Weidenbener is editor of IBJ.
CORRECTION: This column has been corrected to remove incorrect references to players.
Please enable JavaScript to view this content.