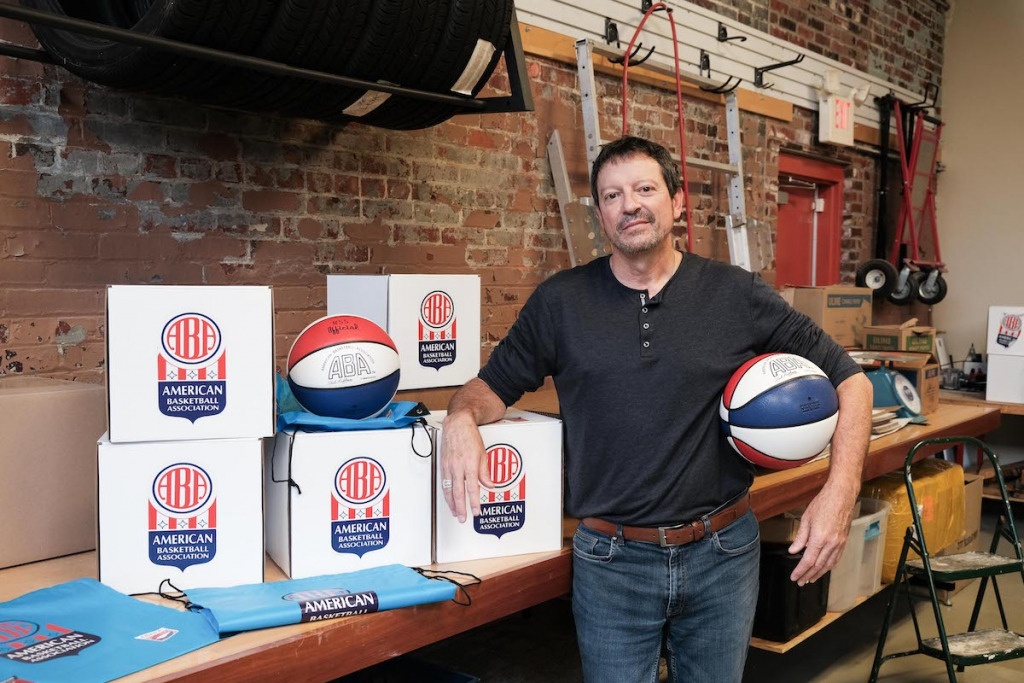 Born in 1962, Scott Tarter was the ideal age to become an unabashed fan of the Pacers during the early '70s, when they won three championships in the American Basketball Association.
He attended only a game or two at the Fairgrounds Coliseum, but his family routinely gathered around the radio to listen to games or watch when they were televised. His favorite player was Darnell Hillman—that wondrous Afro and the slam dunks clinched it.
Today, as an attorney for Bose McKinney and Evans LLP, Tarter is uniquely qualified to combine his childhood fandom and adult profession to initiate business ventures that raise funds for the Dropping Dimes charity, which distributes money to former ABA players in need. He formed Lana Sports in 2018 and through his company's website, lanasports.com, has been selling original trading cards of the men who played in the ABA's inaugural season and its iconic red, white and blue ball.
Why call your company Lana Sports?
Lana was my mother's name. She died in 2008 at age 67. She was an eccentric—super lovable, and never met a person she didn't like. She always told me, you have to take chances and you have to help people. This seemed like an eccentric venture, so I had to name it after her.
Are you profitable yet?
Lana Sports is not technically a benefit corporation, which has a stated mission of social responsibility, but I'm running it like that. The trading cards are a limited edition of 750 at $199 and 100% of the proceeds will go to Dropping Dimes. So, I'll lose money on that. I've sold about three-fourths of them. I've had 2,000 balls made. It's a synthetic leather ball that's an exact replica of the original ABA ball and is easy to autograph. It costs $99.
This fall, I plan to come out with an outdoor ball in the $50 price range and get it into retail stores. I expect to turn a profit on the ball.
Where is the ball made?
China. The only other countries where I could have had it made were Malaysia, Vietnam and South Korea. You can't have a ball made in the United States today. I was prepared to pay significantly more to do that, but it can't be done. It's amazing to me that no one in America makes a basketball.
What's ahead for Lana Sports? Do you have other projects in mind?
I have projects that hopefully will get money to former ABA players. People had been making T-shirts and other items related to the ABA, but the players weren't profiting from them. Lana Sports was formed in part to stop that. I have obtained all the ABA trademarks I can get, including team logos, and use them to sell items for the benefit of the players.
I have a deal with an auction house in Los Angeles and a company that is going to produce videos with ABA players and auction them off. A fan can purchase an hour of a moderated Zoom call with a player. The player would get a royalty and Lana would get a cut.
I also just signed a deal with Old School Shirts out of Cincinnati. They're going to produce vintage T-shirts of ABA teams and some of the players. That gets me so juiced up, because that's what I was hoping to be able to do from the beginning—generate direct revenue to players. To get guys like Darnell a royalty for T-shirts would be fantastic.•
Please enable JavaScript to view this content.