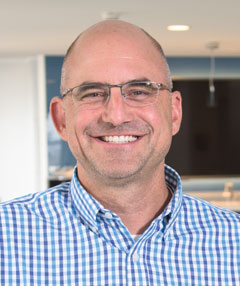 Logik.io, a Chicago-based sales-software startup founded by two tech-industry veterans, has landed $10 million in seed funding, with Indianapolis-based venture studio High Alpha as lead investor.
Other investors include Salesforce Ventures—the venture-capital arm of Salesforce.com—and numerous private investors, including some Logik.io employees.
"I'm super-excited to work with (High Alpha)," Logik.io cofounder and CEO Christopher Shutts told IBJ.
Shutts said he and his cofounder, Godard Abel, were attracted to High Alpha because they are familiar with one of its managing partners, Scott Dorsey, who founded Indianapolis-based ExactTarget and later sold it to Salesforce for $2.5 billion in 2013.
When Logik.io was considering where it might look for seed funding, Shutts said, "we looked around at who was ideal—and Scott was, frankly, at the top of the list."
Logik.io offers a type of sales software known as "configure, price, and quote," or CPQ software, which allows sales reps to offer accurate and timely quotes in situations where pricing can be complex. The product is meant as a complement to Salesforce's CPQ offerings.
If a hospital wants to buy new MRI equipment, for instance, a sales rep can input the specifics—the options on the equipment, the number of machines needed and any available discounts, among other factors—and tell the hospital what its price will be.
A phase 2 product rollout will happen early next year, Shutts said, focusing on e-commerce for complex business-to-business transactions. In this use case, Logik.io software can help businesses buy items online without the need for a sales rep to facilitate the purchase.
Shutts and Abel launched Logik.io in February. The company released its first product three weeks ago and has two customers, Shutts said. It has 20 employees, most of whom live in the Chicago area but some of whom work remotely from elsewhere around the U.S.
Shutts said the company plans to use its seed funding mostly for research and development.
"We've really invested a lot in making the administration of this product as simple as possible, which actually takes a lot of careful design and engineering to make that possible."
Prior to forming Logik.io, Shutts and Abel cofounded a previous CPQ software company called BigMachines that was acquired by tech giant Oracle in 2013. Abel went on to build another CPQ company called Steelbrick that he sold to Salesforce for $360 million in 2016.
Godard also serves as executive chairman of two other Chicago-based software companies: G2 and ThreeKit. He is also G2's CEO.
"Chris, Godard, and team have built multiple companies that have transformed this market," High Alpha Managing Partner Scott Dorsey said in a written statement. "We couldn't be more excited to partner with them on what we see as yet another game-changing product, and one of their most promising ventures yet."
Indianapolis-based High Alpha Capital—the investment arm of venture studio High Alpha and one of the largest software venture capital firms in the Midwest—announced in March the closing of a new $110 million fund, its biggest fund to date. High Alpha Capital has raised more than $215 million across three funds since it was founded in 2015.
Please enable JavaScript to view this content.