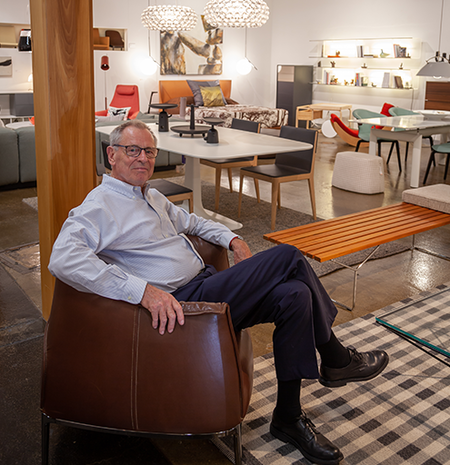 Form + Function, a high-end furniture and home accessory store in Nora Plaza at 1300 E. 86th St., is closing at the end of the year after a 23-year run so its owner can retire.
The store, which opened in 1996, will begin a liquidation sale Friday. Its last day of business will be Dec. 31.
"I'll be 78 in December and I am more than ready. It's 10 years overdue," said owner Helmut Fortense.
Fortense, majority owner of the business (a long-time employee owns about 1 percent of the company), said he had originally wanted to sell the store, but decided to close it after failing to find a buyer.
The store, which sells modern, mid-century modern and contemporary European furniture, reflects Fortense's life-long love of high-design furnishings.
Fortense, who immigrated to the United States in 1968, grew up with an eye for design–but not the budget to afford it.
"I grew up in postwar Germany and we barely survived," he said. "We were never hungry but there were no luxuries."
After serving as an officer in the German Army and completing an apprenticeship with Mercedes, he moved to the U.S. and got a job as an assistant service manager at a Chicago Mercedes dealership.
After stints at dealerships in Kansas City and Indianapolis, he bought a Mercedes/Porsche/Audi dealership in Decatur, Illlinois. He sold the dealership in 1990, intending to retire. But after a few years, realizing he couldn't yet afford retirement, he opened Form + Function.
The store started out as a gift shop before later adding furniture and lighting. Its original location was at North Keystone Avenue and 86th Street before moving to Nora.
The store sells brands such as Alessi, Knoll, B&B Italia, Herman Mille, Cassina and Vitra; and from designers including Charles and Ray Eames, Michael Graves, Eero Saarinen and others.
Fortense said Form + Function's customers range from the wealthy to people of more modest means who love well-designed items. He said he's sold to people who spent $100,000 in one shopping trip, but also to a customer who fell in love with a piece of furniture and bought it by making payments over a 10-month period.
"Who's our typical customer? I've yet to figure that one out," he said.
After Form + Function closes, Fortense plans to spend his time reading and traveling internationally with his wife, Katie Simmons.
Please enable JavaScript to view this content.