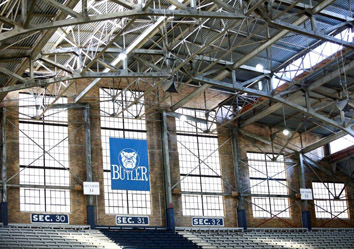 The NCAA will hold the inaugural 32-team Women's Basketball Invitation Tournament next spring on campus sites with the champion crowned April 3 at Butler University's Hinkle Fieldhouse in Indianapolis.
ESPN owns television broadcast rights, the Indianapolis-based NCAA said Tuesday. ESPN-plus will air preliminary round games exclusively while Westwood One Sports will provide radio coverage of the semifinals and finals.
Butler's Hinkle Fieldhouse will host the final fours of both the WBIT and the men's National Invitation Tournament in April. The men's championship game will be played April 4.
Like the men's NIT, the higher-seeded women's teams will host first-round games March 21, second-round games March 24 and quarterfinal games March 28. Regular-season conference champs that don't make the NCAA Tournament will receive automatic bids to the WBIT and a selection committee will use a variety of factors to determine at-large bids.
"The upcoming women's basketball season will be monumental for a number of reasons," Lynn Holzman, NCAA vice president of women's basketball, said in a written statement. "The addition of the 32 additional postseason opportunities provided by the WBIT is a landmark moment for the game."
The WBIT selection committee consists of former head coaches Ceal Barry, Brian Giorgis, Sue Guevara, Bernadette Locke-Mattox and Marsha Sharp; former college administrators Barbara Burke, Kelcey Roegiers and Janice Ruggiero.
The WBIT is not replacing the independent Women's National Invitation Tournament, which has been played as a postseason tourney for non-NCAA Tournament teams since 1998. The WNIT will be downsized from 64 teams to 48 teams in 2024.
The men's NIT also features 32 Division I basketball teams not selected for the NCAA Tournament. Butler was announced as host site for the semifinals and championship for the 2024 NIT in August.
Please enable JavaScript to view this content.